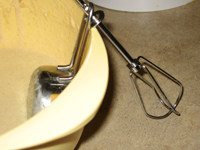 I enjoy making waffles from scratch. Almost every time I do, I lose the 1/2 cup into the batter. It's really annoying, especially since I hate to get my hands yuckies (as Maddie would say). So finally this last time I made them I came up with a solution! Anyone can feel free to create and market a device like this (I don't have the time or money) I just request some of the profit, Thanks! It worked out perfectly because the little ring at the bottom of the beater gave it stability. I was so excited about this "invention". It really made making waffles much easier!
So that is my super simple tip for the day, when something is bugging you in the kitchen, and throwing off the natural flow of the cooking, find a way to solve it! You never know, you may just have the next million dollar idea (and if your million dollar idea is the batter scoop holder thing, then you owe me some money!).
This post may contain affiliate links. As an Amazon Associate I earn from qualifying purchases. For more information, see our disclosure.
Recipe of the Week
Buttermilk Pancakes
1 3/4 Cup All-Purpose Flour
2 Tbsp Sugar
2 Tsp Baking Powder
1/2 Tsp Baking Soda
1/4 Tsp Salt
1 Egg, slightly beaten
1 1/2 Cups Buttermilk
3 Tbsp Cooking Oil
Mix dry ingredients together in a large bowl. In a different bowl mix egg, buttermilk and oil. Add wet ingredients to dry ingredients and mix until it's just moistened (batter should be lumpy). Pour about 1/4 cup of batter onto a hot lightly greased griddle. Cook until light brown and flip.