You know what the funny thing about shopping online is? When your order shows up in a box that tells exactly what's inside.
Let's just say that's what happened when my new Vitamix Immersion Blender showed up. My husband bought it for me as a gift that was supposed to be a surprise, and yes, I was surprised when I found it on our front porch.
I've been a dedicated Vitamix 7500 user for about seven years. I've used and abused that thing almost daily, and it may be one of my favorite kitchen appliances.
However, it's heavy, and sometimes I find myself saying "ugh, do I really need to drag this whole thing out?", and I do, but it would be nice to have another option.
Then I saw Vitamix recently came out with an immersion blender. Of course, I wanted it almost immediately, but I figured why bother since I have a perfectly good Vitamix already. I wasn't going to get one.
Long story short, I now have one, and I absolutely love it.
Vitamix Immersion Blender Review
Let's talk about why I love this thing so much. As someone who cooks every meal we eat, I love things that make my life easier.
The Cuisinart Immersion Blender has a 200 watt motor, the Magic Bullet has a 250 watt motor, and my Vitamix 7500 has a 1500 watt motor to put things in perspective.
I'm the queen of home made salad dressing, and this little Vitamix made it worth it just for that!
Best of all, it cleans quickly like a regular Vitamix. Just throw a couple of drops of dish detergent in a mason jar, fill it with hot water, and blend for 30 seconds.
What do I use my Vitamix Immersion Blender for?
Here's a list to start:
Salad dressing

Blending tomatoes into sauce

Single serve smoothies in a mason jar (I have the Vitamix smoothie cup attachment, but this is soooo much easier)

Making my favorite dips, like my favorite olive tapenade
It would have also been great to make just a little bit of baby food when my kids were younger. The large Vitamixes have a 1/2 cup minimum, and things don't even blend that well with that little in them. You really need a larger quantity to get the blending you want. It would have been nice just to make a serving of pureed carrots for my son for him to spit them in my face instead of a Vitamix pitcher full.
That's another area the Vitamix Immersion Blender really shines – small quantities.
For me, all of these things have already made it worth it, but there's a ton of things you can make with an immersion blender. It's one of those things that you don't think you need, but when you actually have it you use it all the time.
What I don't use my Immersion Blender for
Some things I still do in my regular old Vitamix because its just so powerful.
I still pull out the big Vitamix to:
Chop vegetables

Grind meats

Make non dairy milk
These are all things I do fairly often, so the immersion blender has in no way replaced my Vitamix. If you're sticking more along the lines of soups and smoothies, you can get away with a Vitamix immersion blender vs a regular Vitamix.
The Vitamix Immersion Blender smoothie test
The first thing I did of course, was make a smoothie. In a mason jar. Mason jars are so popular these days, and I use them all the time.
The instruction booklet that comes with the immersion blender gives you some helpful tips on layering.
In case you can't tell, there's WHOLE FROZEN STRAWBERRIES in there. Yes you read that right. I figured I would really test this thing out.
Sure enough, I had the perfect smoothie in about 30 seconds.
Why the power of my Vitamix Immersion Blender surprised me
I decided to really test this thing out with two ingredient pineapple ice cream.
This is a super simple recipe. All you need is:
Frozen Pineapple Chunks
Milk
I use coconut milk, so this is like a Pina colada in a bowl. Frozen pineapple is really, really hard though.
I freeze chunks in a bag, and no joke, throw it on the kitchen floor to break them apart because they are frozen together.
I did not think in a million years I could make this with an immersion blender, because even my Vitamix 7500 takes a bit of finessing.
Sure enough, the Vitamix immersion blender didn't have a problem.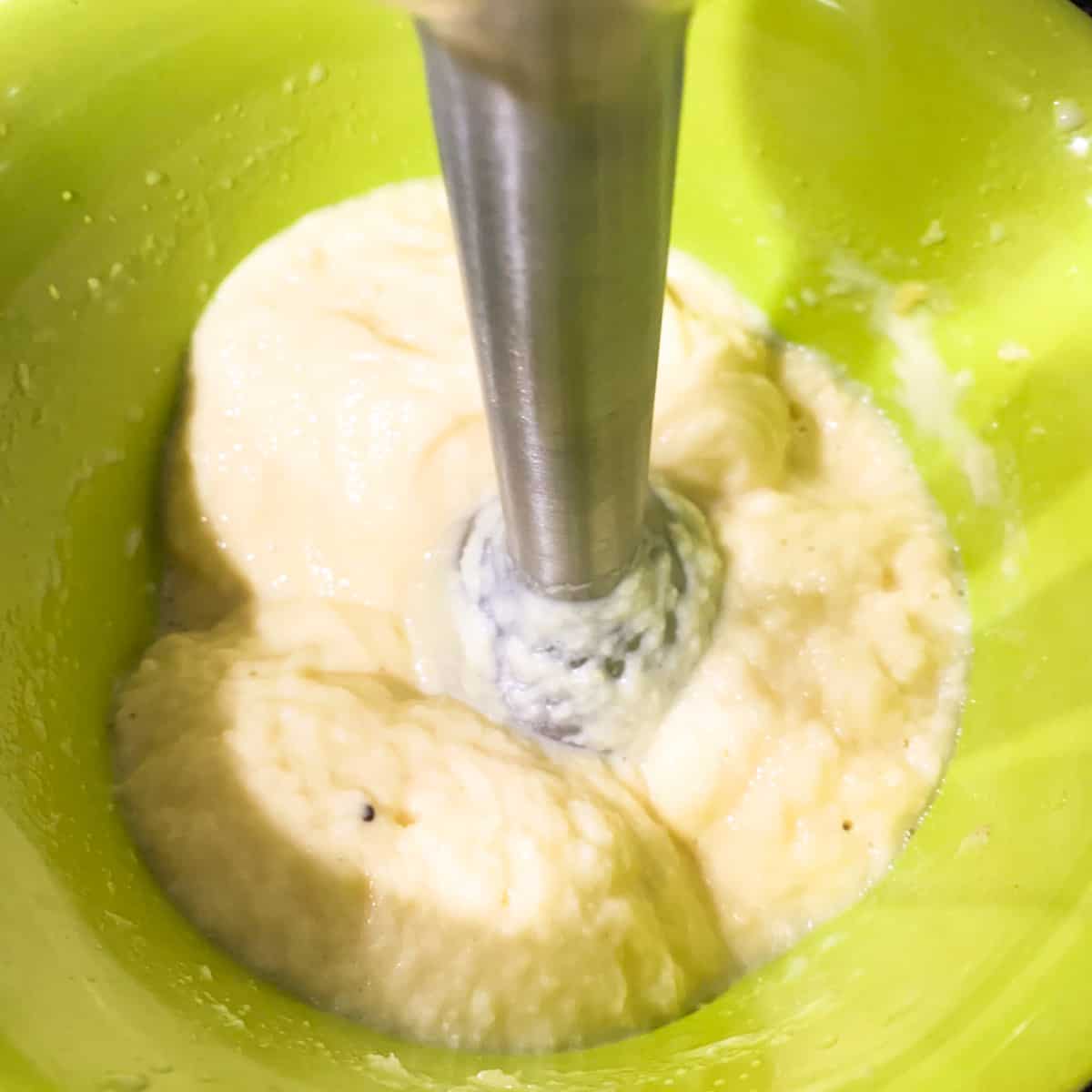 I really love this thing. It is totally a convenience item, but with the amount I cook, it is totally worth it for me.
If you find yourself wondering what else you can make with an Immersion blender, whether it be a Vitamix or another type, fear not, I have you covered.
I've collected a ton of recipes that you can use your immersion blender with! There's everything you can think of here and more. If you're looking for immersion blender recipe ideas, I guarantee you'll find something you want to make this list.