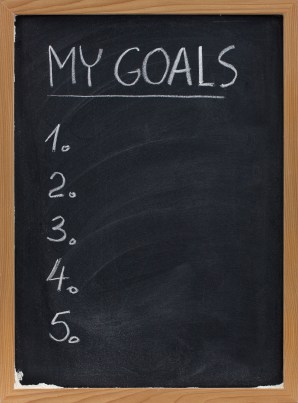 I've been getting a lot of post ideas from my sister lately, so I'm sorry that I keep talking about her, but here's another one just for you Healthy Meals for Kids Guru!
When you are setting goals you need to make sure you are setting REALISTIC goals. If you set a bunch of goals that are too far out of reach and work super duper hard to obtain the goals, you are only going to get super frustrated, and abandon the goal. When you set attainable goals you can find small wins that can inspire you to keep going!
This post may contain affiliate links. As an Amazon Associate I earn from qualifying purchases. For more information, see our disclosure.
1. Make sure it's something you can control. You can't set a goal to get quoted in a magazine. You can't control that. You CAN set a goal that you will contact 5 magazines to try and get quoted in one. No matter how much you work, and how much you try, it's ultimately someone else's call.
2. Break the goals up into smaller chunks. If your goal is to contact 5 magazines, then set smaller goals. Say you will contact one magazine this week. Then next week you can set a goal to contact a second magazine. Creating smaller goals will help you stay motivated towards the larger goal. Like when you are running and you tell yourself you can make it to the stop sign, and then the stop sign comes and you tell yourself you can make it to the next corner, and you keep going until you have finished your run!
3. Set realistic time frames. If your goal is to finish creating a new website, and you know that creating it takes you about 8 hours, you can't set a goal for yourself that you will finish by tomorrow if you already have other commitments for the day. If you are unrealistic in your time frame, your goal date is going to come and go, without your goal being accomplished, and you will feel discouraged.
4. FOCUS. When you are setting goals make sure you don't try and bite off more than you can chew. Don't set 5 goals at the same time for different things. When you are trying to do too many things at once, you will get overwhelmed, and again become discouraged. Focusing your time and efforts will help you to accomplish the goals you have set, instead of leaving 5 goals half way completed.
So what goals are you going to set this week?