Are you looking to satisfy your hunger with something that's easy to make, super delicious, and totally unique? Then look no further than Tater Tot Waffles! These inventive creations contain all the beloved flavors of tater tots but are transformed into crispy golden waffles.
Not only are these little treats incredibly tasty, but they're so simple – even kids can help whip them up in just a few minutes! Whether you serve these as a fun snack or hearty breakfast option, everyone will love the new spin on an old favorite made in the waffle maker.
This post may contain affiliate links. As an Amazon Associate I earn from qualifying purchases. For more information, see our disclosure.
We love our waffle iron. We've been through a number of them in recent years before we found one that has stood the test of multiple waffles weekly. I'm going to show you how to make the ultimate breakfast food hack – tater tot waffles!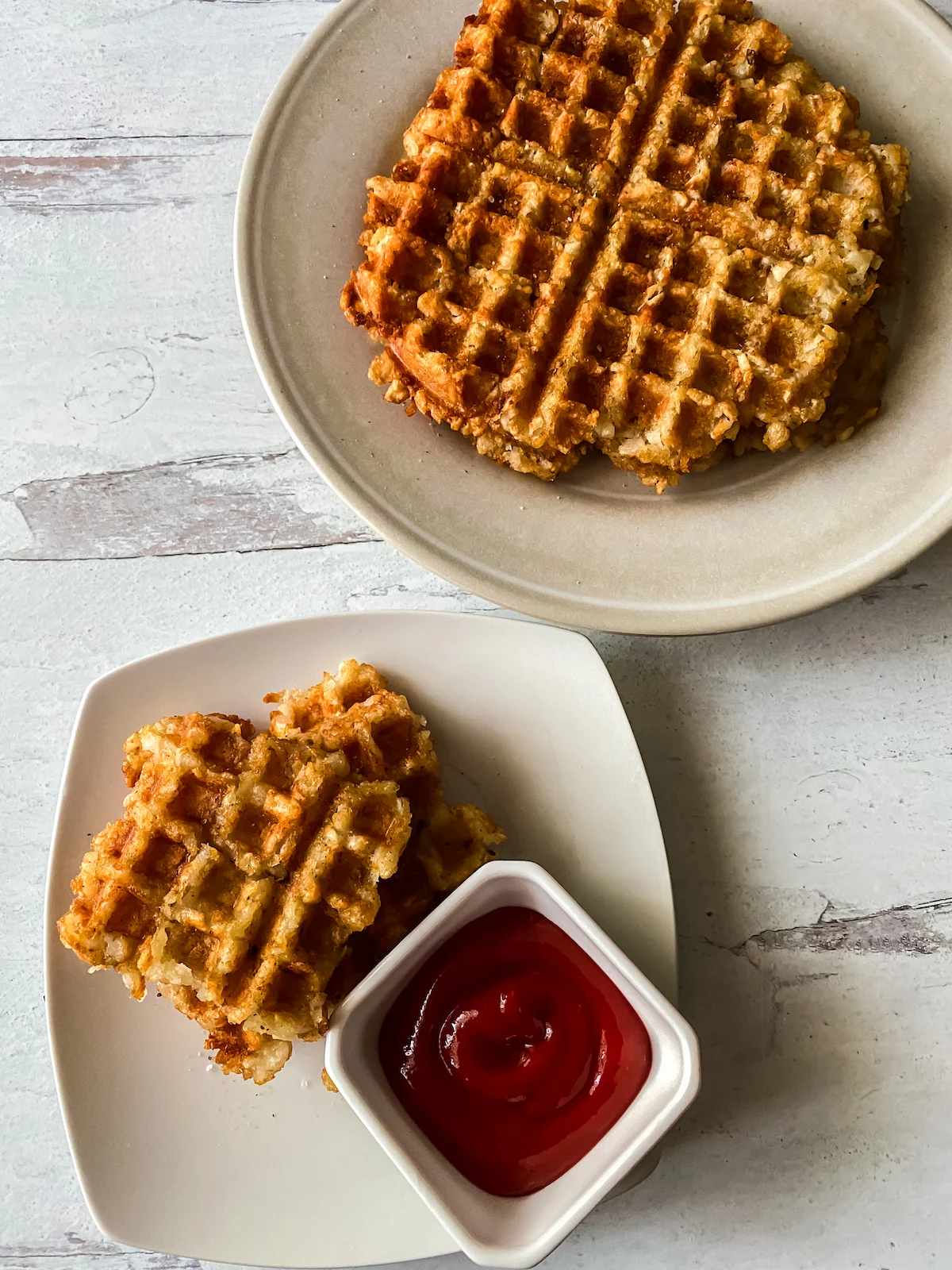 Why make tater tot waffles anyway?
If you've never made tater tots in your waffle iron before, you're really missing out. Tater tots have to be one of my favorites (who doesn't like tater tots?) and cooking them in the waffle iron brings a whole new fun twist to breakfast.
Ingredients Needed
You really just need your bag of tater tots and some nonstick spray. Then, all you need is salt, black pepper, or other spices that you want to add to the waffles.
How to make tater tot waffles?
I feel silly writing a recipe to make tater tot waffles, because it really isn't that hard to do.
Spray waffle iron with cooking spray or wipe it down with oil. Be sure to use your non-stick spray on both the top and bottom of the waffle iron so you can make the best waffles possible, without them sticking!
Lay out your thawed tater tots on the waffle iron in a single layer – but there's a really key piece of information there – they have to be thawed for this to work correctly!
Close waffle iron lid, cook, and enjoy. It's pretty simple!
How do you thaw tater tots?
The easiest way to thaw frozen tater tots is to put them in the refrigerator the night before.
You can also put them in the microwave for a few minutes on defrost if you forgot. You really can't make them too mushy since we are putting them in a waffle iron but try not to cook them too much.
Finally, you can use one of my favorite thawing methods of all time – soak your tater tots (in the bag) in cold water. This sounds silly, but it works! Pop a hole in your tater tot bag to get all of the air out, then be sure to leave a trickle of water running. Remove from the water and shake every once in a while for optimal thawing.
I've never tried it, but if you take a bowl of water and drop your tater tots into it, they will thaw pretty quickly. You should probably just test one or two out first though!
Tater tot waffle toppings
Wondering what to put on top of your tater tot waffles? Think of all your favorite breakfast food like bacon, eggs, cheese, and sausage. You can let everyone put their favorites on top of waffles, and really customize it to what your family likes.
You can even serve them as a dinner side dish!
Tater tot waffle breakfast sandwich
If you want to really get crazy, you can make a breakfast sandwich with pieces of your tater tot waffle. We do this all the time with regular waffles too!
Sweet potato tater tot waffles
You can also use sweet potato for your tater tot waffles. Depending on the type of sweet potato tots, you may need to cook them for a bit longer.
Make a savory tater tot waffle
If you want a savory waffle to use as a sandwich base, or just a warm waffle with yummy flavors to enjoy with your eggs, sausage, and bacon, feel free to add some garlic powder, onion powder, or even cajun seasoning to bring a kick of flavor to your breakfast plate.
Storage
Store your leftover tater tot waffles in an airtight container or ziptop bag and keep them in the refrigerator for 2-3 days. Additionally, you can freeze them for later. Transfer them to a freezer safe container or a freezer safe bag and then you'll have them on hand when you want to serve breakfast for dinner on a busy night!
I also recommend flash freezing your leftovers so they're easier to grab later. Instead of all of them being frozen and stuck together, they'll be individually frozen so you can grab out exactly how many you need.
Where to buy tater tots for waffles
If you have a big family, you may want need to make quite a few tater tot waffles, even if you are using them as side dishes.
Aldi, Lidl, and WalMart, and Target all have pretty good prices on tater tots. These are also are great to stock up on and put in the deep freezer when they are on sale.
Are tater tots and hash browns the same thing?
While tater tots and hash browns are similar, they are not the same. In many places, hash brows are made with shredded potatoes, though sometimes they are made with cubed potatoes. Tater tots consist of sort of shredded but more like diced potatoes mashed together, sometimes using mashed potato as a binder, then shaped into tots.
Hash browns are generally served pretty flat, like patties, even if they are made from shredded potatoes. In some cases, they are diced or cubes potatoes cooked with things like peppers and onions on a flat top griddle or in a frying pan.
Tater tots waffles approach the type of hash brown patties you find in many fast food restaurants.
What waffle iron should I use for tater tot waffles?
Of course, whatever you already have is best! If your waffle iron has very deep plates, you may want to add a few more tater tots on top of the ones you line up, and you will have to press harder on the waffle iron. Be sure to wear oven mitts if you need to apply pressure!
Then, as you would before, add your favorite toppings to these crispy golden brown waffles and enjoy!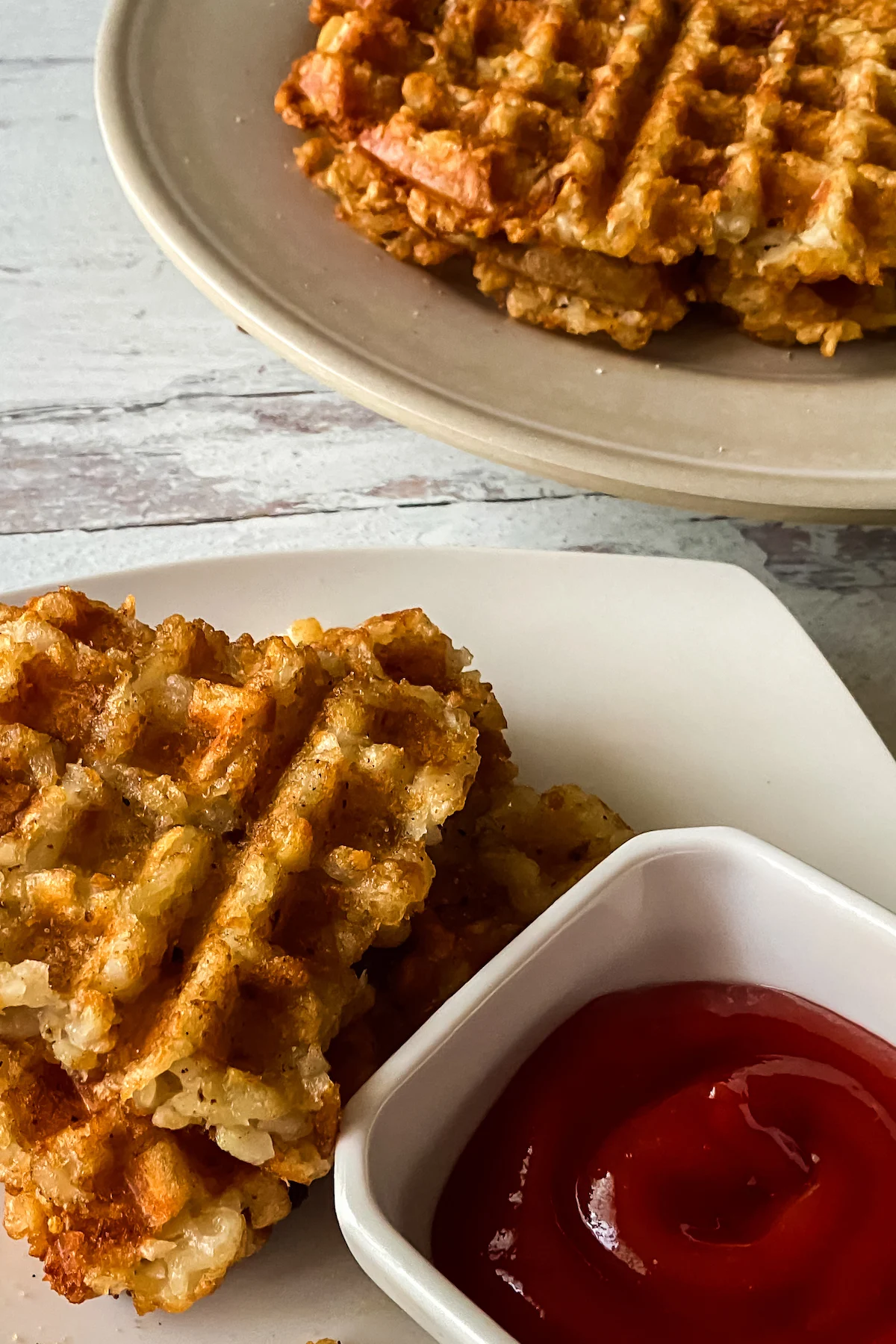 Looking for more easy family recipes? Don't miss some of our favorites!
Tater Tot Waffles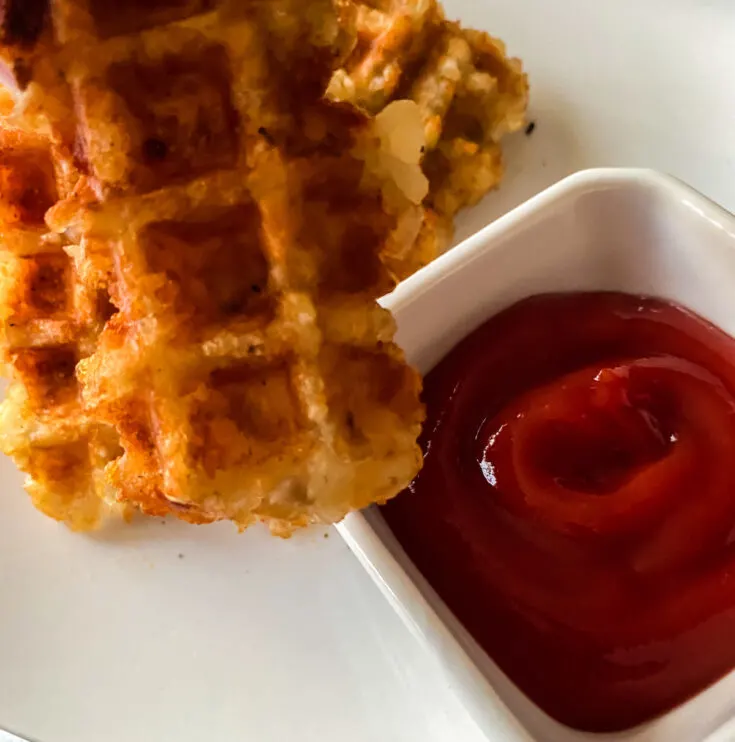 These tater tot waffles are a fun spin on breakfast, and great for a side dish too for dinner! You can even use them to make breakfast sandwiches.
Total Time
5 minutes
21 seconds
Ingredients
Thawed tater tots
Salt, pepper, and seasonings to taste
Non-stick cooking spray
Instructions
Preheat the waffle iron.
Lightly spray with nonstick spray
Line up tater tots in a single layer, you may want to add some additional tots on top of the layer if you have deep plates.
Lightly press down on the waffle iron.
After 3 minutes, press the waffle iron down more to smash the tots so they will come together.
Allow the waffles to cook 7-8 mins until your desired crispiness is reached.
Carefully remove with 2 forks, to not break them.
Sprinkle with desired seasoning and serve.

Notes
This recipe will not work with frozen tater tots. You can move them to the fridge the night before to thaw them, or defrost them in the microwave.
If you have a waffle maker with very deep plates, your results may vary, even after adding more tater tots on top. None the less, this still makes a great meal or side dish, but you may not be able to get them to stay togehter as a complete waffle.
These are great served with your favorite seasonings, salt, pepper, chili powder, or cayenne pepper for a special kick are some ideas.
Nutrition Information:
Yield:
1
Serving Size:
1
Amount Per Serving:
Calories:

169
Total Fat:

8g
Saturated Fat:

1g
Trans Fat:

0g
Unsaturated Fat:

6g
Cholesterol:

0mg
Sodium:

971mg
Carbohydrates:

24g
Fiber:

2g
Sugar:

0g
Protein:

2g