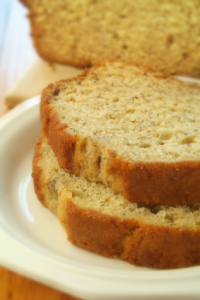 I don't know about you but I think some recipes are good and some are great. You can work years to find the right one and try recipe after recipe looking for the exact right formula.
For me, I've been on a mission to find the BEST banana bread recipe and I've found it. It's below so your search is over. The bread is so moist and yummy. I hate dry banana bread. The only negative with this bread is that you will want to eat an entire loaf by yourself.
I've also been on a mission trying to recreate a pasta dish I love that I've had at the Macaroni Grill. I've never quite perfected it but it has been so fun to try because now I have six yummy pasta variations that are just as good.
Do you have recipes that you've recreated or those you feel you've found the best of?
Recipe of the Week
The BEST Banana Bread Ever:
1 ¾ c flour
1/3 c white sugar
1/3 c brown sugar
2 t baking powder
½ t baking soda
¼ t salt
3 bananas
1/3 c butter
2 T milk
2 eggs
1 ½ t vanilla
Mix together butter and eggs and sugar. Add bananas and the rest of the ingredients. Mix well. Bake at 350 for 50-55 minutes. Muffins cook for 11 minutes.