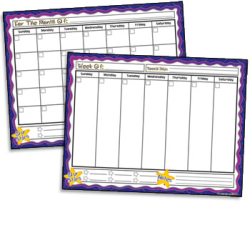 Oh boy! Oh boy! Oh boy! I started this new job and guess what that means? Access to an office supply catalog. I have so missed that! You know, when the secretary comes around and you just mark the page and write down the catalog number and stuff (you don't have to pay for) magically appears at your desk mere days later? I love that. Having it again reminded me of a helpless addiction of mine: calendars. I am such a sucker for calendars; big ones, small ones, erasable ones, magnetic ones, electronic ones, etc. Gimme gimme gimme.
If you're reading this blog, chances are you have mastered the fine art of calendaring. You probably have it down to a science. In fact, you probably think yours is the very best calendaring system in the whole world. If, in the last month, you haven't smacked yourself on the forehead because you forgot an appointment… then, you're right. Yours is the very best calendaring system in the whole world.
Here are some of my universal must-haves for calendars. I must have color-coding. If it's a family calendar, every member of the family gets their own color. If it's a personal calendar, different categories of activities get different colors. Either way, paper or electronic like the Daily Home Planner, I have to have color. My other must-have is universal access. I must be able to see my calendar wherever I am. For paper, I love a pocket calendar. For electronic, I love a calendar I can view from any computer, at work, at school or at home. I don't like fru-fru. Don't give me a calendar with an address book and a millage tracker. I just want to know what I'm doing when – not carry around a lot of superfluous information or blank pages.
What are your calendar must/must-not-haves? Post a comment and you'll be entered to win a free set of Organize It Mom! calendars (pictured above) with your choice of color-coded pens to go with. It actually comes with two months and one week. It's awesome! But then, I would think that… mine is the best calendaring system in the world right?