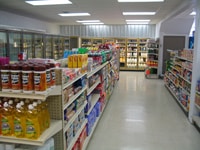 I'm sure you go grocery shopping. Who doesn't? OK besides my husband who doesn't? There is an essential part of grocery shopping that you may not currently be doing! It happens before you head to the store and while you are putting the groceries away. What is it? Cleaning up!
First before you leave for the store go through your fridge and pantry and toss anything that is expired. If it is still something you would like to have on hand make sure to write it on your grocery list! Now that your fridge is pretty cleaned out (once you've tossed the expired items and it's near grocery day your fridge should be pretty darn empty.) Grab a warm soapy sponge and wipe down the fridge shelves and inside the door. Now do the same thing in the pantry (although ours is usually not as empty, but it still has some space for cleaning). Move the "keepers" aside and wipe down the shelves of the pantry. This is also a good time to put things back in their places that may have moved around in the pantry. A good rule for pantry organization is to keep the dry goods together (like flour, sugar… basically my baking supplies), all canned goods can go together, snacks in the same location, cereal, you get the picture.
This post may contain affiliate links. As an Amazon Associate I earn from qualifying purchases. For more information, see our disclosure.
The second step is to make sure you put everything away when you get home in their organized locations. Don't just throw everything into the pantry, really put everything away!
These two things will continue to keep your pantry and fridge in tip top shape!
Recipe of the Week
Bacon & Cheese Quiche
1 1/2 Packages of Oscar Meyer Real Bacon Pieces
1/4 Cup Onion, Minced
4 Eggs
1 Cup Half & Half
4 oz. Parmesean Cheese
5 oz. Cheddar Cheese, Shredded
5 oz. Mozzarella Cheese, Shredded
1 Deep Dish 9 in. Frozen Pie Crust
Preheat oven to 400F
Combine cheeses, onion & bacon, mix well. Place cheese mixture in pie crust. Beat eggs until minimal white is showing, add half & half. Pour eggs & half & half over cheese mixture. Place in oven and bake for 15 minutes. Reduce oven temp to 350F and bake for an additional 35 minutes (until top starts to brown). Let cool… ENJOY!