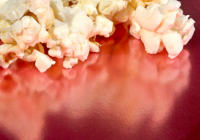 How many of your traditions have a food element? Every Christmas I can remember, the Hunter family made pink popcorn and all eight of us kids delivered bags of it to everyone we knew in the neighborhood. Every year, if you visit my mom and dad's home right before Christmas, you're bound to see the kitchen over-flowing with the stuff.
For me the pink popcorn has become a symbol of tradition. The neighbors probably wouldn't know what to do without their yearly bag-ful. They've come to expect it like they do the sunrise. Some may hate the stuff. Some may think our family is not very creative but every one of them would rush right over to discover the family tragedy if it didn't come about three days before the holiday.
This post may contain affiliate links. As an Amazon Associate I earn from qualifying purchases. For more information, see our disclosure.
Here is the family recipe passed down from generation to generation of Hunters:
Candied Popcorn
10-12 Cups of Popped Popcorn
2 Cups Sugar
1/4 Cup Margarine
1/2 Cup Water
1/2 Teaspoon Salt
Food Coloring
Bring to a rolling boil. Boil for 4 minutes. Remove from heat and add
food coloring. Pour over popcorn and let harden. Eat!
What food traditions do you have? Do you have a big Sunday dinner every week? Do you have family or friends over for barbecues every summer? Do you have a recipe you always have to bring to the family events because you're known for it?
I love food traditions.