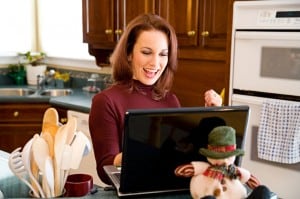 More and more women today are work at home moms. Balancing both running a household and a business can sometimes feel like a juggling act. Even as a Professional Organizer and always being good at time management. I can't help but remember back when I started my own work at home journey how overwhelmed I felt trying to balance both worlds. But over time and a lot of trial and error I discovered that it is possible to do both. Here are some suggestions that will hopefully help you balance being a work at home mom.
Take the time to research and invest in a good planner. Tweak it to meet your needs.
Spend time on the weekend planning the upcoming week.
Identify your time wasters and get rid of them or at least cut them down

Keep a log for one week of all your activities. You might just discover that you spend more time than you thought watching TV, surfing the net etc. Those are all extra hours you thought you didn't have to invest in your business or home.

Having check lists for various things such as cleaning, business tasks etc. are very helpful when it came to planning your day and week.
Menu planning and cooking ahead is a huge time and sanity saver.
Have  daily routines in place and stick to them. However don't have a schedule so rigid that you are a slave to it, allow for flexibility.
Don't force yourself to get up earlier or stay up later. Know when you are at your peak and use that extra time to work on your business.
Make sure to schedule time for yourself everyday even if it's just 10 minutes.
At the end of the day the most important thing to remember is that you are a mom first and your kids will only be kids for a certain amount of time. Remember to take time everyday and just play.