August 24, 2011 at 2:28 pm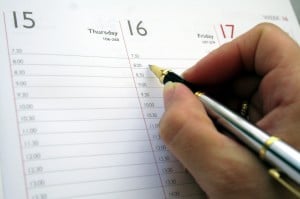 Sometimes summertime can turn into a whirlwind of organizational chaos.  From a lack of schedules, and no routine to speak of, summer time can create some big time stress for a normally organized person.  Then after 2 months of non-stop routine breaking, it can be hard to get back to your organized self.  So what is your "rock"?  What is the one thing you return to that can get you back on track in no time?  Do you even have one?
Mine is waking up on time.  If I can get my morning routine back I can do anything the rest of the day.  I wake up at 5 AM every morning and have very specific "to do" items that I get done before the rest of the family wakes up.  If I am able to hit all of those to do items I will usually hit the rest of my to do list.
If you don't know what can get you back on track, here are some tips!
What is your favorite thing on your to do list?  Your favorite thing to do is usually the best thing to get you back on track.  Find the one thing you love doing and just start doing it!  Once you are back to checking things off your list you should be back to checking everything off in no time at all!
Can it piggyback?  Is there something you need to do or to organize that you can piggyback onto something else?  Like I have to eat lunch every day.  I also have to do a load of laundry every day.  So if I can put the laundry in right before I eat lunch, pretty soon it will become a habit again.
Do it first!  Before you allow yourself to do anything else, do the least favorite item on your to do list.  Once that is out of the way, you can get on with the "fun" stuff.  With this one, your rock would be just getting it over with.
Find your Rock and start there to keep your organizational habits growing again… at least until next June, right?