With Christmas and the Holiday Season here, it can sometimes feel a little overwhelming with everything that you want, and need, to get done.
If you're worried about how you're going to create quality memories with your kids or grandkids this busy Holiday season, then this article is for you.
How to Create a Holiday Bucket List for Your Family
This post may contain affiliate links. As an Amazon Associate I earn from qualifying purchases. For more information, see our disclosure.
It can feel stressful preparing for the Christmas and the holiday seasons. Between thinking of all the holiday parties to attend, and the holiday shopping that needs to get done, I often worry about not spending enough quality time with my kids. This is why I create a Christmas Bucket List with my family.
What is a Seasonal Bucket List ?
If you've never done a "Seasonal Bucket List" before, then I hope you give it a try.
Original Bucket Lists are experiences and accomplishments you want to do in your life before you "kick the bucket". Seasonal Bucket Lists are experiences you want to do before a season is over.
They are a guaranteed way to set aside time to be together and make memories as a family, which is why I love making them.
We make Summer Bucket Lists, Fall Bucket Lists, and of course our Christmas Bucket Lists.
Getting Started
If you have young kids, you can create a list of traditions and experiences you'd like to experience with them this year. If your kids are older it would be fun to sit down with them and create the Christmas Bucket List together. Maybe your kids will have a fun new idea to try?
We've created a free Christmas Bucket List printout for you to use with your family this season.
Click HERE to download it.
Ideas for a Family Christmas Bucket List
And if you need help thinking up things you'd like to do with your family this Christmas Season, we have twenty ideas for your Christmas Bucket List:
Set up a Nativity
If your kids are young, it might be a good idea to set up a kid friendly nativity with them. I've also read about families that will wrap each piece of the Nativity and create a sort of "advent calendar" and open one piece of the Nativity each night, until Christmas Eve.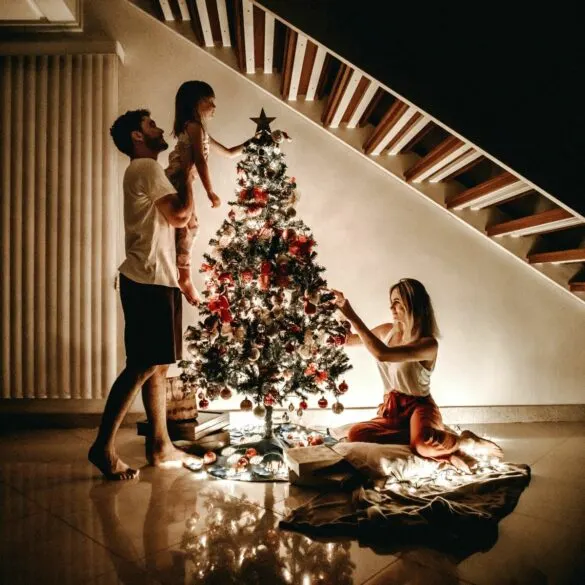 Decorate the Christmas Tree Together
My kids love to help hang the ornaments on the Christmas Tree each year.
Send out Christmas Cards
It may be a dying tradition, but I love sending and receiving Christmas cards each year.
And check out this post if you need ideas on how to display your Christmas cards.
Create a Gingerbread House
Although this is not my favorite holiday tradition, my kids love everything about it. If your kids are older, you could have them each bake and create their own.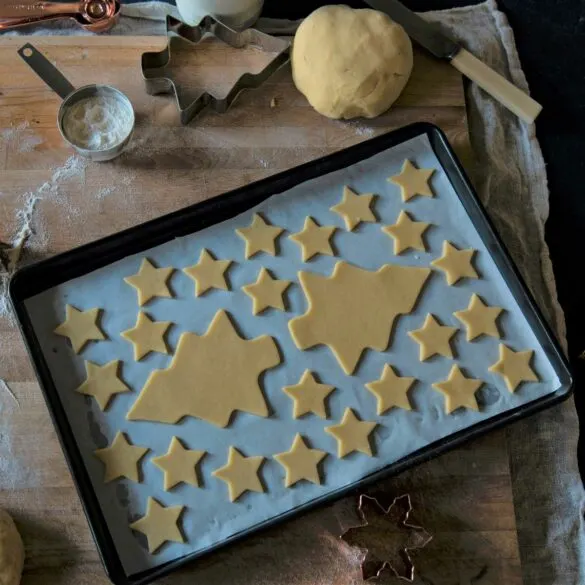 Make Christmas Cookies
Sugar cookies are often thought of as the traditional Christmas cookie. But we also have a list of fun and easy "No Bake" Christmas cookies to try with your family this year.
Make Homemade Ornaments
We have a list of Homemade Christmas ornaments for you to try with you family. I can be sentimental, so I know these will be my favorite Christmas ornaments for years to come.
Play in the Snow
If you get snow in December where you live, then the kids are probably always begging you to play in the snow. Take the time one day and go sledding or build a snowman together.
Give a Gift to a Stranger
This has been one of our favorite traditions for a couple of years. Remember, the gift doesn't necessarily have to be anything expensive either.
Look at Christmas Lights
We love to drive around and admire all the Christmas lights together.
Go Ice Skating
Are you adventurous enough to take your kids ice skating? It could be a fun family memory.
Watch a Christmas Movie Together
Does your family prefer "The Grinch", "A Christmas Story", "Elf", "The Polar Express, or maybe "It's a Wonderful Life?" So many different moods to choose from.
Sing Christmas Songs Together
Music contains such strong emotions and is full of tradition. You could have an at home concert, or meet up with friends and take the family caroling.
Drink Eggnog
Homemade or store bought, it doesn't really matter. Just be sure to enjoy a cup before the season is over.
Give the Neighbors Gifts
The gifts don't have to be expensive, maybe just a plate of cookies. Our kids love this tradition, and I think it helps them to learn to enjoy giving gifts as much as receiving them.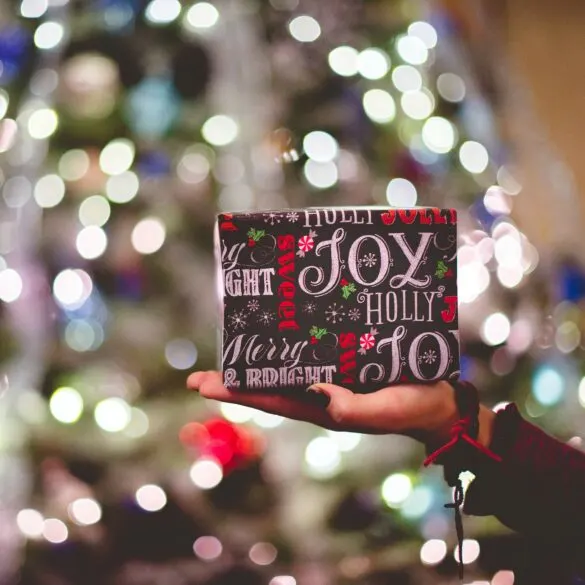 Do an Advent Calendar
The classic chocolate advent calendars are my favorite, but Amazon has a few choices for non-food advent calendars as well.
Make Gourmet Hot Chocolate
There are all different types of gourmet hot chocolate you can make at home: French hot chocolate, Mexican hot chocolate, Italian hot chocolate, or chocolate bombs. And then all the different "stir in" and topping options, you can use anything from candy canes to hazelnut spread, caramel, or sweetened condensed milk.
Visit Santa
I'm always surprised at how excited my kids get to meet Santa.
Write Letters to Santa
The letters to Santa that we wrote were my kids first experience with envelopes and stamps. USPS is having a "Operation Santa" where your kids can write a letter to Santa, and someone may choose to send you a gift.
If you're not interested in that program then, with the help of USPS, you can receive "Greetings From the North Pole" and your child's letter to Santa will receive a reply with an official postmarked letter from the North Pole. How fun is that?
Take A Family Picture Together
It doesn't have to be professionally done, but try to get a family picture together this year. It's often said that moms are always behind the camera and hardly get to be in the pictures with their kids. So make sure to jump into a few photos with them this season – years from now you'll be glad you did.
Read Christmas Bedtime Stories

I love reading Christmas stories to my kids in December. We have a few favorites: "Snowmen at Christmas", "The Night Before Christmas", "The Small One", and of course "The Polar Express."
I hope these Christmas Bucket List ideas have helped you get excited to spend quality time with your family this holiday season.