This creamy pasta bake recipe is a quick and easy meal that will please the entire family. It's delicious, creamy, and it has cheese in it. What more could you want? We love to use penne pasta for this pasta bake, but if you prefer something different, go ahead and substitute your favorite noodles for the penne! Best of all, this dish is high in protein without needing to add meat.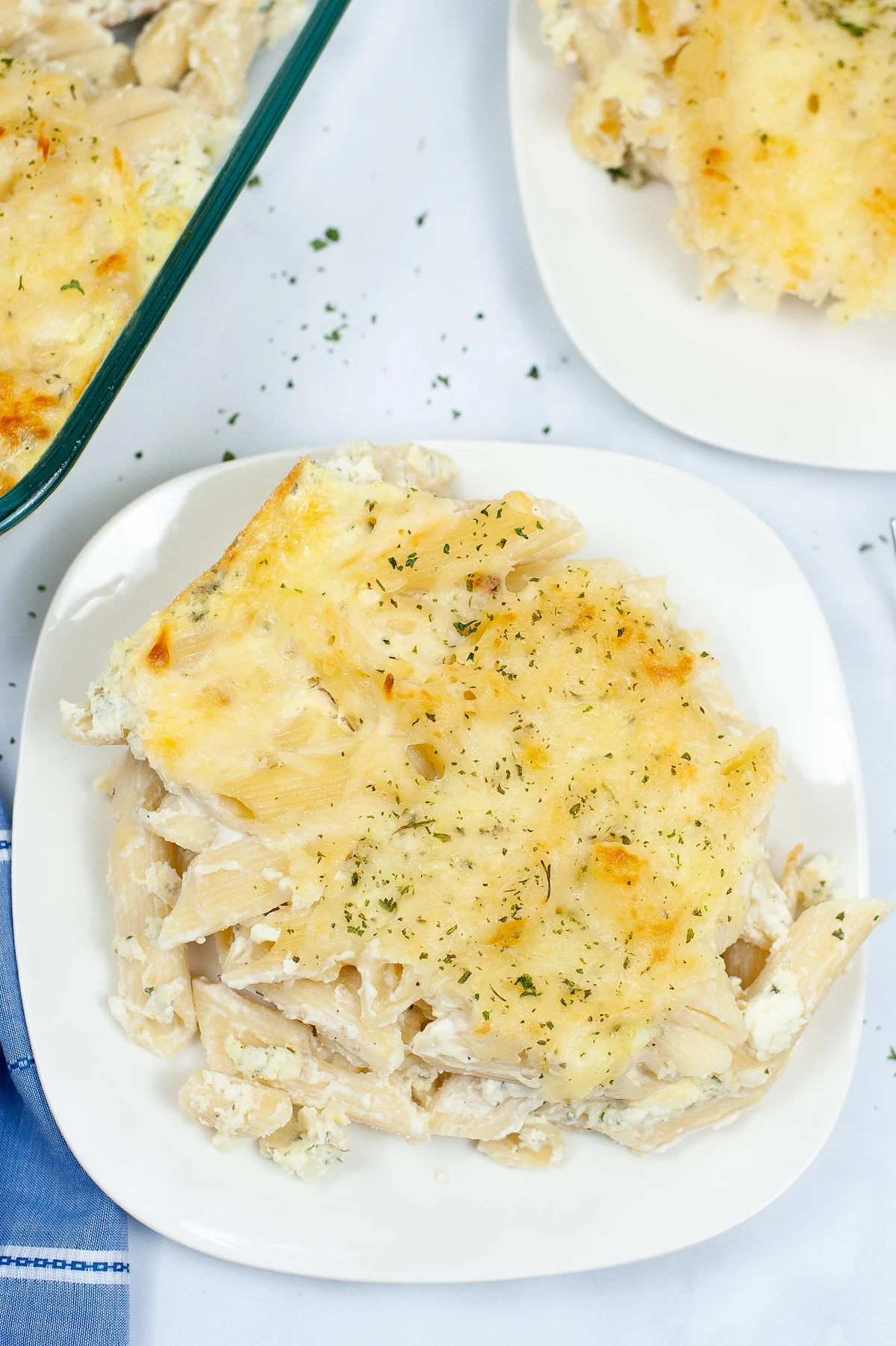 Easy, creamy pasta bake recipe
This post may contain affiliate links. As an Amazon Associate I earn from qualifying purchases. For more information, see our disclosure.
If you're looking for an easy, creamy pasta bake recipe, look no further. This is one of those things that just about everyone loves, and is so easy to make for dinner. The hardest part is boiling the pasta!
What makes this pasta bake so creamy? It's packed with Alfredo sauce, mozzarella cheese, Parmesan cheese, sour cream, and cottage cheese for the ultimate, cheesy, creamy pasta dish that's also high in protein without any meat.
Do you cook pasta before making pasta bake?
Yes, you need to cook your pasta ahead of time for a pasta bake. We only need to bake this less than half an hour, and if you really wanted to make this with uncooked pasta you would need a lot more liquid, and a lot more time!
What is the difference between pasta sauce and pasta bake sauce
Pasta sauce is usually a thinner, tomato-based sauce, while pasta bake sauces are often creamier and contain more cheese. Pasta bakes also include other ingredients like meat or vegetables that would make them pastas as well! We're going to be using Alfredo for our creamy pasta dish today because we want it really cheesy and creamy.
Do you bake pasta covered or uncovered
This really comes to personal preference, but I prefer to bake mine covered for about twenty minutes, then remove the cover to allow the cheese to brown on top. If you're looking for that crispy crunchy coating on top, be sure to bake it uncovered.
How do you make pasta bake better?
Still looking for something a bit more special or your pasta bake? The great thing about this dish is you can add just about anything you want to it to make it better. Think great vegetables like broccoli, kale, cherry tomatoes, and peppers.
You can also add some of your favorite types of cheeses on top, like cheddar cheese, gruyere cheese, or fontina cheese.
Creamy chicken pasta bake
Have some leftover chicken? Chop it up and add it to this dish for a creamy chicken pasta bake.
Creamy pasta bake with bacon
Another item that goes great with this cheesy pasta bake is bacon! Be sure to use pre-cooked bacon, and chop into bite sized pieces.
Is this creamy pasta bake vegetarian?
Yes, this creamy pasta bake is vegetarian, but not vegan. If you wanted to make it vegan, you could remove the eggs, but be sure to add some extra of your favorite vegan cheese in its place.
How do you keep pasta from getting hard in pasta bake
To keep pasta from getting hard in a creamy pasta bake, you need make sure to cook the pasta before hand, and make sure you have enough liquid in the baking dish when you put it in the oven.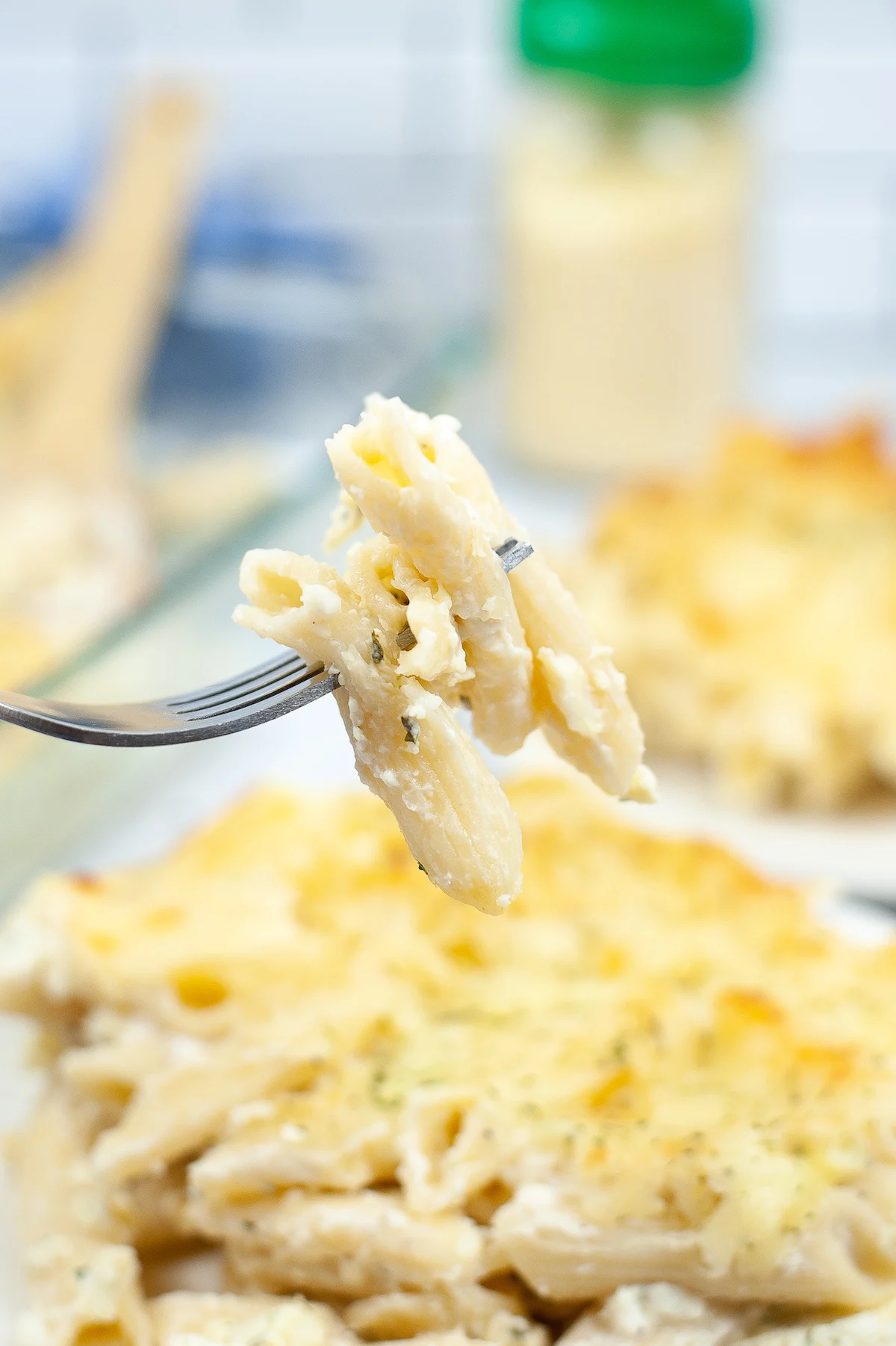 Looking for some more easy family recipes. Don't miss these!
Yield: 8-12 servings
Creamy Pasta Bake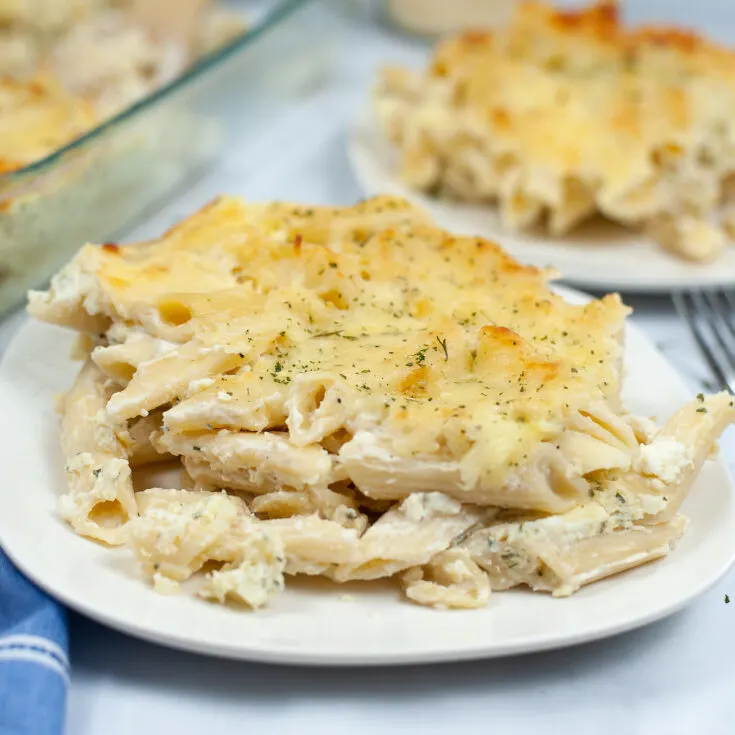 This easy, creamy pasta bake is easy to make and full of protein, without any meat. It's a great weeknight dinner!
Additional Time
15 minutes
Total Time
35 minutes
55 seconds
Ingredients
16 ounces Penne pasta (or your favorite)
2 Eggs
16 oz Alfredo Sauce
16 oz Cottage cheese
1 cup shredded Mozzarella cheese
1/4 cup grated Parmesan cheese
8 oz Sour cream
2 tablespoons of parsley
Instructions
Cook pasta according to directions.
In a mixing bowl, add cooked pasta, Alfredo sauce, and sour cream. Stir until pasta is coated.
Spray 9 x 13 pan with oil and add half of the pasta mixture.
In another mixing bowl combine cottage cheese, parmesan, eggs and 1 tablespoon of parsley. Mix until combined
Pour mixture over the pasta in the pan. Add remaining pasta on top.
Spread mozzarella cheese and parsley over the pasta
Bake in the oven on 350 for 25-30 minutes.
Let rest for 15 minutes before serving.

Notes
This recipe is high in protein without adding additioanl meat. It is also a great base to add your favorite vegetables like broccoli florets, spinach, kale, cherry tomatoes, and peppers.
Looking for somehting else to add to this pasta bake? Leftover chicken makes a great addition. Mix in the chicken with the pasta and sauce.
Another great addition is crumbled bacon over the top.