If you're looking for a great, quick breakfast, then consider making your own better than fast food style breakfast sandwiches. This easy egg McMuffin recipe can be made in bulk, and is great to make the night before for a quick morning departure, or to freeze for easy mornings during the school year.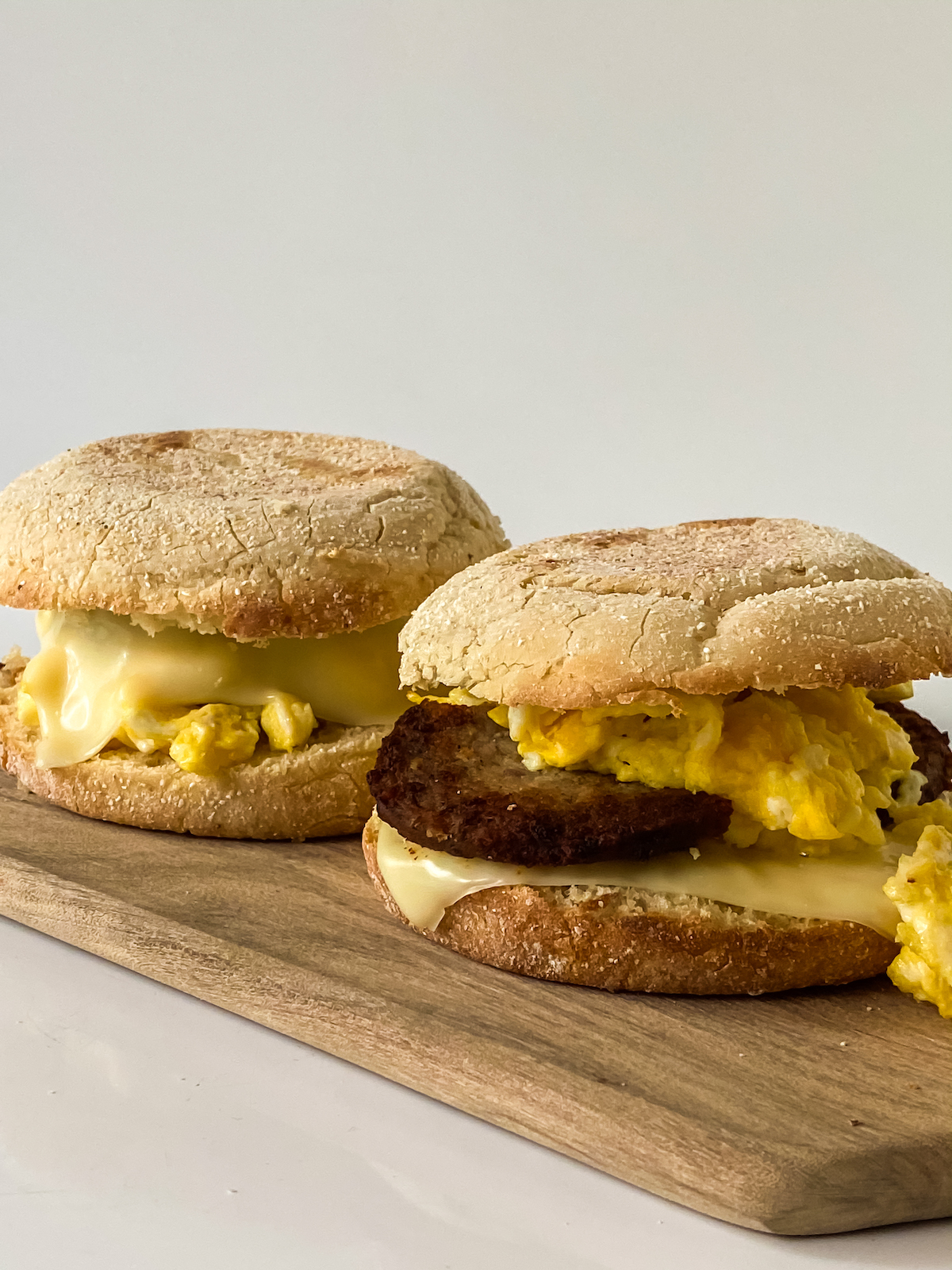 The best egg mcmuffin recipe
This post may contain affiliate links. As an Amazon Associate I earn from qualifying purchases. For more information, see our disclosure.
The best egg mcmuffin recipe is so easy to make, and a great breakfast on the go! This recipe is great to make ahead (more on that later) and super easy to adapt for families or batch cooking.
The trick to these breakfast sandwiches is popping them in the oven and toaster oven and they taste even better than anything you could get on at the drive through.
Egg McMuffin ingredients
Have you ever thought about what actually makes up an Egg McMuffin? Here are the key ingredients when it comes to making your egg McMuffins:
English Muffins
Eggs
Butter
Sausage Patties
A slice of cheese
Of course, you can customize these breakfast sandwiches however you want, which makes them so much better than the fast food version.
Looking for some ideas on taking this breakfast sandwich to the next level?
Use your favorite variety of english muffin. Gluten free, high protein, multigrain, whole wheat, the possibilities are endless!
Use any cheese you want! Many people enjoy American cheese on a breakfast sandwich, but go with your favorites. Some also enjoy cheddar cheese slices on their sandwiches.
Swap regular sausage for chicken sausage or vegan sausage patties, or even bacon
Add sautéed veggies like mushrooms, spinach, and tomato.
Making vegetarian breakfast sandwiches
If you want to make these vegetarian, you can skip the meat all together, or use a vegan breakfast sausage substitute. The great thing about this is it is really easy to make if you're serving a group with varied diets, or everyone likes something slightly different.
These are also great with sautéed veggies, our favorites are spinach, tomatoes, and mushrooms, but you can get creative! Some other good ones are peppers and onions. Think anything you would put in an omelette, because it would be great on this sandwich.
A better copycat recipe mcdonald's egg mcmuffin
A better egg McMuffin recipe is one that suits you and your family's tastes. The egg mcmuffins are still easy to make and so much healthier than the fast food version! Plus, these are really easy to customize based on who likes what!
How to make an egg mcmuffin without an egg ring
The easiest way to make an egg McMuffin without an egg ring is to simply scramble the eggs, which is what we do. This really brings meal prep time way down instead having to cook all of these eggs individually.
Here's also a genius hack for making a bunch of egg McMuffin style eggs on a baking sheet. You can cook 12 eggs in 5-6 minutes this way.
Sure, they are square instead of round, but hey, who's keeping score anyway.
The Ultimate Make Ahead Breakfast Sandwich
This egg McMuffin recipe is a a great make ahead breakfast sandwich. The trick is to skip the oven if you plan on freezing them, or making them the night before.
Wrap each sandwich individually in Saran Wrap, and place in a gallon ziplock in the freezer. This way, they will keep for 3-4 weeks in the freezer. Don't forget to put the date on the bag!
Can you refrigerate breakfast sandwiches?
Yes, you can refrigerate these breakfast sandwiches. The trick is to refrigerate them right after assembly. You can wrap them in Saran Wrap or tin foil based on how you want to reheat them.
How do you reheat breakfast sandwiches?
If you are making them the night before, and want to get out of the house quickly the next day, I like to make them then wrap them in tin foil.
That way you can fire them into the oven, toaster oven, or even air fryer to reheat them the next day.
If you're looking for something even speedier, you can also microwave your breakfast sandwiches to reheat them, but be sure to wrap them in Saran Wrap for this.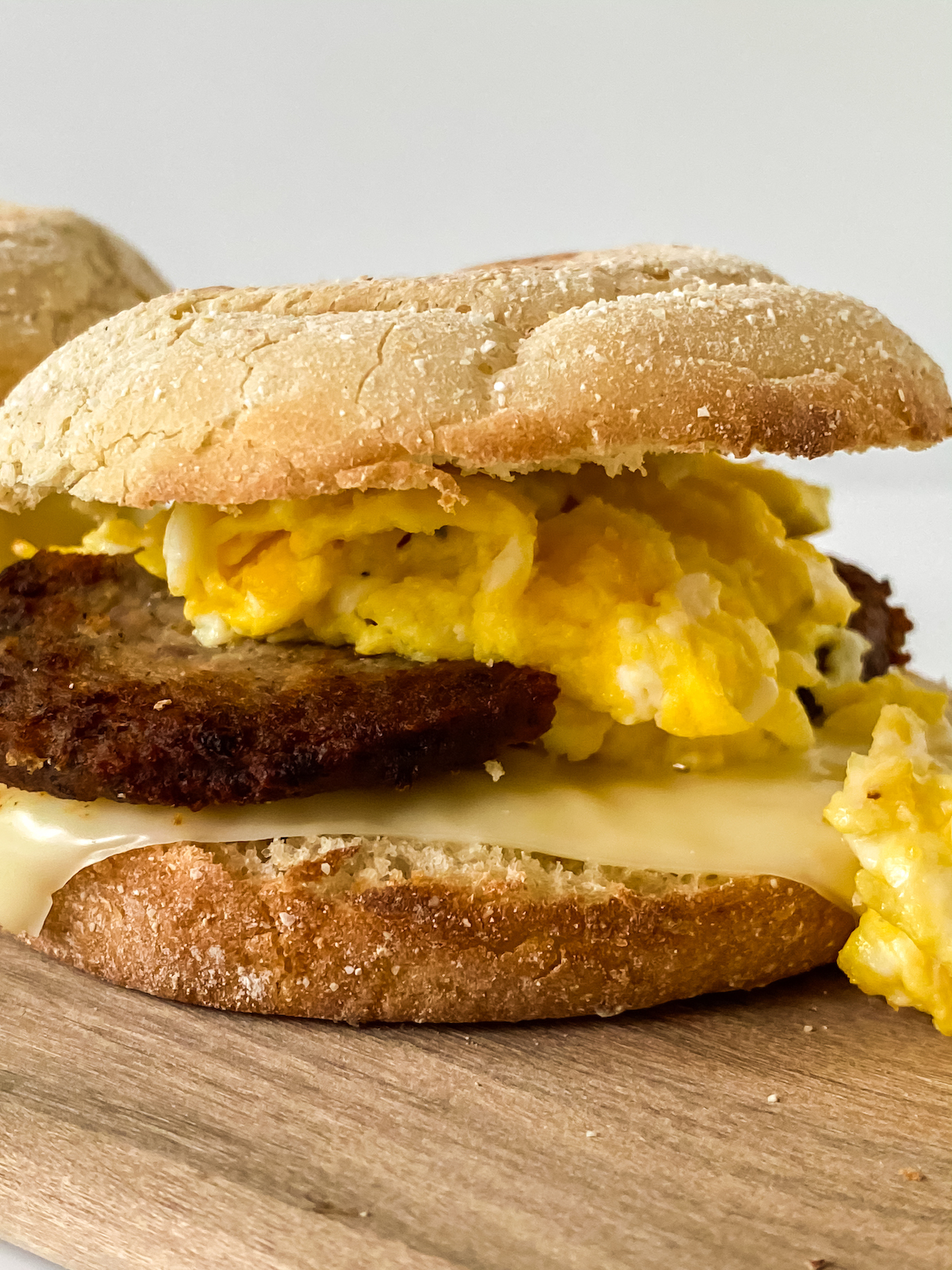 Looking for some more easy family recipes? Don't miss some of our favorites:
Yield: 6 Breakfast Sandwiches
A Better Egg McMuffin Recipe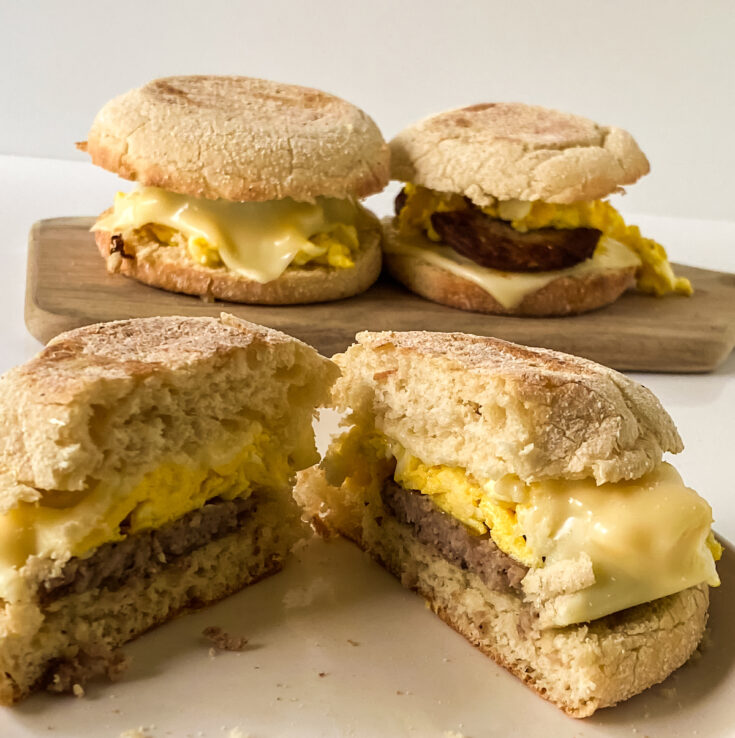 This is a better than fast food breakfast sandwhiches. These breakfast sandwiches are quick and easy to make, and also keep well in the freezer.
Ingredients
6 eggs, beaten
2 Tablespoons unsalted butter
6 English Muffins
6 Slices American cheese (or your favorite cheese)
6-12 sausage patties, 1-2 per sandwich depending on preferences.
Instructions
Preheat the oven to 400
Melt butter in skillet oven medium heat
Pour beaten eggs, sprinkle with salt and pepper to taste.
Stir eggs often and cook until set into soft curds, about 3-4 mins over medium heat.
Remove eggs from heat and set aside.
Build your sandwiches with meat, egg and cheese.
Cook in the oven for a slightly toasted sandwich for about 8 min, or put into microwave just long enough to melt the cheese, about 30 sec
To reheat: Cook in oven for 8-10 minutes, microwave for 1-2 minutes, or Air Fry for 5-6 minutes. Add several more minutes if frozen.
Notes
These breakfast sandwhiches are great to prepare ahead of time and have as a freezer meal.
To store in freezer, Wrap in plastic wrap and then place inside of gallon zip lock bags. Make sure you put the date on the bag. These will keep for 3-4 weeks in the freezer.
These can also be made the night before for a quick breakfast on the way out the door. Wrap individually in tin foil after building, and reheat in oven or air fryer.
Feel free to make these English muffin breakfast sandwhiches your own! You can try adding bacon or canadian bacon, and your favorite types of cheese.
You can also add your favorite veggies like sauteed spinach, mushroooms, tomatoes, peppers, or onions to this great sandwich - and skip the meat for a vegetarian option.