As magical as the holidays can be, they can also be the source of a lot of stress—especially for us busy moms. Between trying to juggle all the usual holiday events, buying presents, planning holiday meals, and preparing our house for guests or traveling ourselves, it is easy to feel overwhelmed with everything that needs to get done. You may find your holiday spirit wanes as more and more is added to your plate. Let us help make your holidays less stressful.
Here are some ideas to make your holidays less stressful.
Start a new family meal tradition.
Planning and executing a huge family meal on top of everything else can be just plain exhausting. Especially if you are up late the night before and are running on very little sleep. If you are hosting, why not give yourself a break and start a new family meal tradition that doesn't involve a huge amount of work?
This post may contain affiliate links. As an Amazon Associate I earn from qualifying purchases. For more information, see our disclosure.
One idea is to make homemade pizza each year. You can buy pre-made dough (or find a simple recipe to use), and then provide a selection of toppings. Everyone can make their own personal pizza, or you can make a couple of larger pizzas to feed the whole crew.
Throw in a fresh garden salad (again, this can be pre-mixed) and some garlic bread from you local bakery. You will have a yummy meal that, let's face it, your kids are less likely to complain about!
Another idea is a build-your-own taco bar. Taco meat can be made ahead of time and kept warm in a crock pot. Set out other toppings—cheese, lettuce, tomatoes, olives, guac, and sour cream and let your guests build their own tacos. Add some chips and salsa (find an easy homemade salsa recipe or buy store bought, no judgement here!).
The point is to just keep it simple so you can focus on more important things, like actually enjoying the holiday!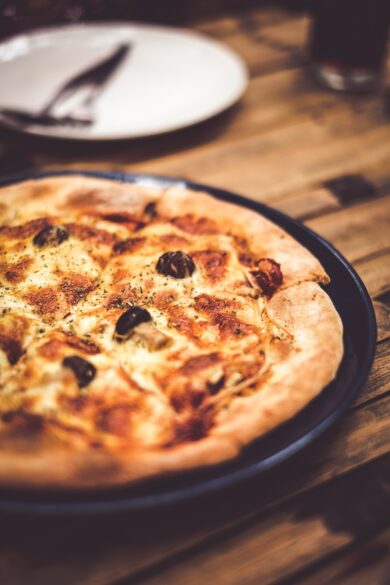 Minimize gift giving.
Are you pulling your hair out trying to figure out the perfect present for you sister-in-law? It can be stressful and overwhelming to try to buy presents for so many extended family members, and costs can quickly add up, especially as your extended family grows. Here are a couple of options that you can consider to try to minimize some of the stress around shopping.
First, consider just drawing names. You can have an adult exchange as well as a kid exchange. Designate one family member to draw names out of the hat to assign the gifters/recipients. Each adult buys a gift for one other adult family member. This is a great way to make your holidays less stressful!
This works great for the kids, too. All the cousins names are thrown into a hat and each cousin buys a gift for one other cousin. You can set a dollar amount range for the exchange so everyone is on the same page. The nice thing about this option is that if you are only buying for one other person, you can probably spend a little more which opens up gift giving possibilities.
Another option is to only exchange gifts with those relatives you will see on the holidays. Of course, this should be discussed up front with any members of your family you won't see in person.
Shipping costs can be crazy expensive and sometimes you end up spending more on shipping than what you spent on the gift! Plus, sometimes it can challenging during the busy holiday season to find the time to get to the post office. You also have to shop early to make sure the gifts make it on time. Again, just have an open discussion about this option well in advance, but this can save both parties a lot of stress.
Another option? Just do away with adult gift giving among extended family all together. I know this is only appealing for some, but once you add kids to the mix, Christmas is mostly about them anyway.
Instead of spending money and time trying to find the perfect gift for your in-laws, why not plan a fun family activity to do together, instead? Maybe everyone can meet at the movies. Or go out to dinner together sometime over the holidays. Or go ice skating or spend a day at the beach together. The possibilities are endless!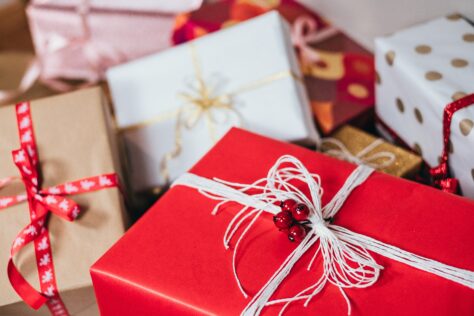 Shop online.
There is no need to hit the stores on Black Friday anymore for the best deals when so many retailers now offer many of these same deals online. Score some sweet deals on Black Friday or Cyber Monday from the comfort of your couch instead of trying to fight all the crowds at shopping centers.
Most retailers will offer free shipping or additional savings if you sign up for their e-mail promotions. And if you find yourself shopping at the last minute, many places offer two-day shipping.
Set boundaries about travel.
This can be a tough one. A lot of holiday stress can come from having to travel over the holidays. Sometimes this involves driving or flying long distances to see grandparents or other family. It can also involve jumping from house to house if both of your relatives live close by and you are trying to equally share time with both families.
As your children get older, you may want to break with old family traditions and start your own. This might include spending the holidays in your own house rather than traveling or jumping from house to house. Depending on your family dynamic, this might ruffle a few feathers.
It completely o.k. to put your family's preferences at the top of the list in order to establish new traditions. Change can be hard, but can also be necessary. If you don't mind hosting, you can certainly invite family over to spend the holidays with you.
But if it would work out better for them to stay at a hotel while they are in town, don't be afraid to have that conversation. Some family might be more comfortable staying in a hotel, anyways.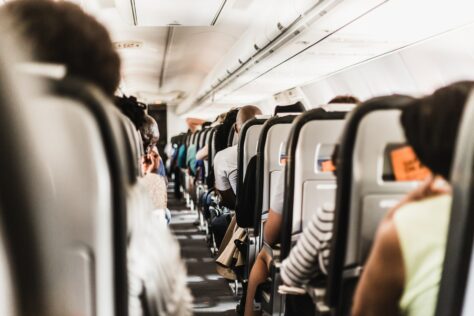 I hope these ideas will help to make your holidays less stressful. Enjoy this special time with your loved ones! Happy Holidays!