Summer time means it is time to hit the open road as a family. Heading out on an adventure with all of your loved ones is a great way to spend time together and make happy memories. So much time will be spent in your vehicle while on your journey, so why not work to keep it as organized as possible.
Storage Options
Having a variety of storage options is vital for a small space such as a vehicle. Adding bins underneath seats or around the back of head rests will create options for all types of objects. Pick storage options that are not only practical, but that can be removed easily. Any bulky containers or items that can limit seat space should be avoided.
This post may contain affiliate links. As an Amazon Associate I earn from qualifying purchases. For more information, see our disclosure.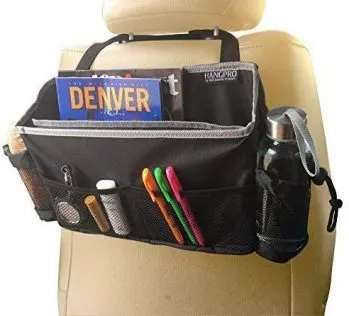 Large storage bins that mount to the top of vehicles can not only carry luggage, but also backup activities or other items that you don't have to keep right inside the car.
Minimize Unnecessary Items
Like your closet, switch out items you store in your car with the seasons. For example, keep beach toys in the trunk during the summer, but take them out when the weather turns cold. Be sure to keep emergency items in your vehicle at all times, so make sure these have a designated spot! Another important way to keep your car organized is to keep a grocery back or garage receptacle in it at all times to collect accumulated garbage.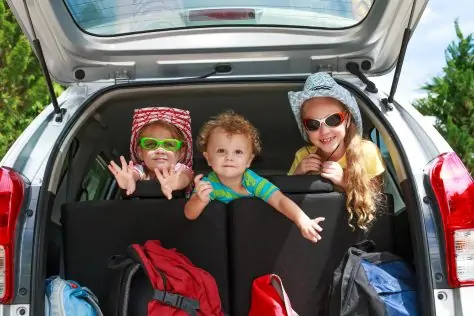 For road trips, allow each child to pack a small bag with only a few items to keep them busy on the trip. Having a a place to keep their toys or electronics will keep them from getting lost. Switch items out when you stop to use the bathroom or when a child is losing interest and getting rowdy while on the road.
Make Organization Pit Stops
While taking breaks on your road trip, take a moment to tidy up between stops. Toss out any garbage, put any loose items back in their designated spots and encourage the others in the car to do the same. This way your vehicle won't look like a disaster area upon arrival at your destination or when you get back home.
Bring Busy Items
Probably the best way to keep your car organize during a road trip is to have something for children to do while you travel. If they are busy doing something else, then they will be less likely to make a large mess in the car. Another idea is to encourage them to bring a pillow and blanket from home so that they can take naps on longer car rides. Coloring books, tablets and book also make for hours of busy work.
Should you find children losing interest in items they brought from home, consider making a stop to a department or craft store while on your way to pickup new things for them to do. This might also give kids an incentive to be on their best behavior and pickup after themselves.