Enjoy a fantastic, complete meal with this super easy Sheet Pan Chicken Thighs and Veggies recipe. Glorious, juicy chicken thighs, with some tender baby potatoes, and your favorite vegetables, like bell peppers, green beans, and broccoli, seasoned with olive oil and some fresh herbs and spices, all baked together to create the perfect supper.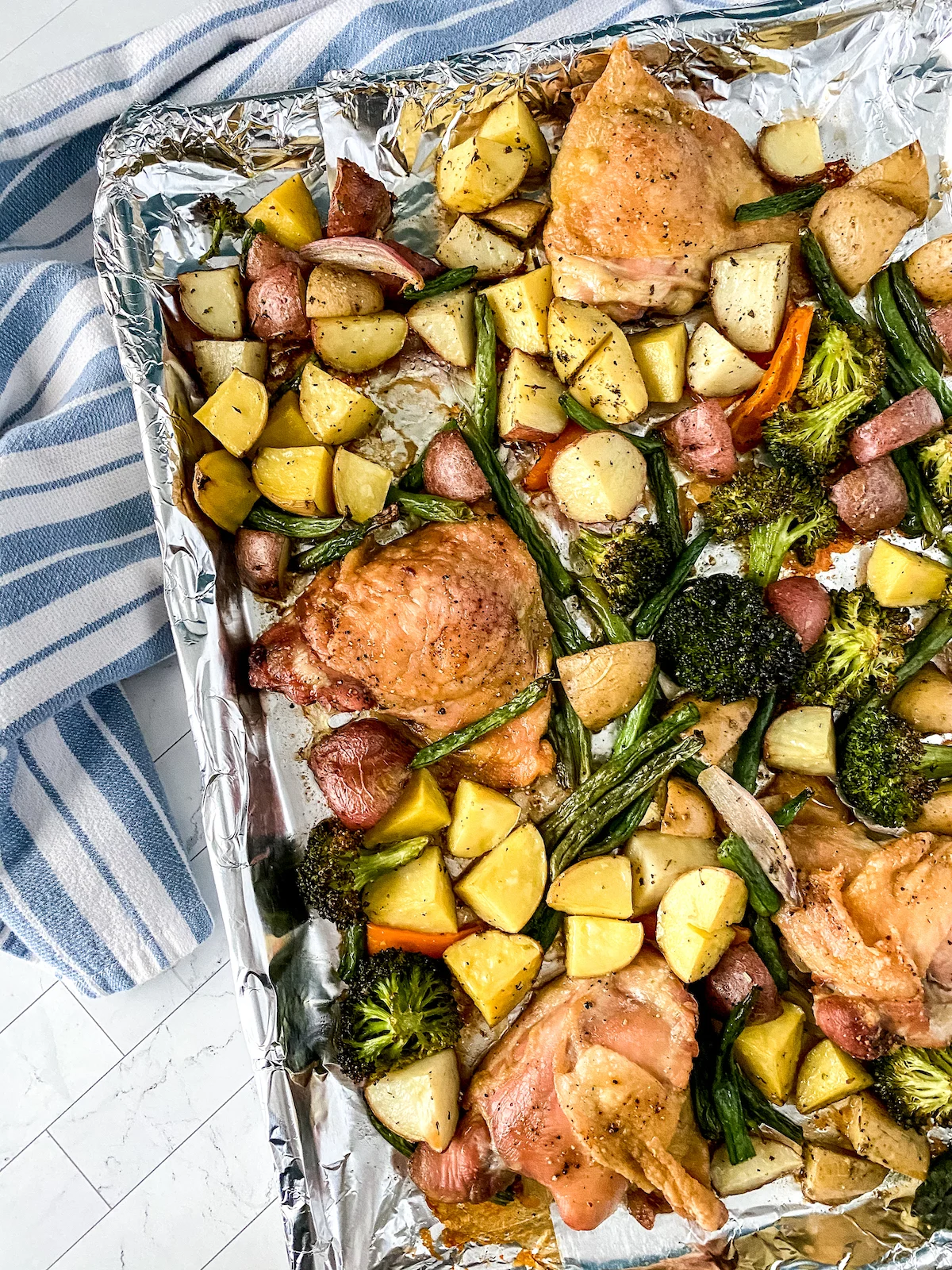 I love sheet pan dinners where everything gets tossed together and baked in the oven all at once! Talk about an easy dinner. This incredibly simple Sheet Pan Chicken Thighs and Veggies meal is absolutely delicious. It's affordable, fast, and efficient, not to mention super customizable. Trust me friends, you're going to love this sheet pan meal just as much as you do all your others!
This post may contain affiliate links. As an Amazon Associate I earn from qualifying purchases. For more information, see our disclosure.
Don't let dinner be a source of stress for you anymore! Add this Chicken and Veggie Sheet Pan Dinner recipe to your printable meal plan and check off another night of delicious dinner on your to do list.
Why you'll love this sheet pan recipe
Chicken thighs are an affordable cut of chicken
Everything is all on one baking sheet – makes for easy cleanup and super fast, perfect for busy weeknights
Perfect way to get more veggies in (especially for the kiddos)
Great way to meal prep, make a few sheet pan meals on the weekend and have dinners and lunch ready to go for all week long
Ingredients Needed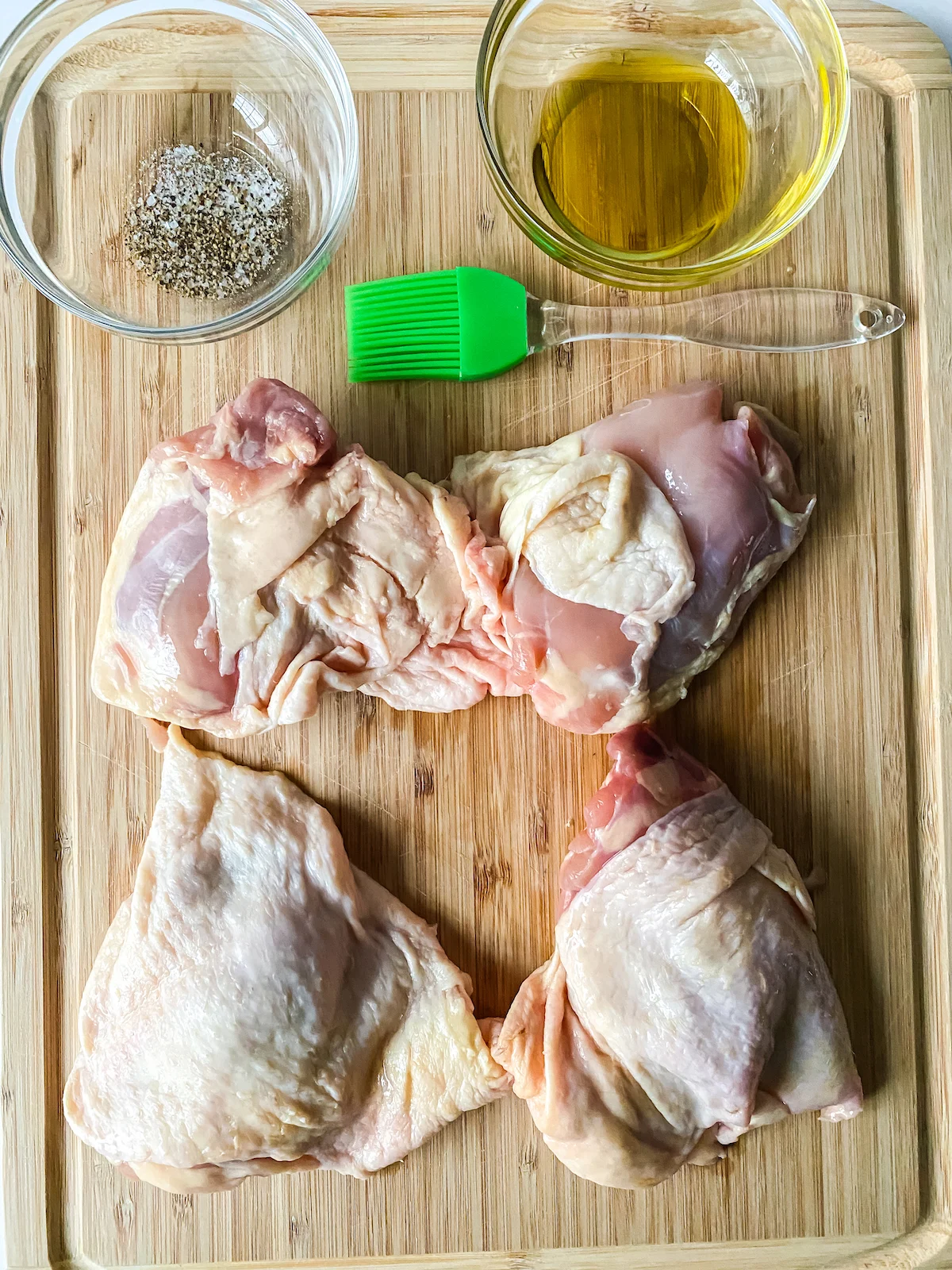 Baby potatoes
Olive oil
Italian seasoning
Kosher salt
Fresh-cracked black pepper
Bone in, skin on, chicken thighs
Broccoli florets
Green beans
Bell pepper
Fresh herbs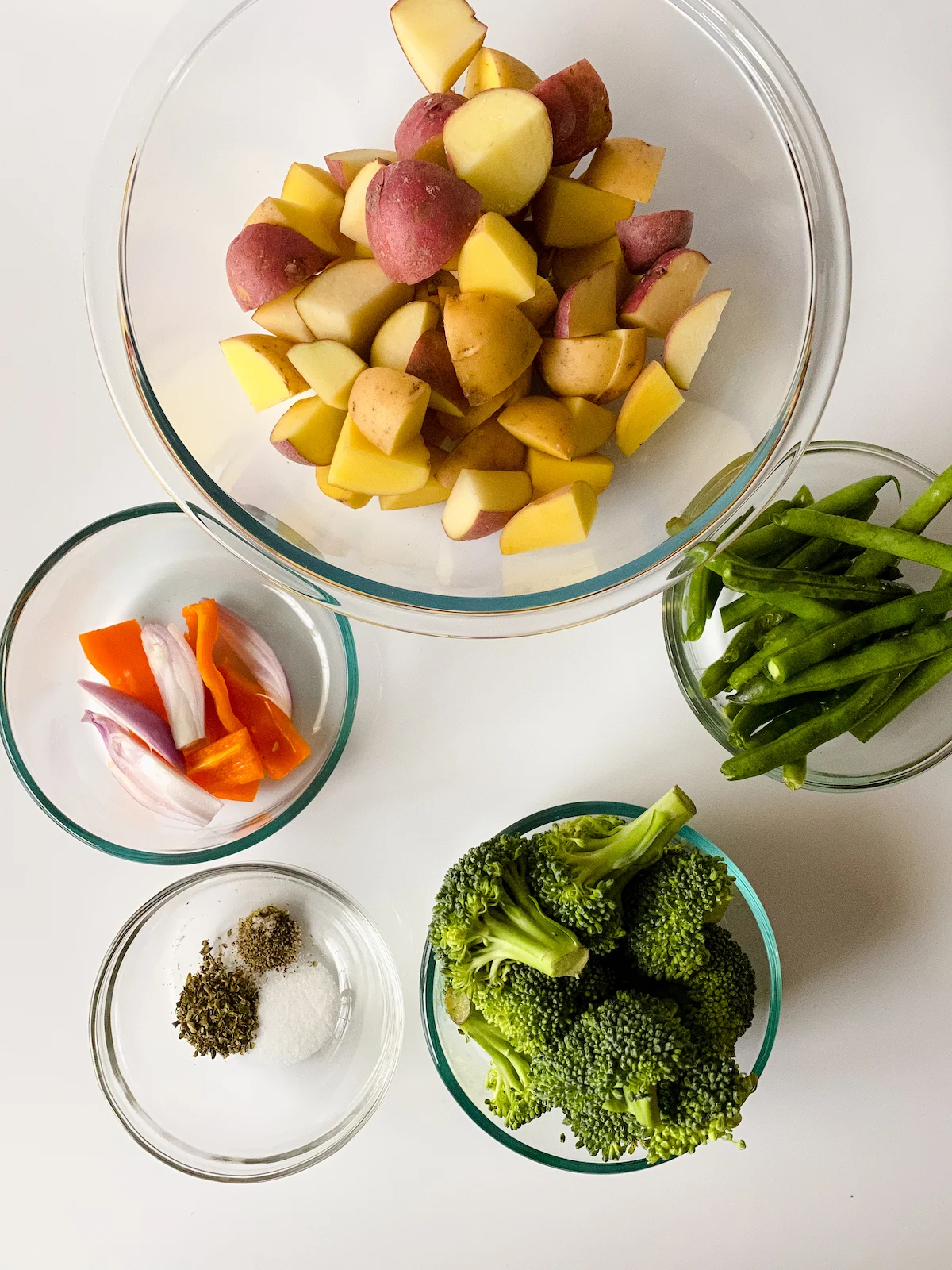 How to Make Sheet Pan Chicken Thighs and Veggies
Preheat the oven to 400F.
Using paper towels, pat the chicken thighs down to remove any excess moisture. This helps crisp up the skin.
Sprinkle 1 teaspoon of salt and a 1/2 teaspoon of black pepper over top of the chicken evenly. Brush 1 Tablespoon on the tops of the chicken using a pastry brush.
Line a baking sheet with aluminum foil and place the thighs skin down.
Bake for 20 minutes in the oven.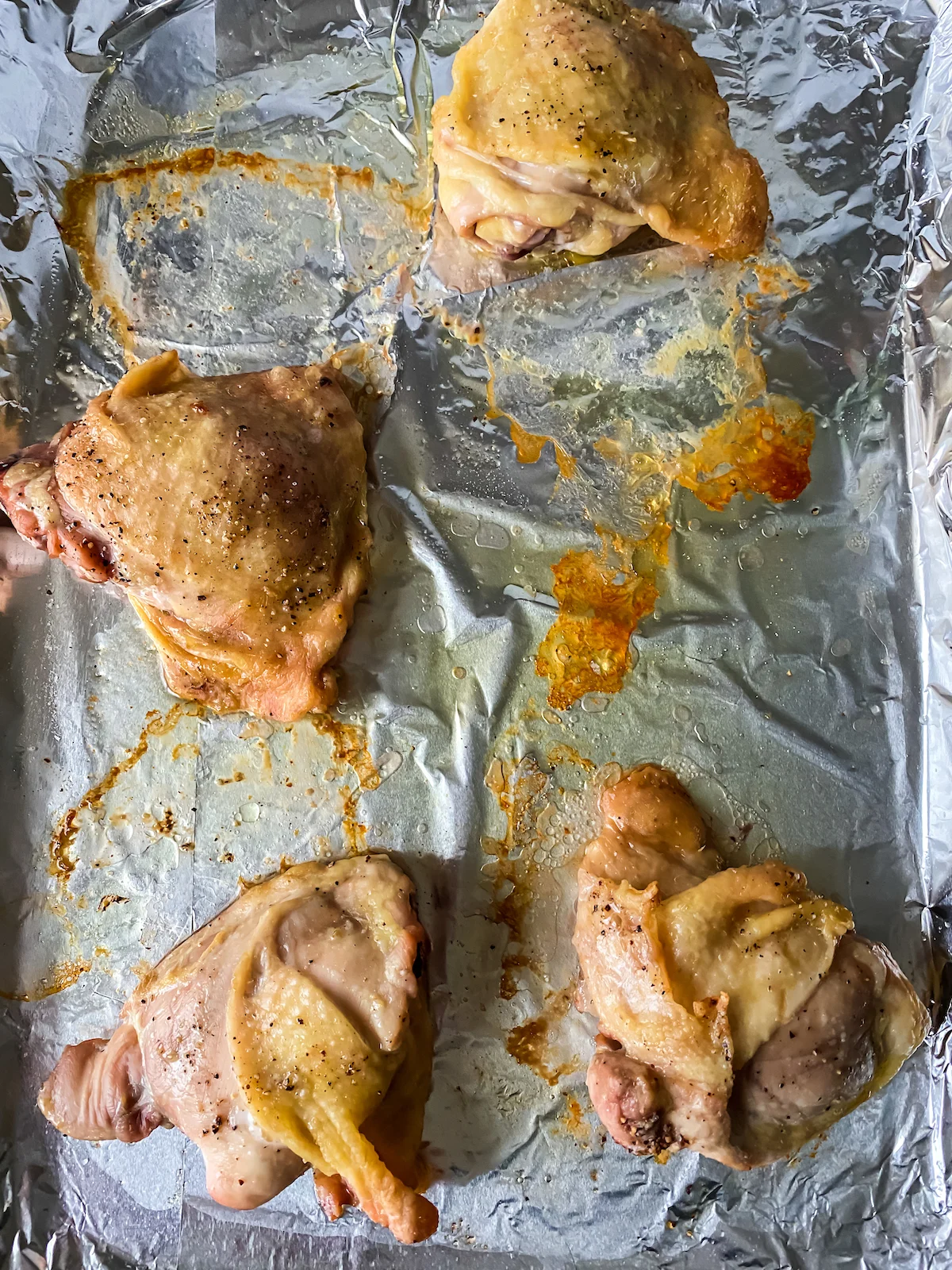 While the chicken bakes, place carrots, potato, and the onion in a large bowl.
Drizzle with 2 Tablespoons of olive oil before tossing the veggies to coat.
Sprinkle another 1 teaspoon of salt and 1/2 of black pepper. Then add the rosemary evenly over veggies before tossing again.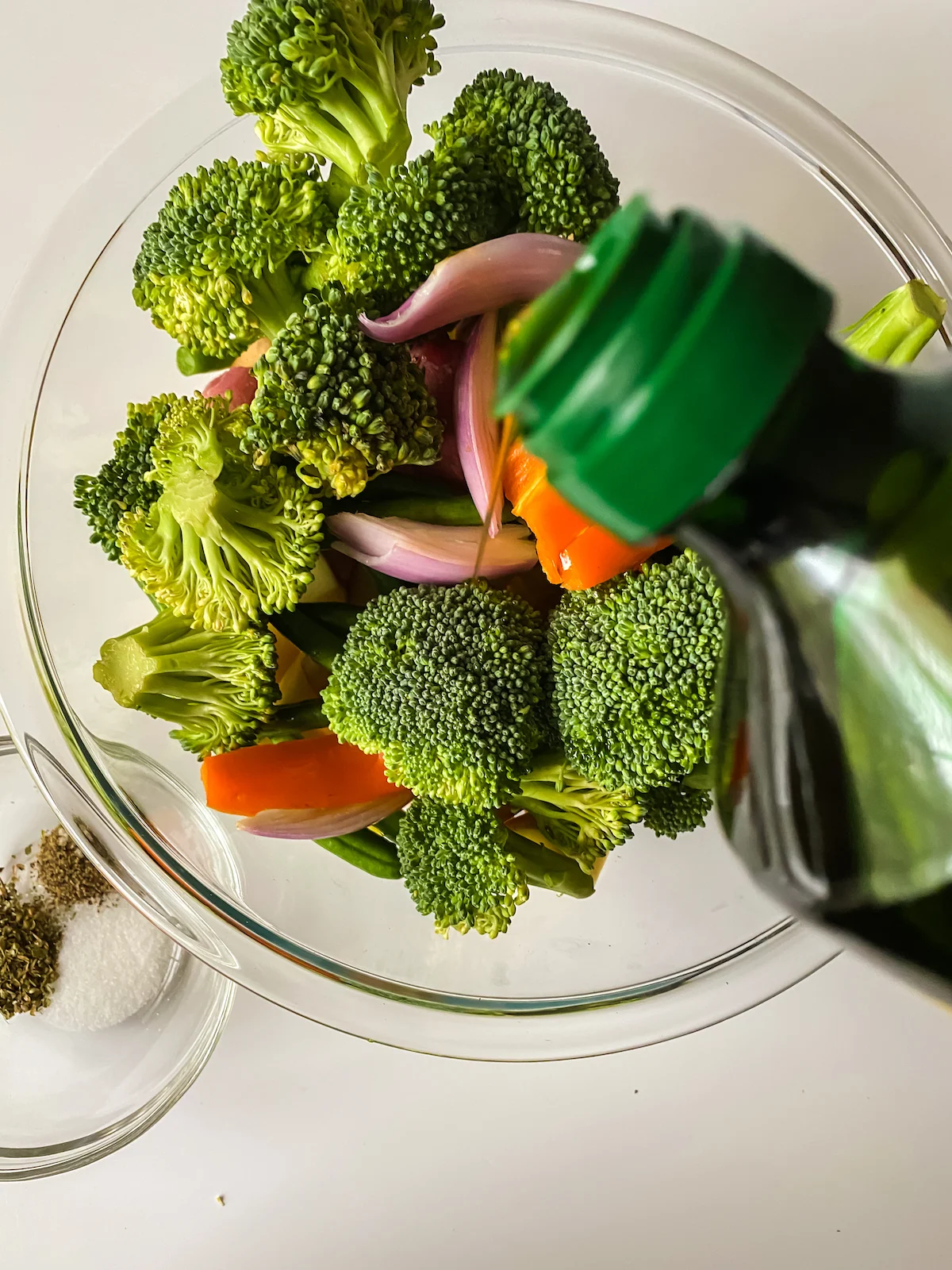 When chicken is finished baking, remove the pan from the oven and transfer the chicken to a plate.
Drain and toss the juices from the pan before adding the vegetables to the pan. Place the chicken back on the pan also, arrange everything in a single layer.
Reduce oven to 375F.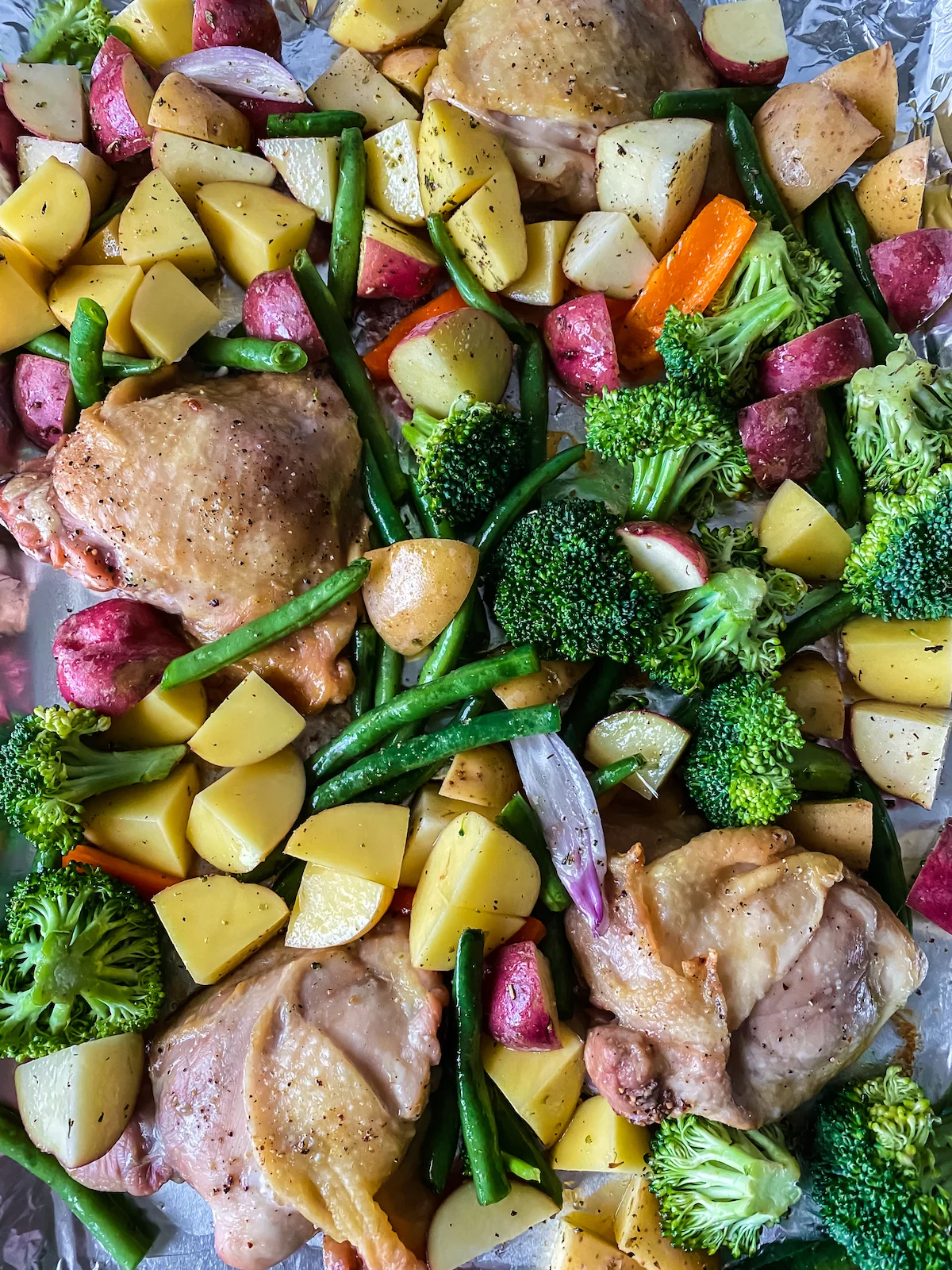 Place sheet pan back in the oven and bake for 35-45 minutes, or until the internal temp is 165F. Remove, serve, and enjoy this healthy meal.
Storage
Any leftover bone-in thighs and vegetables should be stored in an airtight container and kept in the refrigerator for up to 4-5 days.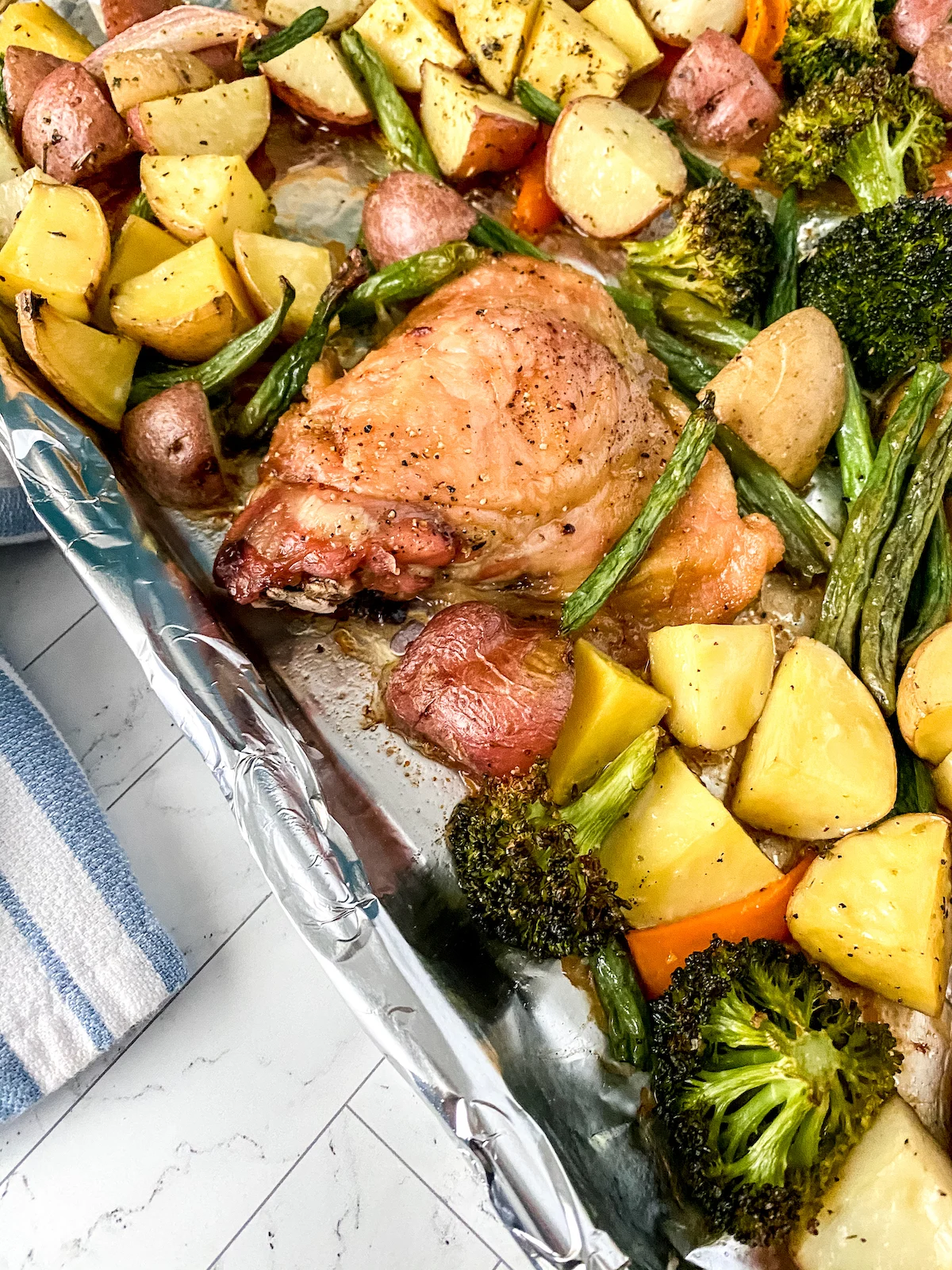 Tips and Variations
Chicken and veggies sheet pan dinner is the perfect recipe to build off of. Use this recipe as a base to customize and add ingredients or swap things out for some of your other favorite foods. See some of my favorite additions below.
Instead of bone-in chicken thighs, you can use boneless chicken thighs, you may just need to adjust the baking time needed.
Always use a meat thermometer to check the internal temperature of your juicy chicken thighs. The instant-read thermometer should be placed in the thickest part of the chicken thigh and should not be touching the bone. The temperature should reach 165F before it is safe to consume.
Be sure to place all of your ingredients in a single layer on the baking sheet so everything can bake evenly.
In place of olive oil, you can use balsamic vinegar or melted butter.
If you like lemon chicken, feel free to squeeze some lemon juice on the chicken before seasoning.
Swap out the spices and herbs to suit your tastes.
What else can I add?
Sweet potatoes
Cauliflower
Brussel sprouts
Carrots
Eggplant
Zucchini and Yellow squash
Red onions
Grape or cherry tomatoes
More or other colored bell peppers
Can I use other cuts of chicken?
Sure thing, as I mentioned above, you can even use boneless thighs. But, if you don't have any, you can use boneless chicken breasts, chicken tenders, wings, etc. However, you will surely need to adjust cooking time needed.
Keep in mind that chicken thighs are dark meat and are very juicy and tend to need more time than chicken breasts or wings.
You can even use other meat choices instead of chicken. Beef, pork, fish, and seafood would all be great options to use instead of chicken.
More Sheet Pan Recipes