Make breakfast fun and incredibly simple with these delicious Bisquick Sheet Pan Pancakes. Turn Saturday morning brunch into the easiest meal of the weekend with these fluffy pancakes. Light and airy pancakes with the best fruit and chocolate chips mixed in. If this isn't one of the best easy breakfast ideas, I don't know what is?!?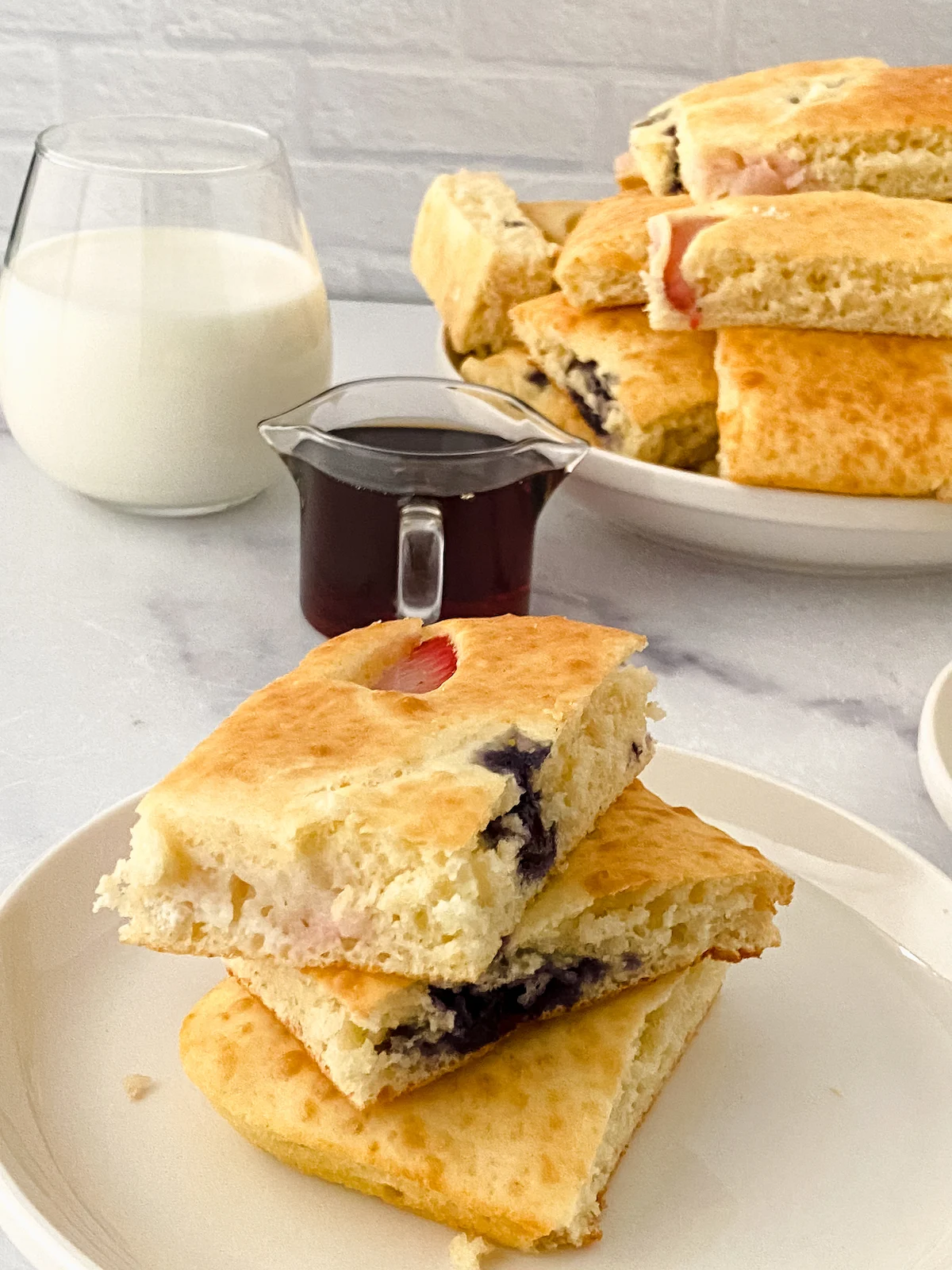 If your family is anything like mine, they LOVE pancakes! But it can be a pain in the butt to have to man the hot griddle or stove while trying to make enough pancakes to feed the whole family. Not to mention making sure you don't wind up with any pancakes that might appear too dark or "burnt" even if they aren't.
This post may contain affiliate links. As an Amazon Associate I earn from qualifying purchases. For more information, see our disclosure.
Gotta love the way kids eat with their eyes first. Drop those frustrating moments when these easy sheet pan pancakes enter the breakfast arena! Perfect pancakes for the whole family without any struggle or frustration.
If you've never tried a sheet pan meal before, you're in for a treat! If you want a sheet pan dinner, try this Sheet Pan Quesadilla recipe.
Why you'll love these pancakes
Make a whole batch of pancakes in no time
Uses the popular pancake mix- Bisquick
An easy recipe that uses simple ingredients
Hot breakfast for the whole family ready in under a half hour, perfect for busy mornings
No need to worry about flipping the pancakes too soon, or too late, using this sheet pan method is the easiest way to get perfect pancakes every time!
Ingredients
These pancakes are so easy to make, you just need a few simple things you probably already have at home: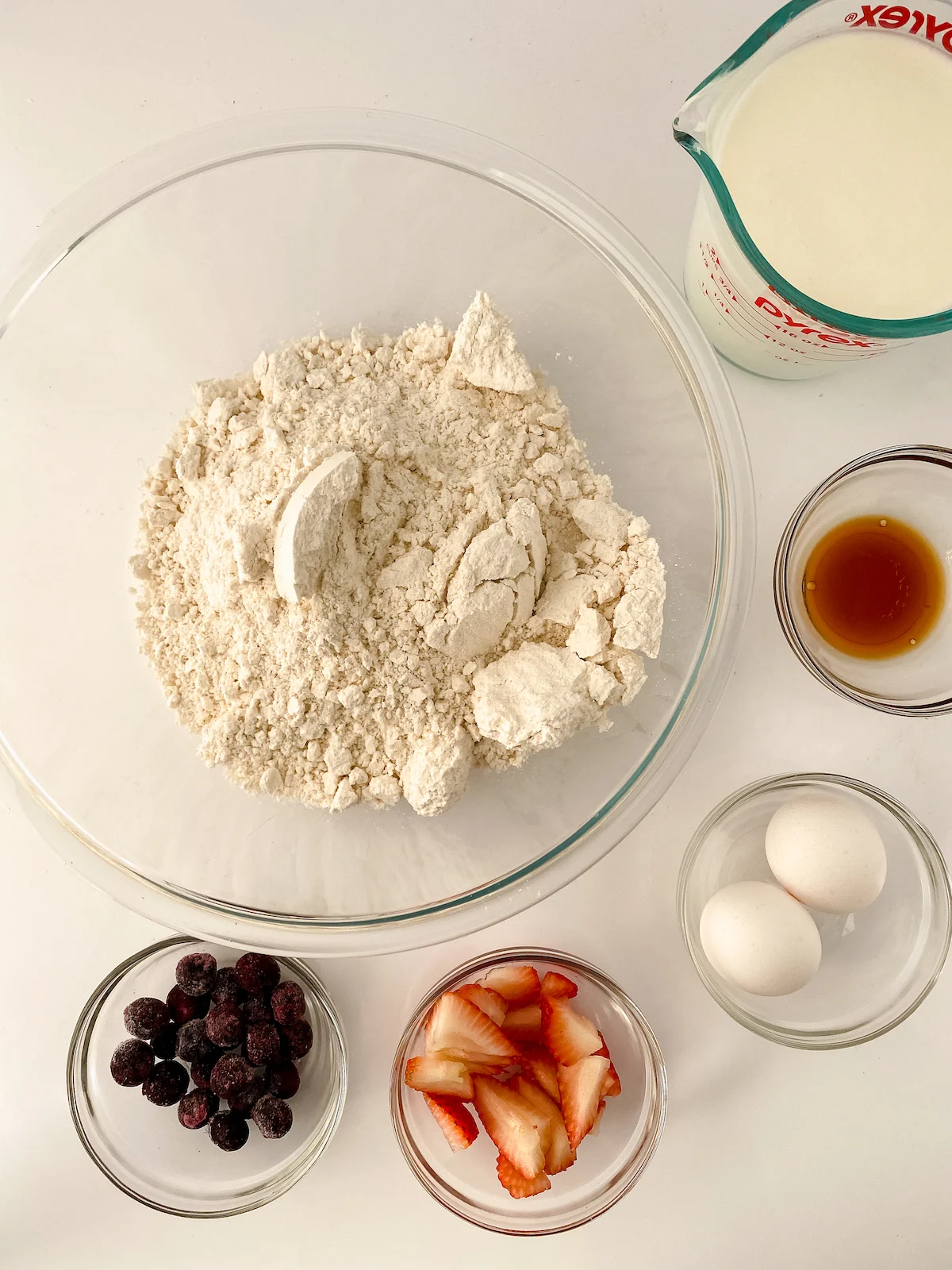 Bisquick pancake mix
Large Eggs
Whole milk
Vanilla extract
Chocolate chips, fresh fruit, or anything else you like in pancakes.
How to Make Bisquick Sheet Pancakes
First, preheat the oven to 425F.
In a large bowl, mix the Bisquick mix, eggs, vanilla, and milk.
Spray your sheet pan with nonstick spray.
Pour the pancake batter into the sheet pan, don't worry, it sort of just spreads itself out. Tilt the sheet pan a bit to cover it if you need to.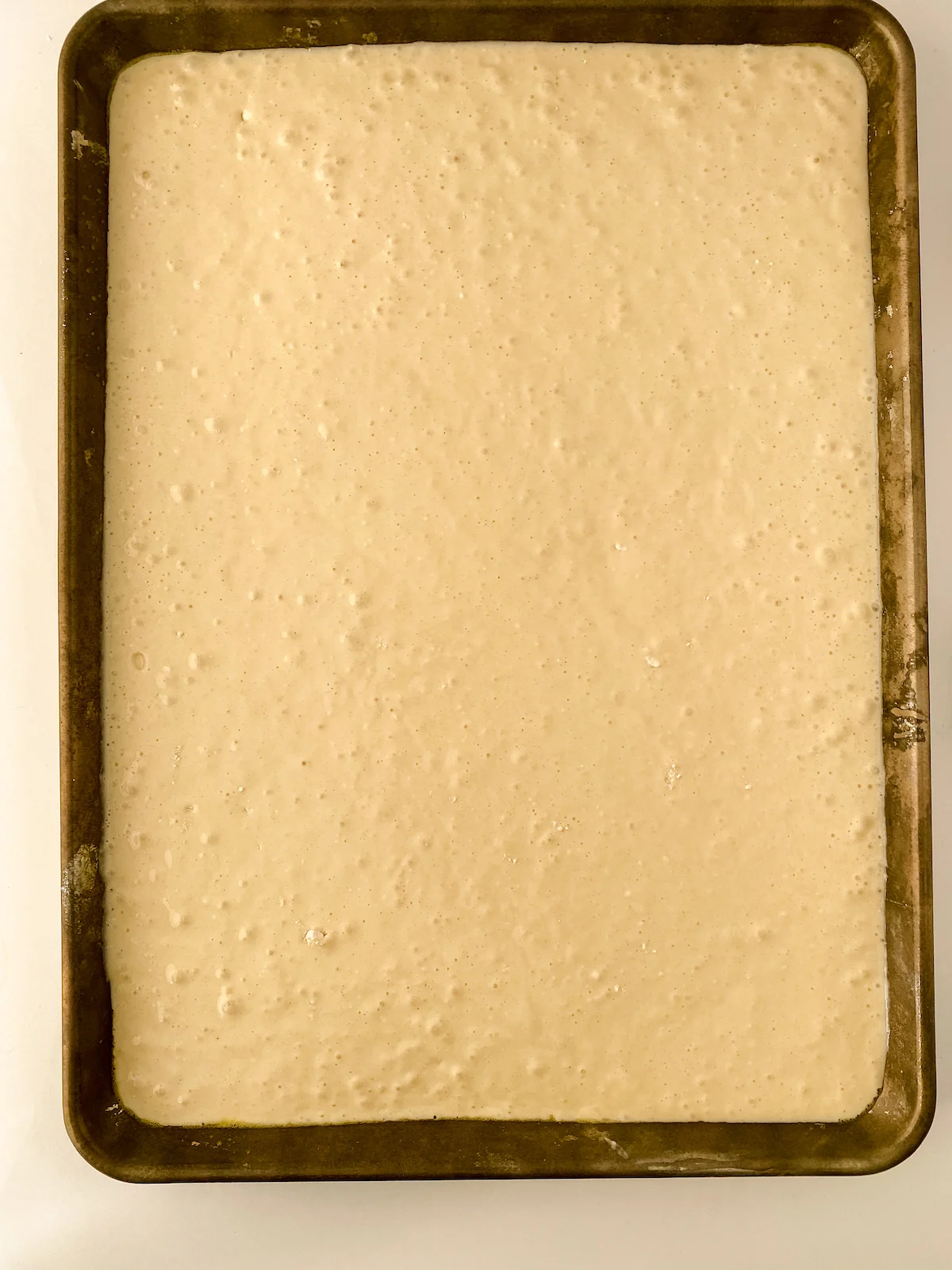 Add fruit and baking chips to the top of the batter, if you're using them.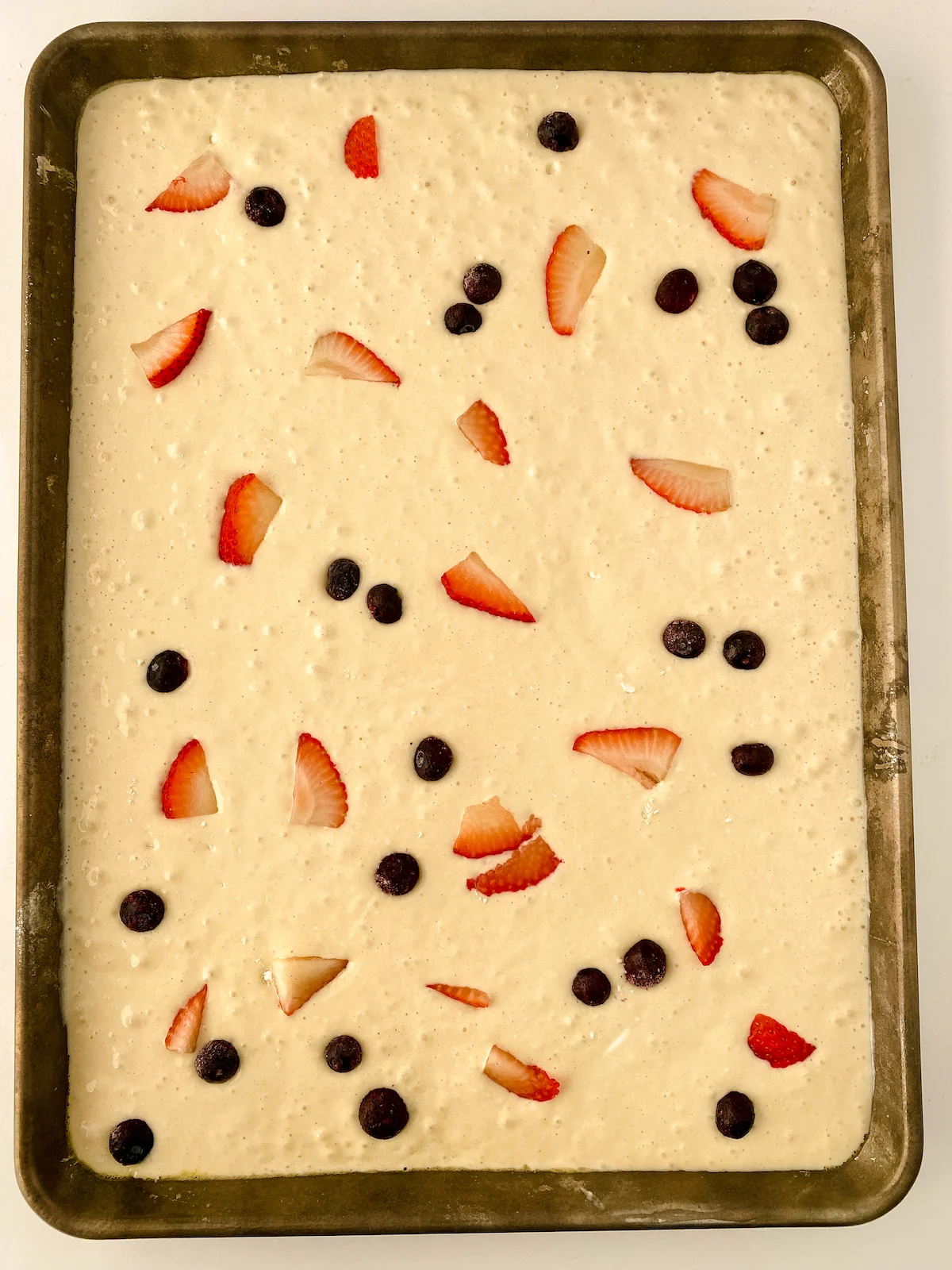 Put in the oven and bake for 15-18 minutes. So much easier than standing over the stove!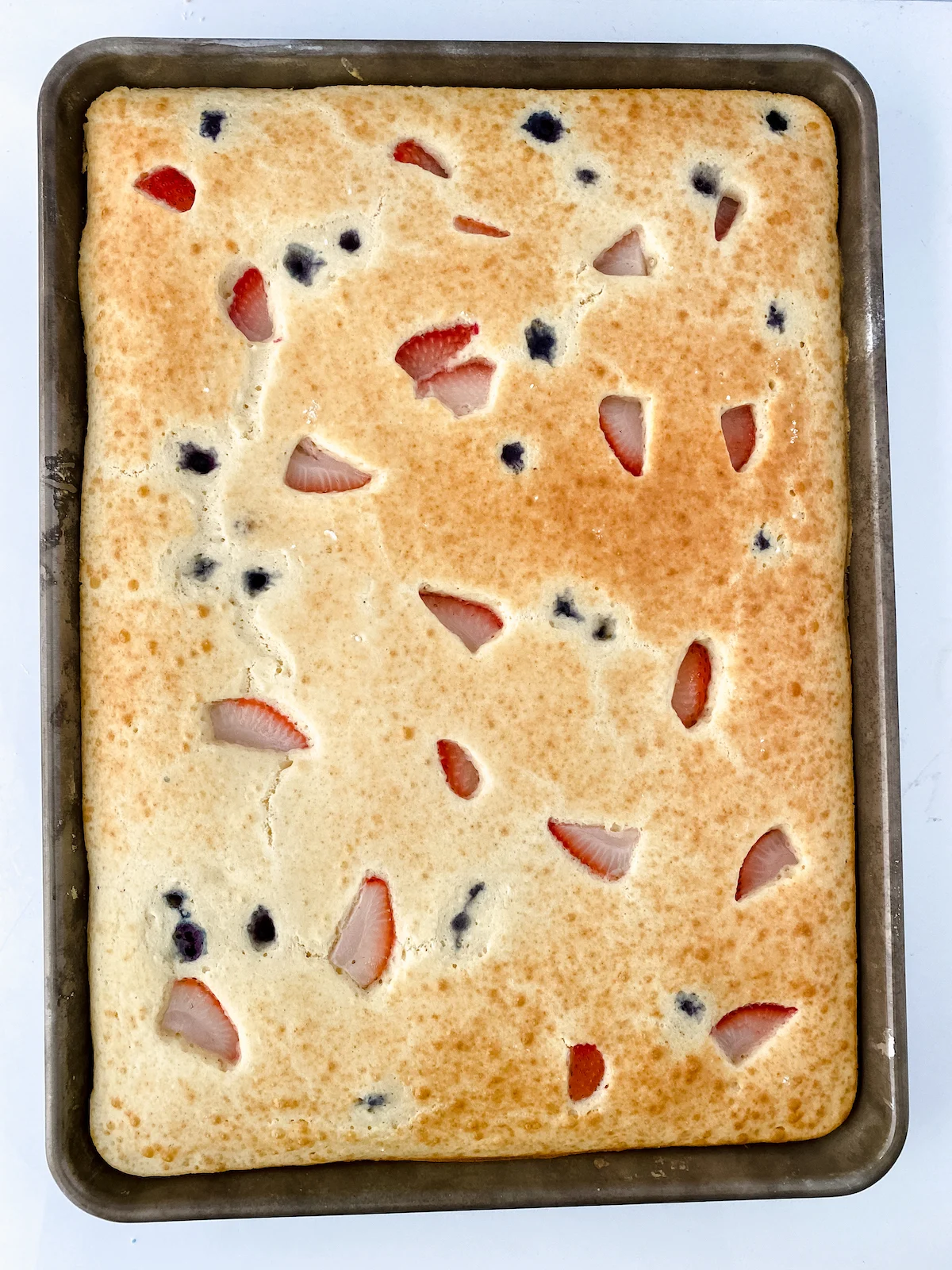 Cut into individual pancakes, serve and enjoy.
Storage
There are a few ways to store leftover sheet pan pancakes. You can either wrap them tightly in plastic wrap or place them in an airtight container. I suggest refrigerating your leftovers for up to 3-4 days.
You can also freeze these pancakes for later, making this the perfect breakfast meal prep recipe. Transfer your pancakes to a freezer bag or safe freezer container and place them in the freezer for up to 2 months. I like to make enough pancakes for the week on Sunday night so the kids have breakfast ready to go for each morning that upcoming week.
To thaw your pancakes, remove them from the freezer and place in the refrigerator overnight to thaw. Place on an aluminum foil lined baking sheet and warm in the oven before serving. Once thawed, you can also microwave them instead of warming them in the oven if desired.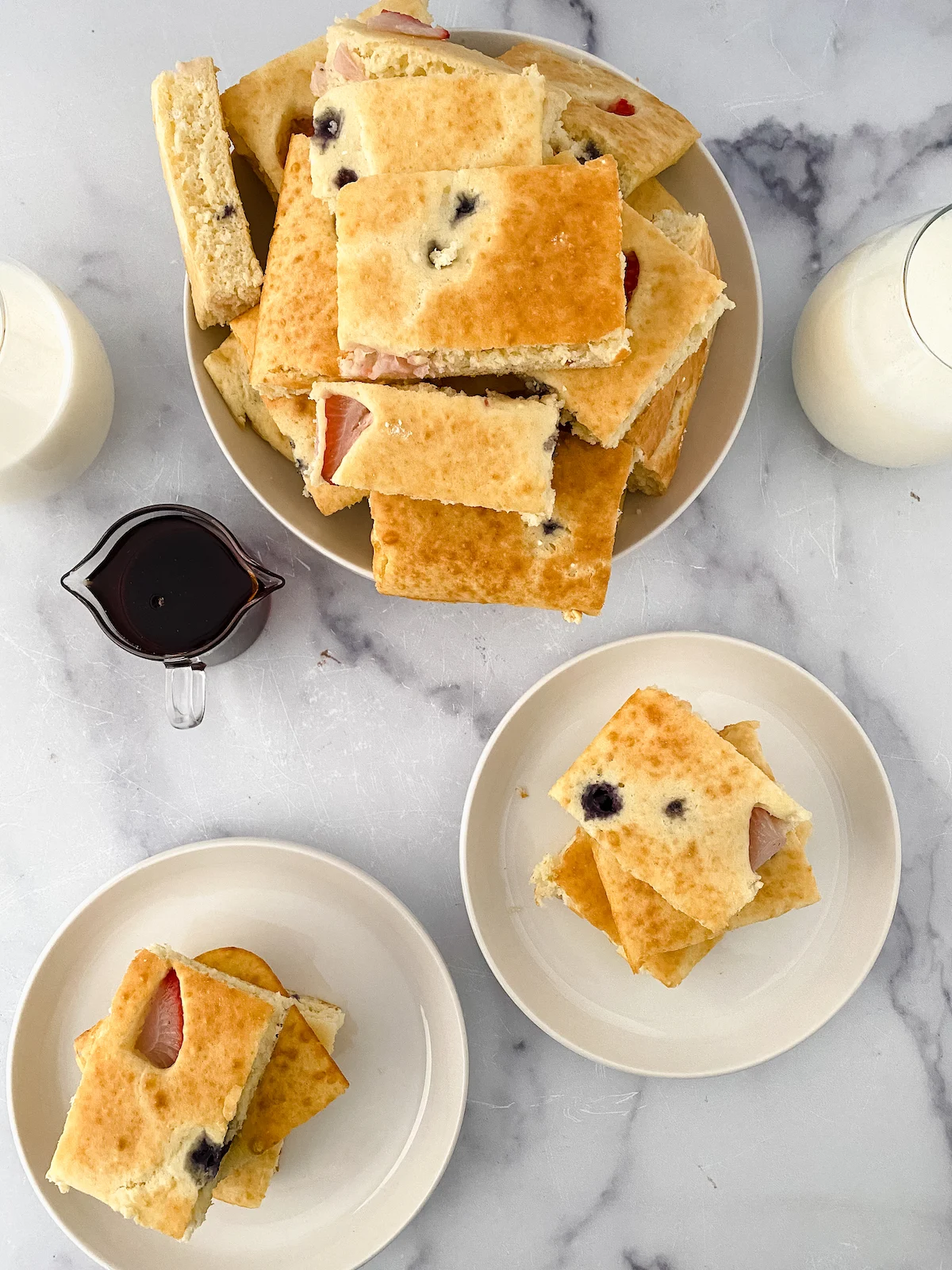 Tips and Variations
You can make multiple variations of this sheet pan pancake recipe and add different fruit or chocolate chips to the pancake batter to make different flavors. This is a great way to make multiple kinds of pancakes easily and in less time than traditional pancakes. I enjoy making a bigger batch of sheet pan pancakes for the holidays when I know we will have plenty of company to serve.
Instead of using Bisquick for this sheet pan pancakes recipe, you can use your favorite pancake mix to create whatever great flavor of pancakes you enjoy.
The baking time may vary depending on your oven temperature and the thickness of the pancake batter.
I also suggest adding a piece of parchment paper to the baking sheet before pouring the batter in so it's easier to remove the sheet pan pancakes to cut them into smaller pancakes.
Want fun pancakes? When you go to cut your pancakes, you don't have to make traditional square cuts. Instead, change it up and grab a cookie cutter or two and cut out some fun shapes to create some fancy and adorable pancakes!
What toppings can I add?
You can add different toppings to this sheet pan pancake recipe that you enjoy. A few favorite toppings are:
Real maple syrup
Melted butter
Whipped cream
More fresh fruit
More chocolate chips
Honey
Powdered sugar and milk glaze 9
Cinnamon sugar
What other add-ins can I add?
Options are endless here folks! This is a fun way to vary up your delicious pancakes:
Sprinkle in some other chocolate baking chips (white chocolate, semi-sweet, dark chocolate)
Other fruits, just not watermelon
Sprinkles
Add some brown sugar, cinnamon, or sugar
If you're looking for a way to make your breakfast routine even easier or for an easy weeknight dinner (hello breakfast for dinner!) then you have to make these super delicious Bisquick Sheet Pan Pancakes. Grab your common ingredients and you'll be enjoying easy Bisquick pancakes for a fast breakfast in no time!
Yield: 12
Bisquick Sheet Pan Pancakes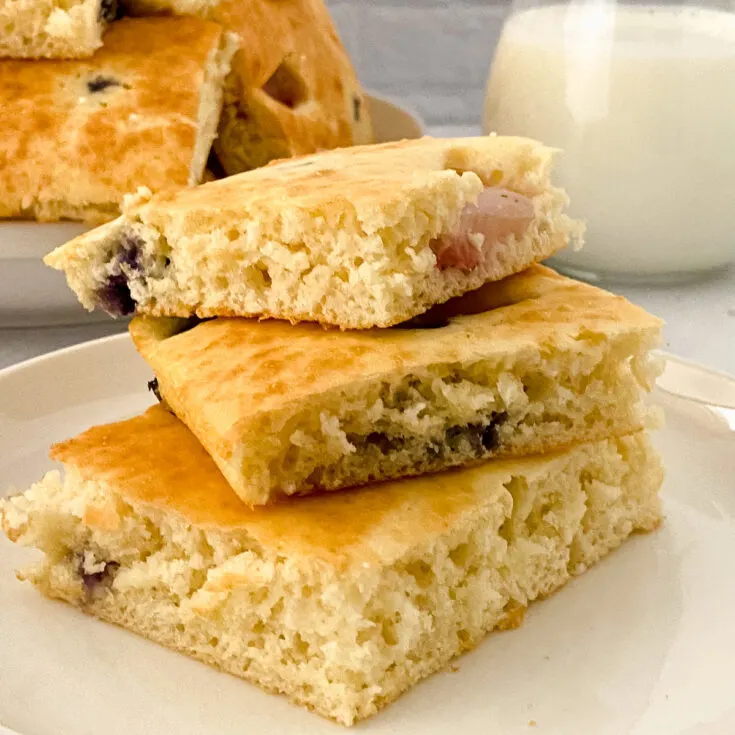 Are you looking for a quick and easy breakfast? These sheet pan pancakes serve the whole family, and can be made to suit everyone's tastes!
Ingredients
4 cups bisquick
4 large eggs
2 cups whole milk
1 tbsp vanilla extract
Chocolate chips, fruit, or your favorite pancake toppings.
Instructions
Preheat oven to 425.
Mix bisquick, eggs, vanilla and milk in a bowl.
Spray baking dish with non stick spray
Pour batter into tray
Add your favoritet pancake toppings.
Bake for 15-18 mins
Notes
You can put whatever you would like on these sheet pan pancakes! I like to decorate with toppings in quadrants sometimes to make everyone's favorite sections.
Nutrition Information:
Yield:
12
Serving Size:
1
Amount Per Serving:
Calories:

84
Total Fat:

4g
Saturated Fat:

2g
Trans Fat:

0g
Unsaturated Fat:

2g
Cholesterol:

68mg
Sodium:

57mg
Carbohydrates:

7g
Fiber:

0g
Sugar:

6g
Protein:

4g