A smooth productive morning sets a nice tone for the rest of the day. However, being a busy mom doesn't always lend itself to a peaceful morning. Here are some tips that incorporate both mindfulness and practicality, to get you and your family off to a great start each day.
Practical Tips For A Productive Mornings
The Night Before The Morning
The best way to have a smooth morning is to prepare as much as you can the night before. Everything that can be done the night before should be done the night before. Make lunches and prep breakfast for the next day. Have the kids pick out their clothes the night before and make sure they have everything they will need for school in their bookbags. Check mudroom or hall closet to ensure that all jackets, coats, and shoes are by the door and ready to go. Nothing disrupts a morning like a missing shoe!
Post A Schedule
Children thrive on routine, so set up a morning routine and try to stick to the same order every day. That way, the kiddos know what to expect. Remind them what's next by posting a schedule, or give them a checklist of tasks that they need to complete each morning. You can even download our free Morning Routine Cards to help keep your kids on track.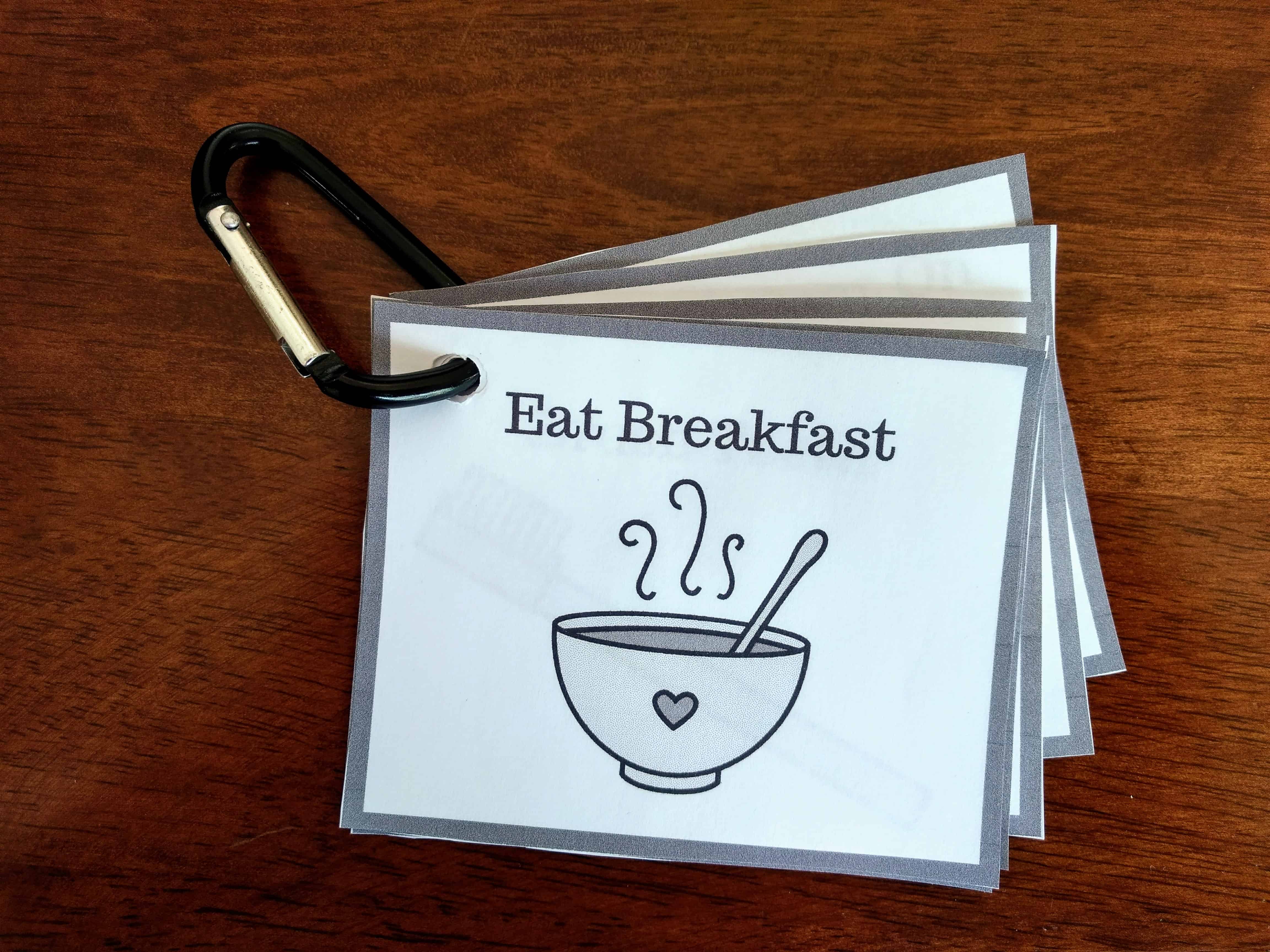 Set Timers
At my house, things start to go off the rails when I start shouting reminders at my forgetful kids. This always disrupts the mood in the house and doesn't seem to help my kids move any faster either. Timers and reminders work much better for us. Set a fun alarm sound on your phone when it's time to head out to the bus. Or, ask your smart home to play your family's favorite song when it's time to start getting shoes and jackets on.
Mindfulness Practices for Productive Mornings
Wake Up Before The Kids
Getting up in the morning before the kids wake up gives you a chance to have a few minutes in peace before the day starts. When I get up at the same time as my kids it's almost as if the day takes off without me and I'm always playing catch up. I have a much smoother morning if I have some quiet time before the chaos starts. If you have a hard time getting up early, check out our post with tips for getting out of bed without hitting snooze!
A Mom Moment in The Morning
Now, just because you woke up before the kids doesn't always mean a smooth morning. If you start working on your to-do list before your feet even hit the floor, you can easily become frazzled and overwhelmed. Schedule in a few minutes to enjoy the quiet before you start hustling. Have a cup of coffee while listening to your favorite song, do a few stretches or a few minutes of yoga, or take some time to meditate or pray. Allow yourself this time to have a "mom moment" before you get to work. Once you've had a few moments of peace, it's time to put all those practical tips in place so you can accomplish what needs to get done.
If your current morning routine is chaotic, it's time to implement some strategies for a smoother, more productive morning.