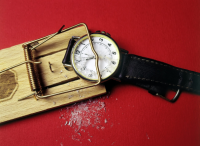 A few years ago, I attended a class about time management taught by my friend Lisa-Michele. She talked about how we set traps for ourselves that create time-management nightmares. These are my most favorite traps (because they are the ones I'm most guilty of):
1. The Myth of Indispensability. If you are under the mistaken impression that you are the only person who can possibly do _______ (fill in the blank), you are setting yourself up for time-management failure. The truth is that there are very few people to whom you are indispensable (p.s. your boss isn't one of them). It reminds me of "Without You," a song from "My Fair Lady." Some of the lyrics;
"Art and music will thrive without you. Somehow Keats will survive without you.
And there still will be rain on that plain down in Spain,
even that will remain without you.
I can do without you."
Can you be honest about the situations where you really are indispensable? If you can, you'll know better how to prioritize and balance your time.
2. The Perfectionism Trap. This is a dangerous one. We disguise it as a good trait by saying we're "detail-oriented." You do not have to do everything perfectly. There is plenty worth doing that is worth doing poorly. REALLY. I know this is counter-intuitive but it's true. Here are three things I plan to do poorly this week, keeping up the garden (I intend to pull one, maybe two weeds – maybe none), returning all my e-mails (sorry friends), dusting (yeah, that's not happing – probably for two weeks).
3. The Inability to Say, "No." Can you say no? What are you afraid of? That you won't be asked again? And that's a tragedy why? If you are a yes-woman, you need to practice saying no. Practice in front of the mirror. Practice ways you can say it that will make you less uncomfortable: "not this time, I'm committed to something else, sorry" Refrain from explaining why you can't… you don't have to justify it… just say no. If this is something you struggle with, I recommend this exercise; say no to someone/something every week. Sorry, saying no to your kids doesn't count. You have to say no to an obligation, invitation or other request on your time. I tried this and it's so freeing! When you are overwhelmed, try this, you'll feel better.
Do you ever get caught in these traps? What are some of your time mis-management traps?