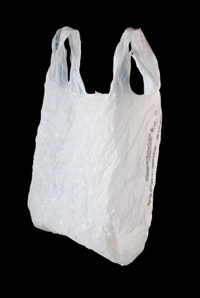 How often do you hear this from your kids?  How often do you say it yourself??  Probably not as often because you aren't really looking at the things you are keeping as clutter.  Really though, how many plastic grocery bags do you need?  We are going to talk about how to tell if you are REALLY going to use those items!
The first example we have of this is, of course, the plastic grocery bag scenario… I LOVE this quote from a friend of mine who was Beta testing Daily Home Planner before we released it for sale.  She was reporting an error of her list items duplicating and she said "To Do items are replicating themselves worse than coat hangers and plastic grocery bags. YIKES!"  I laughed so hard at this!  So ask yourself this question about things like plastic grocery bags.  Do you use less than you actually keep?  Meaning do you save 20 per week and use 2?  If so then only save 2 per week (but I'd use up what you have before you start saving them again).  Go through your cupboards and decide what is replicating faster than you are using.
Another thing we can get caught up with is tupperware.  Especially with how cheap those glad containers are lately, you can end up with an entire cupboard full of plastic containers, and only end up using the same 5 every week?  Then as painful as it is, it's time to purge some of those containers.
So yes, while we may use these items, do we use as much as we have?  Or do we use them so rarely that it doesn't justify the amount of space it takes up in your house?  Ask yourself these questions today, and get rid of the junk!