Creating an earring holder can be incredibly easy! Earrings are some of the most fun jewelry to accessorize with. Other than my wedding ring, earrings are the only jewelry I routinely wear.
Over the years I've amassed a large collection but sadly I've lost a few here and there because I didn't have a good way to organize earrings. If you're an earring collector and need a way to sort them for easy access try these clever DIY hacks to organize your earrings.
This post may contain affiliate links. As an Amazon Associate I earn from qualifying purchases. For more information, see our disclosure.
1. DIY Framed Earring Holder
This is my favorite DIY earring organizer because it is both attractive and useful. It is also a simple DIY project, even if you're not handy with tools. Purchase an inexpensive frame and some metal mesh or chicken wire.
Attach the metal mesh or chicken wire inside the frame and use it to hang your dangly earrings. To jazz it up even more, you can frame a picture behind the mesh as a background. I framed a floral design as the backdrop for mine. You can also use lace instead of mesh for a different take on this project. See the project here.
2. Ribbon Earring Holder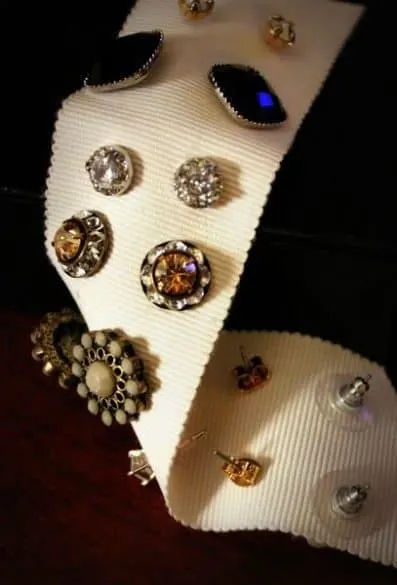 Create a simple DIY earring holder for your studs with a piece of ribbon. Choose a thick piece that won't rip when you push earrings through. You can then sew one end looped over a ring and hang it on your wall or inside a closet.
You could also simply hang it up with a tack if it's meant to be more functional than decorative. Check out this project here.
3. Cheese Grater Earring Holder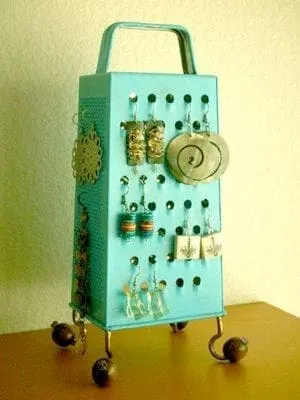 If you need a simple way to keep your earrings organized, it turns out a cheese grater works perfectly. You can use a flat grater to hang on a wall. Or you can use a stand-up grater on your dresser or vanity.
Add a little spray paint to make it prettier and you have a simple DIY earring holder. Learn how to make this one.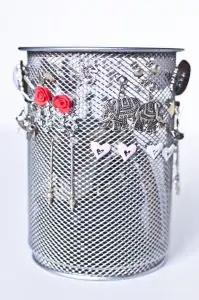 For a small earring holder, you can repurpose a metal mesh pen cup. You can also store other jewelry inside the cup. The little holes provide the perfect place for your stud earrings to be stored.
If you need something larger, you can also use a mesh trash basket. You can also put the cup or trash basket on a lazy susan for the perfect organized earring display.
5. Cork Earring Organizer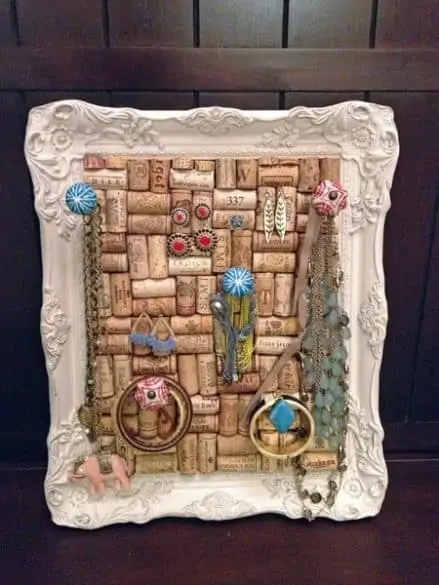 If you've been looking for a crafty way to use your old wine corks, this wine cork earring organizer is perfect for you. You can glue the corks into a frame. Or thread them together on a string for hanging.
However you decide to connect them, cork makes ideal material for holding studs and small hooks for dangly earrings. You can even add other jewelry if you poke additional hooks into the cork for necklaces or bracelets. Check out how to make this project.
6. Fridge Shelf or Oven Rack Earring Organizer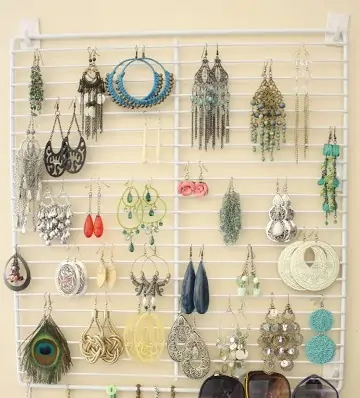 It turns out a couple of your kitchen appliances may be the key to perfect earring organization. Of course, you will probably want to raid defunct appliances for your DIY supplies, rather than the ones you're currently using.
A shelf from inside an old refrigerator makes the perfect hanging rack for earrings. An old oven rack works in the same way. If you want to add your own touch of style, add some color with paint. The shelf or rack can be hung inside a closet door or on the wall for easy access to your earrings. View this project.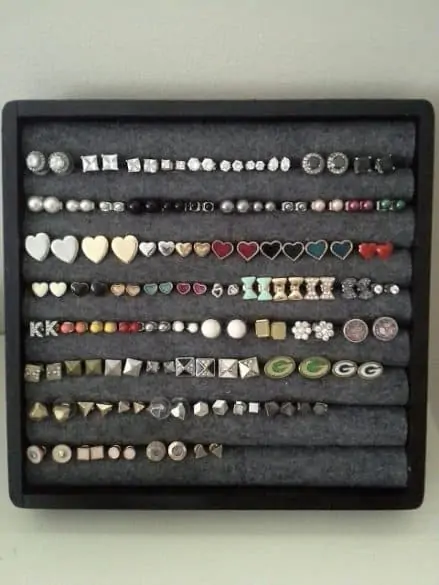 If you're looking for an easy way to organize your stud earrings, this DIY earring box could be what you're looking for. You can make your own with a shallow box or tray, felt, and some dowels.
The felt should be wrapped around the dowels and secured. Then lined up inside the box. This cute earring box can be displayed or tucked away as suits your needs. It can also be used for storing rings.
It's Time to Organize Your Earrings!
If you have an earring collection outgrowing your jewelry box or stored in a jumble, consider these clever DIY hacks for organizing your earrings. I've had my earrings beautifully displayed on my bedroom wall for years with one of these hacks.
I love how easy they are to see and select the pairs I want. And I love that I never end up with half a pair when I lose one in my jewelry box. I hope these ideas help you organize your earrings as well.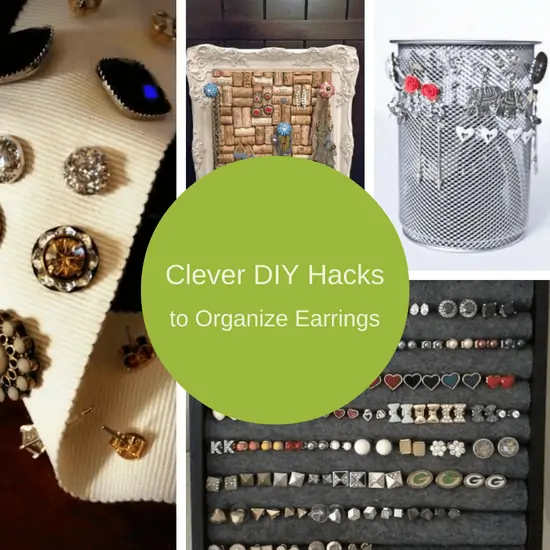 For our 5 minute DIY Earring Holder click here.