These juicy Air Fryer Steak Bites are perfect for enjoying while on your keto diet. Bite size cuts of juicy steak coated in pork rind crumbs make for the perfect snack, or main dish for dinner. Pair your beef cubes with your favorite side dish and you have a delicious meal waiting to happen.
Even while eating keto, you can enjoy bites of incredible steak and these have a nice crispy breading on the outside, making them even more mentally satisfying. Whether you're following a keto diet or not, these Keto Air Fryer Steak Bites are always a crowd pleaser.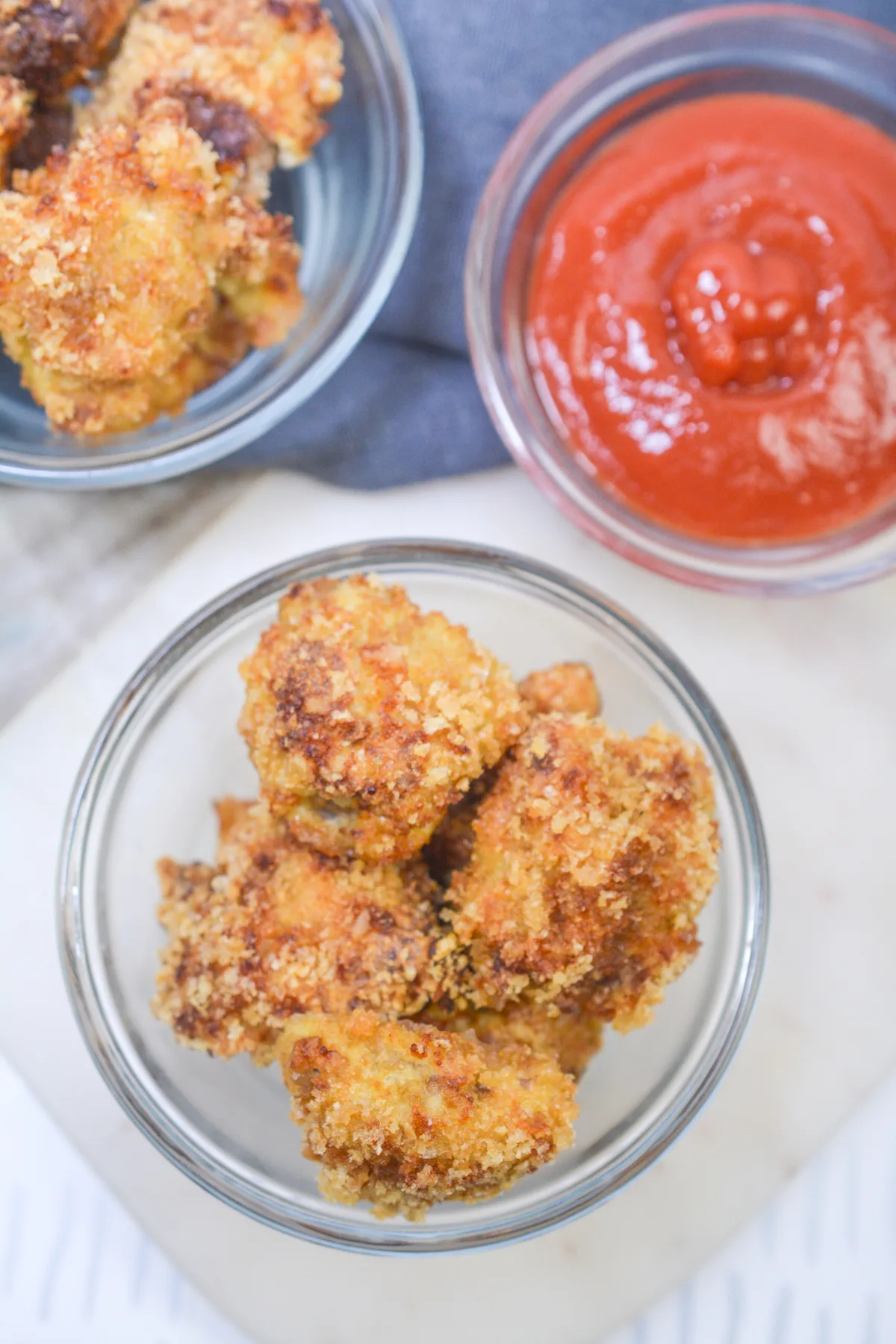 Why You'll Love This Recipe
These Steak Bites only have 3 grams of net carbs per serving
Healthier than the deep fryer
Ready in only 30 minutes
You only need a handful of simple ingredients
Ingredients Needed
This post may contain affiliate links. As an Amazon Associate I earn from qualifying purchases. For more information, see our disclosure.
Get more info on these simple ingredients for this easy recipe in the recipe card below.
Cubed steak
Almond flour
Garlic powder
Onion powder
Salt and black pepper
Large eggs
Pork rind crumbs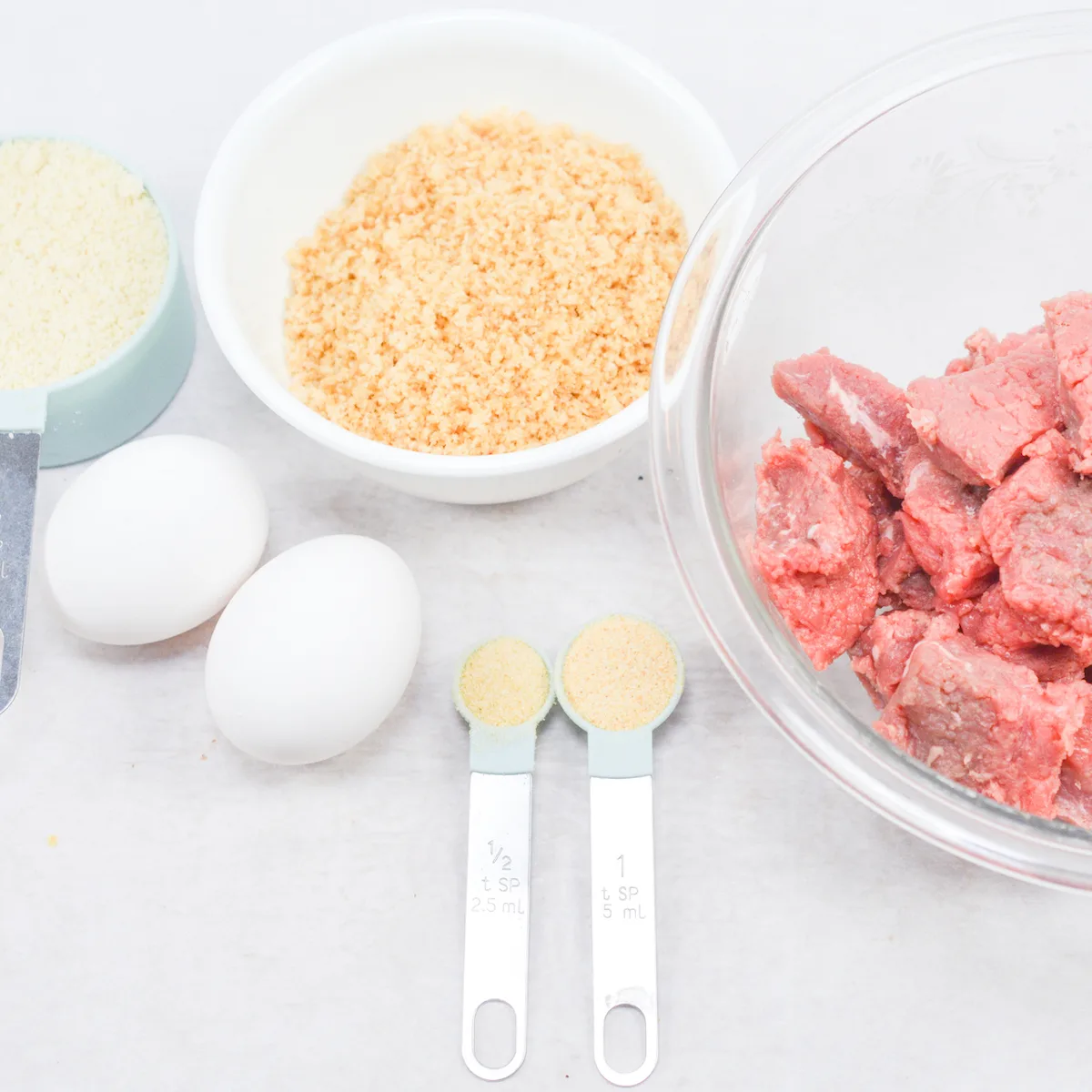 How to Make Keto Air Fryer Steak Bites
Preheat the air fryer to 400F for a few minutes while you prep the steak recipe.
In a shallow bowl, add eggs and beat to make an egg wash.
In another shallow bowl, mix together the almond flour, garlic powder, onion powder, and salt and pepper.
Add the pork rind crumbs to a plate or place them into a shallow bowl.
Carefully, roll the steak pieces into the almond flour mixture, and dip them into the egg wash.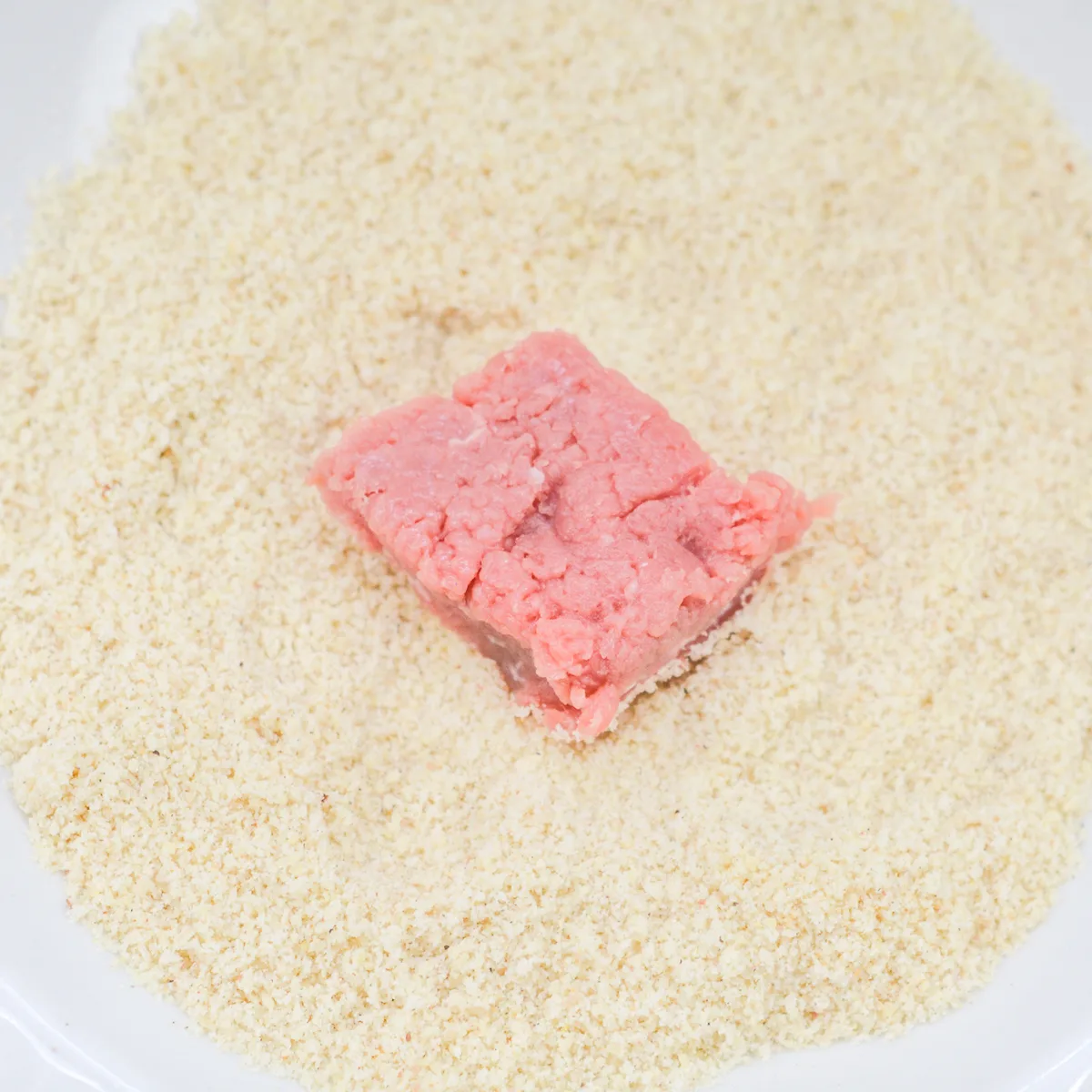 After the egg wash then coat in the pork rind crumbs. These make the greatest keto breadcrumbs ever!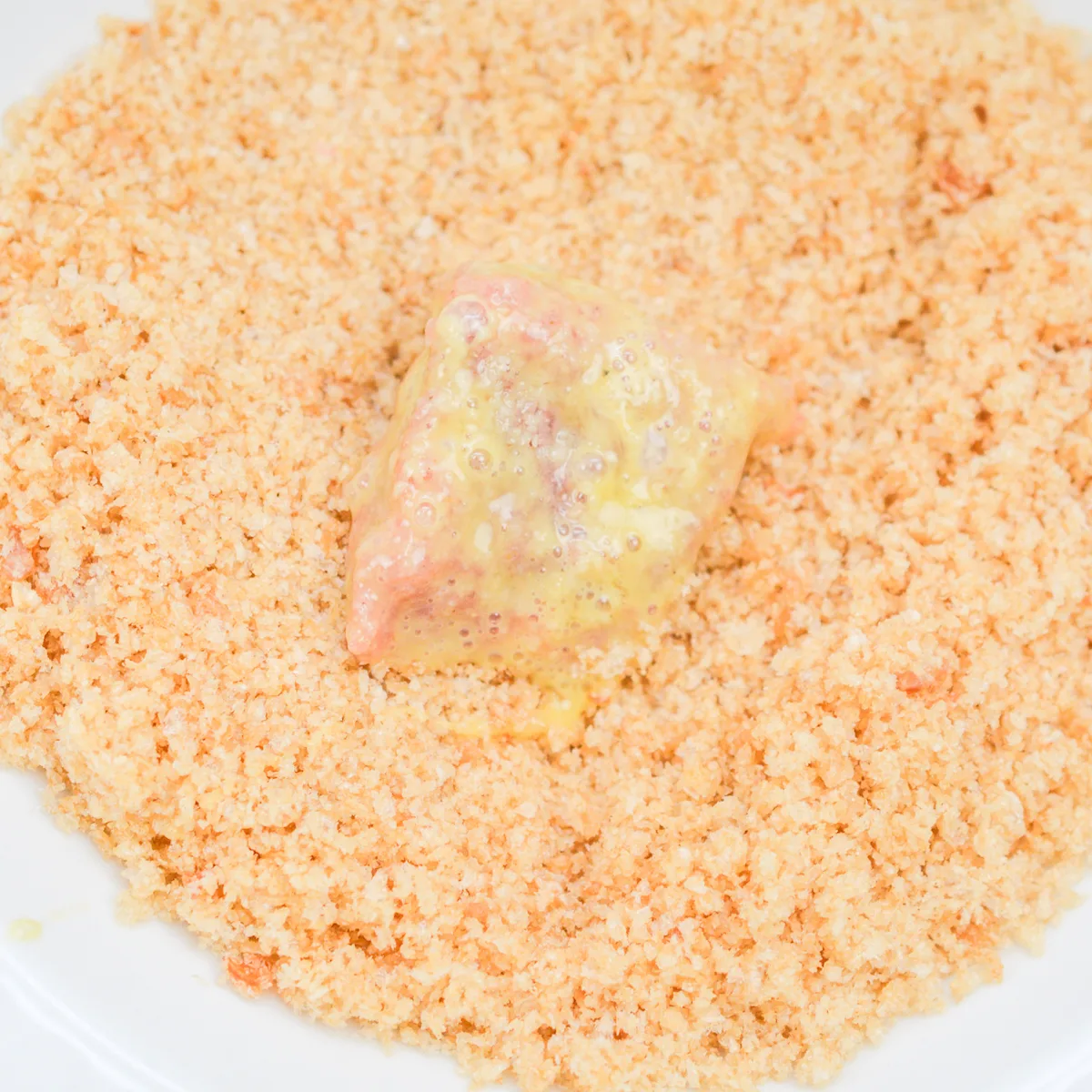 Add coated steak bite-sized pieces to a rack in the Air Fryer basket, and cook for 8-10 minutes, or until they're golden brown and crispy. Turn the bites once during the cooking time.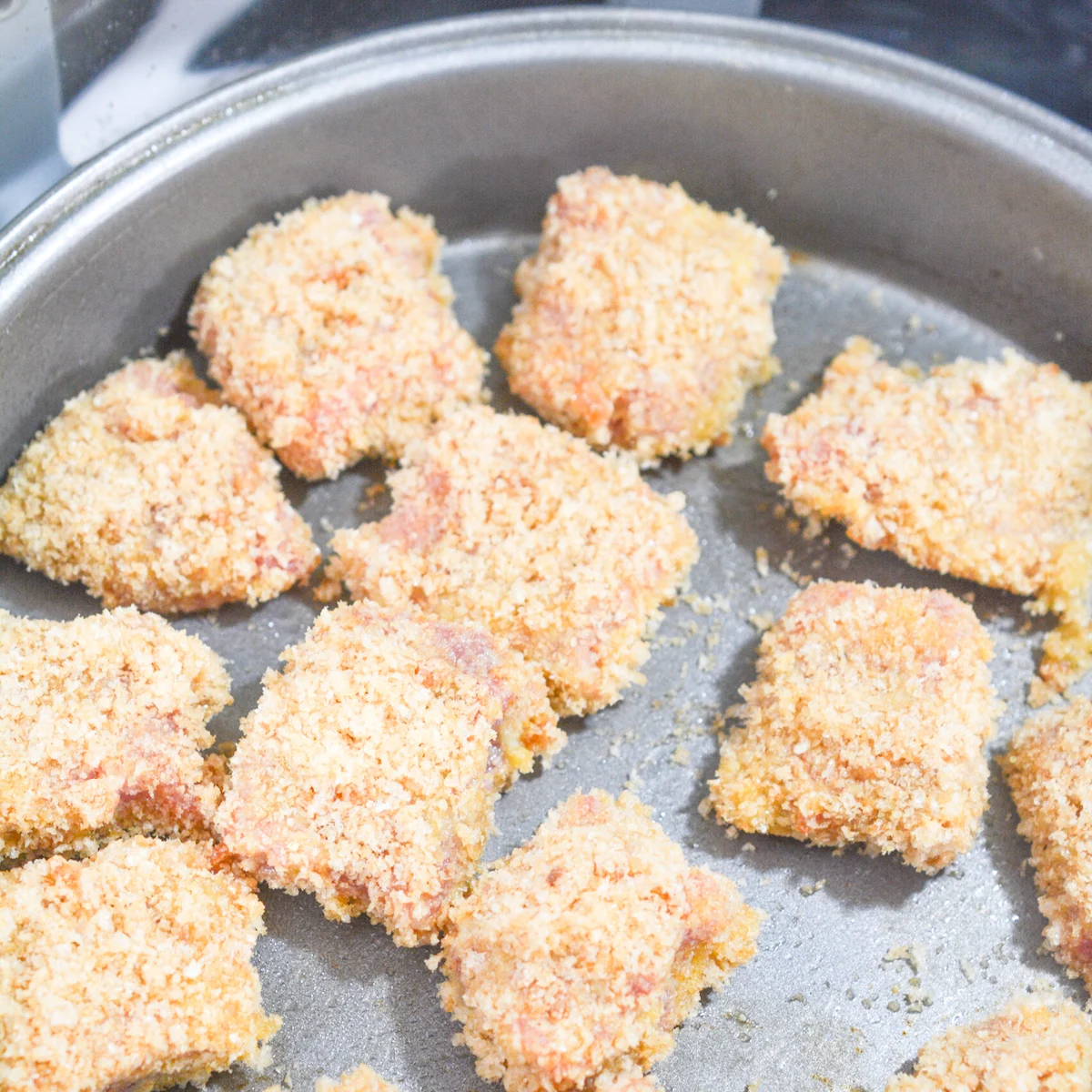 Serve and enjoy.
Storage
Any leftover steak bites should be stored in an airtight container and kept in the refrigerator for up to 3 days. The best way you can reheat your keto steak bites is in the Air Fryer for a few minutes.
Do not overcook your bites when you mean to just reheat them. I don't recommend trying to reheat them in the microwave because the breading won't be the right crispy texture, it will end up soggy and flake off.
I do not recommend trying to freeze these for later.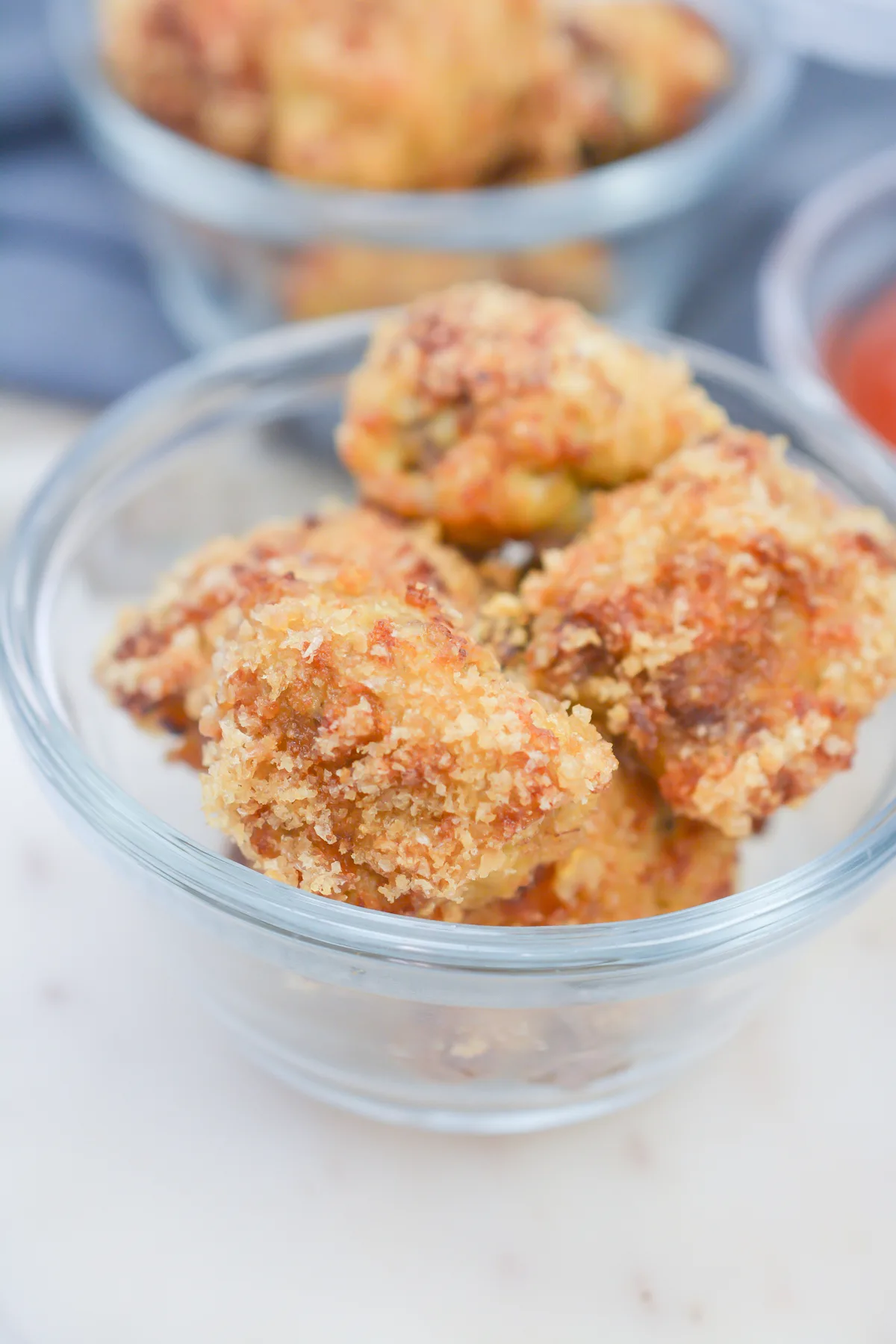 Tips and Variations
In some Air Fryer recipes, you need to spritz your ingredients with olive oil, avocado oil, or another cooking oil, but that is not needed with this recipe.
Always use a meat thermometer to check on the internal temperature of your steak bites to ensure you get the desired doneness level.
Only put the steak bites in a single layer in the Air Fryer basket. Do not overcrowd your basket or the bites can't cook evenly. The Air Fryer needs room to circulate the hot air around to cook the food inside.
You can use the Air Fryers that have trays or the basket style Air Fryers, just make sure to space out the bites.
If you don't want to use eggs, you can use melted butter for your easy Air Fryer steak bites.
Serve these bites with your favorite low carb sides for a complete low carb meal.
Remember that the cooking time required for your steak cubes may change from fryer make and model, so always check your bite size pieces to ensure they're done to your desired level of doneness before eating.
Can I use a different cut of steak?
Yes, you can. Keep in mind other cuts of steak may have different fat percentages and may alter your nutritional information. You could try strip steaks, top sirloin, or a sirloin steak cut into small pieces.
Yield: 4
Keto Air Fryer Steak Bites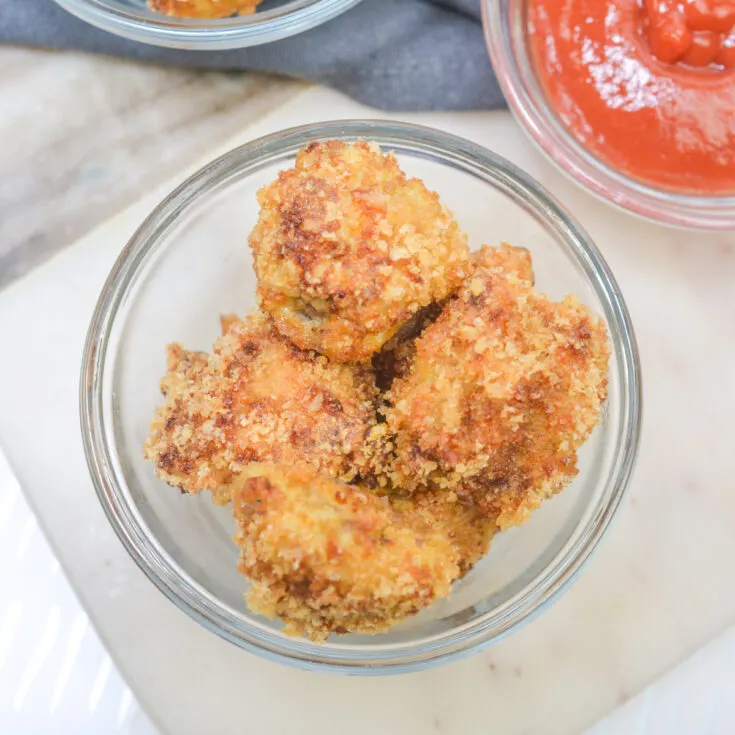 These keto air fryer steak bites make a great snack, appetizer or meal! They are simple to make, low carb, and loved by the whole family with only 3 net carbs per serving!
Ingredients
1 lb. Cubed steak cut into bite sized pieces
½ C. Almond flour
1 tsp. Garlic powder
½ tsp. Onion powder
Salt and pepper to taste
2 Large eggs
1 ½ C. Pork rind crumbs
Instructions
1.Preheat the air fryer to 400 degrees.
2.Beat together the eggs in a shallow bowl.
3.Mix together the almond flour, garlic powder, onion powder and salt and pepper to taste in another shallow bowl.
4.Place the pork rind crumbs on a plate or into a shallow bowl.
5.Roll the steak pieces into the almond flour mixture, dip into the eggs and then coat in the pork rind crumbs.
6.Transfer the steak pieces to a pan or rack, and cook in the air fryer for 8-10 minutes, or until golden brown and crispy. You can turn the bites once during the cooking process if desired.

Nutrition Information:
Yield:
4
Serving Size:
1
Amount Per Serving:
Calories:

461
Total Fat:

29g
Saturated Fat:

9g
Trans Fat:

0g
Unsaturated Fat:

17g
Cholesterol:

209mg
Sodium:

392mg
Carbohydrates:

4g
Fiber:

2g
Sugar:

1g
Protein:

44g
Nutrition information is not always accurate, it is an estimate.
What can I eat when I'm out and following a Keto diet?
Need some ideas to enjoy while following a Keto diet and out on the road? Try any of these ideas: