Are you a Smores lover? Then you are going to adore this fun, and easy Smores Charcuterie Board. It can be ready in 20 minutes and made with all your favorite chocolate, marshmallows, and sweet cinnamon sugar graham crackers. You can't go wrong with dessert boards!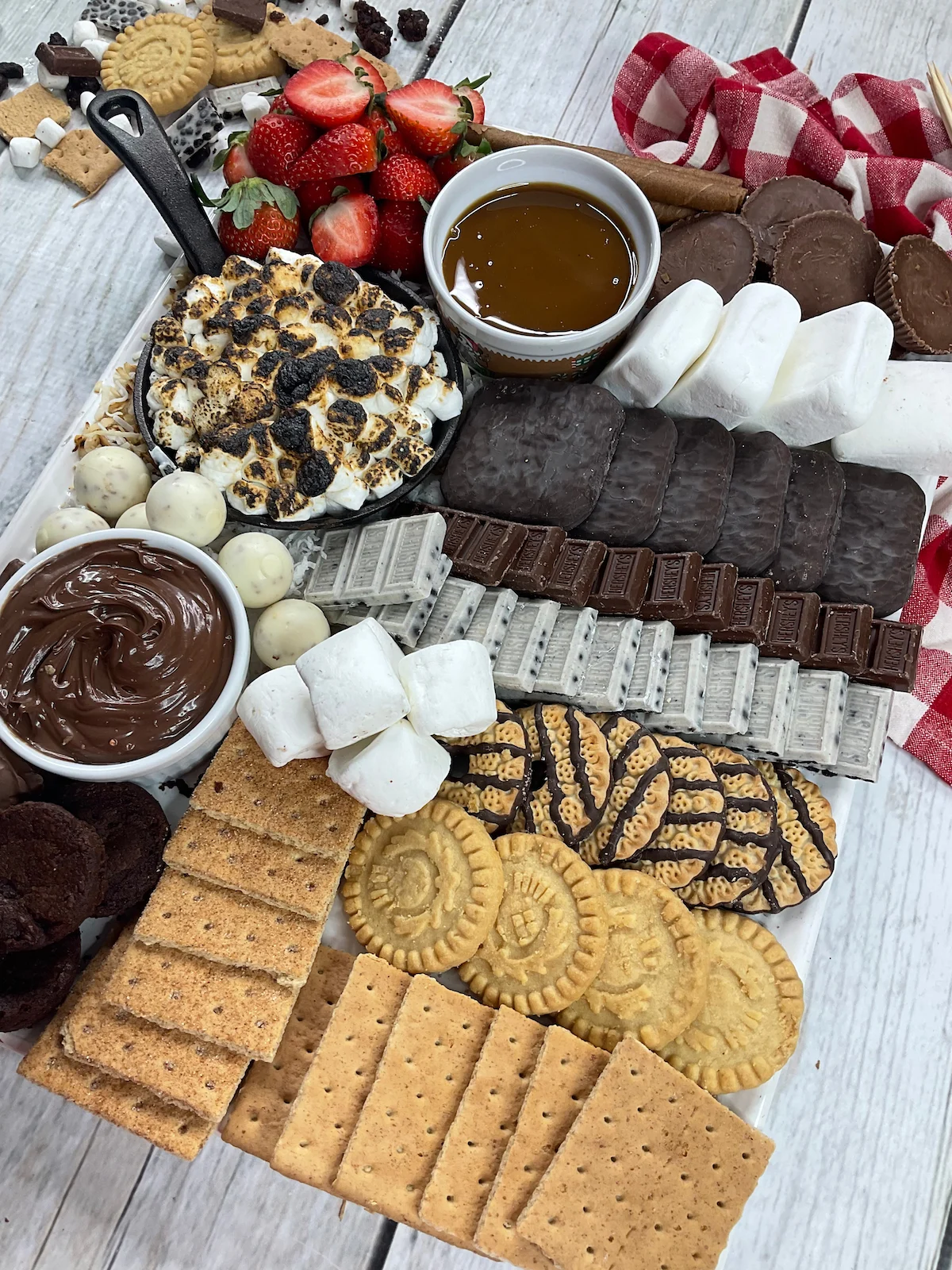 This post may contain affiliate links. As an Amazon Associate I earn from qualifying purchases. For more information, see our disclosure.
Sometimes sitting by the fire pit roasting your own S'mores isn't always in the cards. But, making your own S'mores dessert board is the next best thing, trust us! If you love sweet treats and displaying them in fun ways, you'll love this idea! Charcuterie boards aren't just for deli meats and a boring cheese board anymore!
We've been loving all the trendy boards lately- Cream Cheese Boards, Breakfast Boards, Pasta Charcuterie Boards, Butter Board, and Hot Chocolate Boards! So many great ideas in addition to the classic charcuterie snack board!
Why You'll Love This Recipe
It's a quick thing to toss together
The next time the kids want smores, whip out one of these and watch how excited they get with something so simple
You can customize it to use ONLY your favorite ingredients
It's a fun snack to enjoy on a camping trip, or a dessert you can serve during the week or even weekends!
Ingredients Needed
A variety of marshmallows: Large Squares, mini marshmallows, and large round marshmallows
Caramel sauce
Nutella
Strawberries
Graham Crackers
Cinnamon Graham Crackers
Shortbread Cookies
Pirouette Chocolate Fudge Cookies
Fudge Stripe Cookies
Mini Brownies
Assorted Chocolate Bars: Cookies n Cream Bars or Peanut Butter Cups
White Chocolate Truffles
Toasted Coconut
How to Make A S'mores Charcuterie Board
Add mini marshmallows to a small cast iron skillet.
Use a kitchen torch to toast your marshmallows until they become the desired shade of toasted you desire.
Grab a large platter or wooden board. In a small bowl or ramekin add caramel. Add Nutella to another bowl and place both sauces in small bowls on the platter or board.
Add toasted coconut on the board and place the cast iron skillet with toasted marshmallows on the board.
Place the rest of the ingredients on the board and display however you prefer. Designing the board lay out is so much fun, so get creative!
Use bamboo skewers to create your own smores from the board! Enjoy!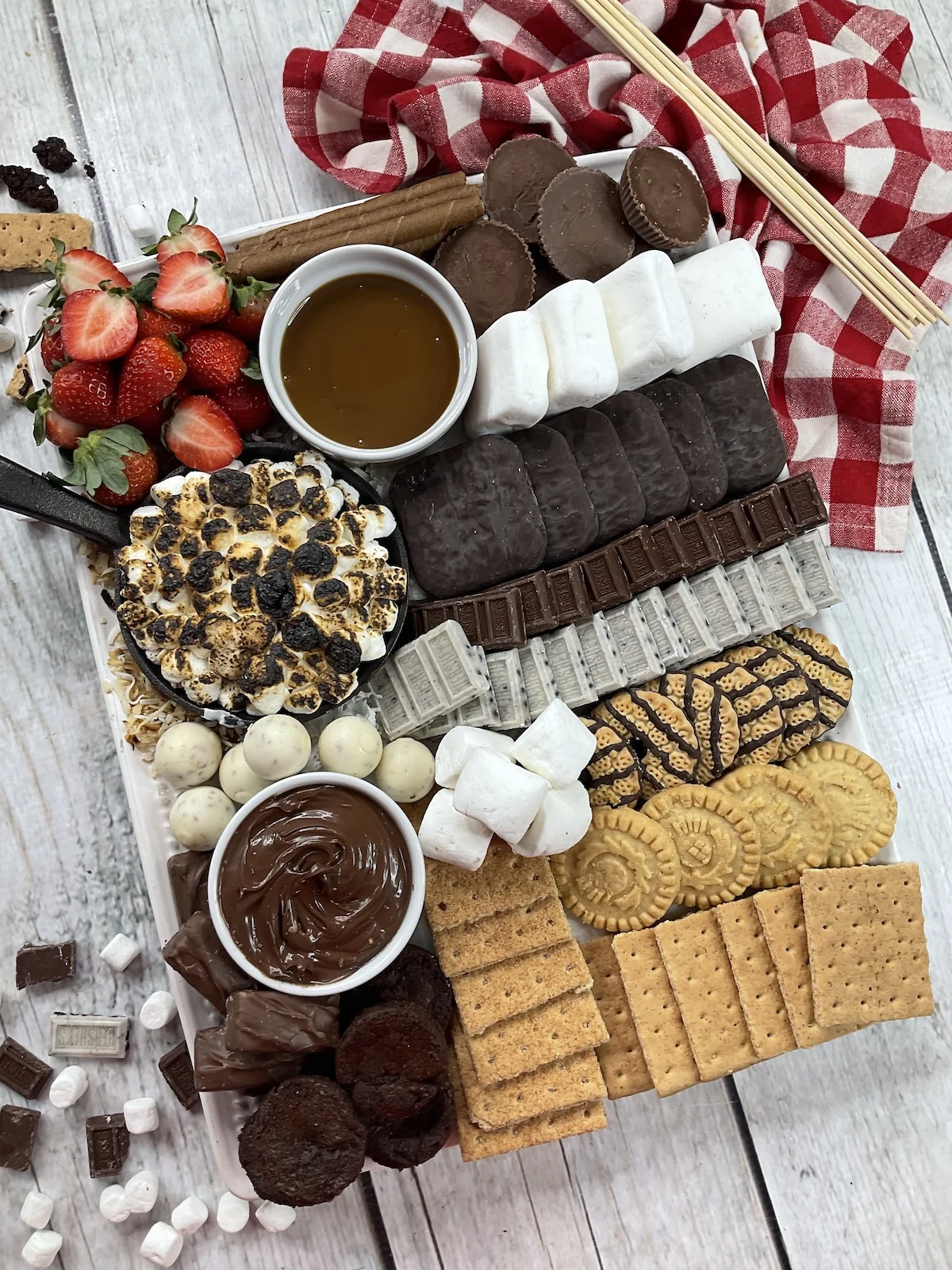 Storage
When you are finished with your Smores board, transfer all your ingredients to their own individual containers. Then store appropriately. Sauces may need to go in the fridge, depending on the brand. Check your sauce labels to see how to store them.
Graham crackers and marshmallows need to be stored in an airtight container or ziptop bag and keep them at room temperature. With such a variety of items, it's hard to say how long they should last, most things will last up to a week or more.
We suggest using the individual containers to keep everything fresh and make enjoying leftover super easy. You can easily build your smores with your desired ingredients that way.
Tips and Variations
Take this smores charcuterie board to the next level and add some more treats like strawberry slices and other fresh fruit, mini chocolate chips on top of the toasted marshmallows, white chocolate bars, chocolate chip cookies, pretzel sticks, and more.
Feel free to add marshmallow fluff to your board for even more marshmallow smores combinations.
You can use a large serving platter, wooden board, or even a festive flat slab of fresh cut wood to serve your Smores charcuterie board on!
If you want to really bring the rustic vibes, grab a few sticks to use to make your smores on, instead of bamboo skewers.
We used a variety of marshmallow sizes for this treat, but you can also use a few different flavors of marshmallows to really make some tasty smores, if desired.
If you like s'mores as much as we do, be sure to check out these twists on traditional s'mores for some more fun s'mores combinations!
Can I make this ahead of time?
We don't really recommend putting this together ahead of time. In order to keep your ingredients as fresh as possible, wait to assemble this until you're ready to serve it. Since it only takes a few minutes to assemble and put together, it shouldn't be all that time consuming to wait until serving anyway, right.