Are you struggling to come up with the perfect Sweet 16 birthday party for your teenager? Have no fear – we've got plenty of incredibly fun Sweet 16 party ideas for both boys and girls.
From a laser tag tournament to a five-course dinner, there are endless possibilities when it comes to throwing an unforgettable Sweet 16 bash that your teen and their friends will love. Read on for our top picks and get ready to plan a night they'll never forget!
This post may contain affiliate links. As an Amazon Associate I earn from qualifying purchases. For more information, see our disclosure.
With so many different party themes to choose from, we'd be here for a month trying to share all of them with you for your kids big day, so we're going to share just a few ideas for a 16th birthday party, but then some food and drink, decor, supplies, and activities you can modify to fit just about any theme.
Sweet 16 Party Ideas
A few theme ideas for the big day:
• Have a themed party based on the birthday girl's or boy's favorite movie, TV show or fantasy.
• Throw a masquerade ball with everyone wearing elaborate masks and costumes.
• Host an outdoor activity like a scavenger hunt, beach bonfire, mega pool party, or laser tag course.
• Set up a make-your-own sundae bar with lots of ice cream and toppings and serve your child's favorite dinner as the main course to enjoy AFTER ice cream sundaes.
• Throw a Glow Party with these fun ideas! Such creative ways to get everyone having fun for such a special occasion.
• Have professional hair, makeup and nail artists come to the party for mini makeovers.
• Get an Escape room in a box and make your own escape room at home or book one at the local venue.
• Have a variety of fun games such as charades, karaoke or family feud-style party games so all the party guests can get to know and play along with each other.
• Throw a Murder Mystery Dinner Party for all your guests. Send them out the invitations with their characters back story and suggestions on how to dress to play the part. Watch the whole thing come together right before your eyes!
Boy Party Theme Ideas
Throwing a sweet 16 birthday party for your son can be a great way to celebrate this milestone and make it memorable. Some popular themes for 16 year old boys include: sports, movie/gaming, beach party, vintage car/motorcycle, classic rock n' roll, or barbeque.
For a sports themed party, consider decorating with your son's favorite sports team colors and decorations. You could have games such as giant jenga with the colors of their favorite teams or have a mini-putt set up with obstacles representing the positions of players. Guests who come dressed in their favorite team apparel should receive points towards the end of the night.
A movie/gaming theme is perfect for those who are all about movies and video games! Set up exciting movie trivia for everyone to test their knowledge about classic and current films. For gaming enthusiasts, organize an intense tournament with plenty of snacks and drinks throughout the night.
Organizing a beach themed party is also easy – think Hawaiian shirts, inflatable rafts, limbo competition, and colorful decorations like life rings and beach umbrellas! You can also provide fun items like flowered leis or custom sunglasses as prizes for any competitions that might occur throughout the evening.
For car lovers – why not plan a vintage car or motorcycle themed sweet sixteen? Invite guests to show off their classic cars while inside play some 80s classic rock music as they dance around these immaculate vehicles! Just think how insane that dance floor would look! Hand out awards at the end of the night based on things like most original design or best paint job.
Finally, no matter what theme you choose make sure your son feels special by having tons food options available! An epic barbeque is always a crowd pleaser but if you want something more elaborate why not explore hiring a caterer or plan a taco bar where guests can build their own tacos? With just little planning you'll be able to host an unforgettable sweet sixteen celebration for your son!
Girl Party Theme Ideas
Throwing a sweet 16 birthday party for your daughter can be a great way to celebrate this special milestone and make it memorable. Some popular themes for 16 year old girls include: princesses, Hollywood glamour, carnival/circus, slumber party, spa day, or tea party.
If your daughter loves glitz and glamour then plan an over-the-top Hollywood Glamour event complete with red carpet walkway entrance! Play some of her favorite songs while handing out awards at the end of the night to those who were best dressed or showed off their best dance moves at a fun dance party. What a birthday celebration to remember!
A carnival/circus theme is always festive option – set up game booths such as bowling and ring toss with prizes for the winners! You could even hire performers to walk around entertaining guests in between games or organize face painting stations and photo booths where everyone can take fun souvenir pictures together. Such a fun way to celebrate with your closest friends.
Give her friends a night to remember by throwing a slumber party! Set up sleeping bags across the house so that everyone can campout together in style. Serve some traditional movie snacks like popcorn, rice krispie treats, pretzel rods, and bring out all kinds of board games to play throughout the evening. All the childhood memories can come flooding back.
Have a daughter who loves the attention and getting dressed up? Throw a beauty pageant themed party where guests dress up in their best attire, answer questions like they do at pagaents and everyone can perform their special talents. It will surely be a special and entertaining night to remember.
Maybe your daughter is more of a movie buff? Rent out a local theater and have everyone dress up for the movie red carpet and watch her favorite flix on the big screen. See what food the theater lets you bring or just make a big movie theater junk food bar for all your guests to grab their favorite snacks to munch on while watching the movie.
For something more calming consider planning a spa day where everyone enjoys manicures and pedicures while listening to relaxing music in the background! Alternatively, you could rent out a private swimming pool or hot tub if available – just make sure to provide plenty of towels and pool toys so that everyone has fun without getting too cold afterwards!
Finally, why not host a cute tea party with treats such as petit fours and tiny sandwiches? Have everyone come dressed up in fancy dresses or hats just like Alice did when she stumbled upon Wonderland! You can also hand out awards at the end of the night for things like best hat or most creative outfit – your daughter will cherish these memories forever!
While these are really just a few ideas, there are a TON of other themes that your child may have in mind to celebrate with their best friends. One of the easiest ways to decide on a theme is to ask the guest of honor if they have a theme in mind.
Once you've nailed down your party theme idea, you can move on to the rest of the details. Book your venue if necessary, secure the date (I know, it's kind of like a wedding, depending on your theme, ha!), work on your guest list, and get the invitations out the door to your guests.
Sweet 16 Party Food and Drink Ideas
Food is an essential part of any Sweet 16 birthday celebration, so consider what treats you want to offer to your daughter and her guests. If you prefer something more sophisticated, opt for light dishes like finger sandwiches or a grazing board with cheese, fruits, crackers and charcuterie (see more ideas below).
For something sweeter, bake cupcakes in the colors of your daughter's chosen theme or put together a dessert table with macarons, éclairs and tarts. You could also consider personalized sweets like candies and cookies decorated with messages specifically for the birthday girl!
Whatever cuisine you choose, make sure there are plenty of options to please everyone attending the party.
Here are some Sweet 16 party food and drink ideas:
• Serve a range of appetizers like pigs in blankets, mini quiches, salads and popcorn.
• Have a selection of traditional party snacks like chips and dip, salsa, nuts and pretzels.
• Set up a make-your-own taco bar with soft tacos, shredded cheese and all the toppings. You could even do a mashed potato bar with all the fun toppings. We saw this at a wedding once and we still talk about it- 8 years later!
• Serve summery mocktails such as pineapple lemonade punch or mango smoothies.
• Whip up an elegant charcuterie board adorned with cured meats, cheeses and fresh fruit. Change it up and make a few other charcuterie boards. Here are some of our favorites: Pasta Charcuterie Board, Cream Cheese Charcuterie Board, Hot Chocolate Charcuterie Board, and Breakfast Charcuterie Boards.
Don't forget a spectacular birthday cake! You can make your own cake or order one from your local bakery. Or keep it easy and serve some fancy Cake Pops that fit your theme of your party. Again, you can make your own, or order them from your local bake shop.
Sweet 16 Party Supplies & Decorations
We know that the supplies and decorations can vary immensely depending on the theme that you choose for your party, and of course, the location for your big bash. But, here are some of our favorite ideas to help get the party planning juices flowing so you can create a very special event for your child's Sweet 16 Birthday Party!
Throwing a sweet 16 birthday party requires much more than just decorations and food – it's also important to have the right party supplies in order to make sure guests enjoy themselves! Some of the essential supplies you should consider purchasing include: balloons, streamers, tablecloths, cups and plates, napkins, music players and speakers, games/activities (like trivia or puzzles), goodie bags for the guests to take home afterwards, personalized banners or invites.
Balloons are an easy way to spruce up any space for the perfect party – inflate some balloons with helium for the ceiling or tables for a beautiful effect. You can choose balloons in different sizes and colors that best match your theme. For example if it's a beach party you could get different color blue and sand themed balloons with some starfish ones as well!
Streamers are also great for decorating walls and ceilings. If you're throwing a Hollywood Glamour theme party then shimmery gold streamers should do the trick! Alternatively if it's carnival inspired colorful ribbons in varying lengths would be perfect!
Tablecloths are essential depending on what kind of food you'll serve so people don't stain their clothes – go with classic white tablecloths if opting for buffet style serving options or other light colors like silver or pink depending on your theme. Match this with coordinating plates and napkins so everything looks neat together.
Music is key to any successful sweet sixteen – have Bluetooth speakers set up around the area so anybody can connect their phone or other device with plenty of songs curated by your birthday guest (or her friends!).
Provide plenty of activities throughout the evening such as trivia games that test everyone's knowledge about movies/pop culture topics – winner gets bragging rights at least until next year's sweet sixteen! Get more activity ideas listed below!
Personalized invitations are always a nice touch that will show each guest how much they mean to you all while giving them something tangible to remember your daughter's special day by. Finally, do not forget goodie bags filled with surprises like candy bars, personalized mugs or lip glosses which attendees can bring home after all the fun has died down!
Here are some Sweet 16 party decorations to use to jazz up the place:
• Hang colorful banners and streamers from the ceiling to brighten up the space.
• Place gold star confetti on tabletops for a shining effect.
• Add personalized touches like 'Happy Sweet 16' balloons, paper fans and centerpieces.
• Have friends and family write messages of love, advice and congratulations to the birthday girl on large poster boards, sign, or cards.
• String photos of the guest of honor through out the party area as a walk down memory lane. Use these lights with photo clips to hang up the images and provide some festive light to your party venue area.
• Don't forget pretty lighting! Hang twinkling fairy lights or project stars onto the walls to create an enchanting atmosphere.
• You can't forget the outside yard of where the party is. No party is complete without a yard banner sign!
Feel free to add whatever decorations you think would fit your fun party theme. Use your guest of honors favorite color if you need more ideas. Usually once you have a theme, you can easily find decorations that would go along with your chosen theme. Watch how fast the ideas start rolling now!
Sweet 16 Party Activities
All of these party ideas, are just that- ideas! What activities you decide to have at your birthday party will also vary widely depending on your party theme. But if you are looking for some inspiration to get those creative juices going, here are some of our favorite ideas that we have to keep the guests entertained, listed below.
Here are some Sweet 16 party activity ideas to use at your big party:
• Set up a photo booth with props and a backdrop to capture special memories.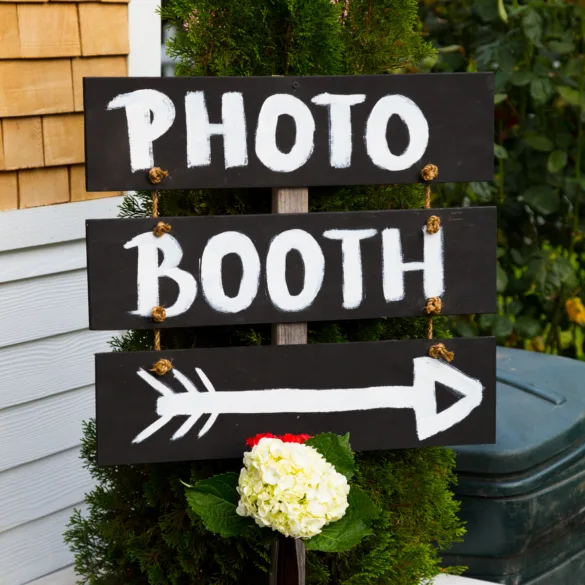 • Have karaoke for those who want to show off their singing skills.
• Set up trivia games that cover topics like pop culture, music, movies and more.
• Hire a professional face painter or make-up artist for guests to enjoy.
• Play classic games such as charades or Pictionary for an evening of fun.
• Create your own game show using questions about the birthday girl and her friends.
• Organize a dance competition with prizes for the winners–don't forget the music!
We hope you found some fun activity ideas for your upcoming biog party! Along with some food ideas, decoration ideas, party supplies, and of course, we hop you landed on a party theme!
Pro Tip: Here's our biggest tip for throwing the most memorable Sweet 16 birthday party: hire a professional photographer or videographer to capture all the memorable moments from the night so that everyone can look back on it fondly!
No matter what kind of sweet 16 birthday party theme you choose for your daughter, with the right supplies and decorations it's sure to be an unforgettable experience. Planning a sweet sixteen should involve making memories that last a lifetime, so make sure to capture all the special moments by taking plenty of pictures and writing down precious memories in the form of thank-you cards or even a scrapbook!
Most importantly, just have fun and enjoy the day – because Sweet Sixteen only comes around once in a lifetime!