Welcome Fall on those cool, crisp mornings with these delicious Apple Cinnamon Rolls from Canned Biscuits. These cinnamon rolls are packed full of cinnamon apple flavors and warm spices, plus they have the perfect crumbly texture. It's like a cross between a hot apple pie and a classic cinnamon roll. This easy breakfast or dessert, just can't be beat!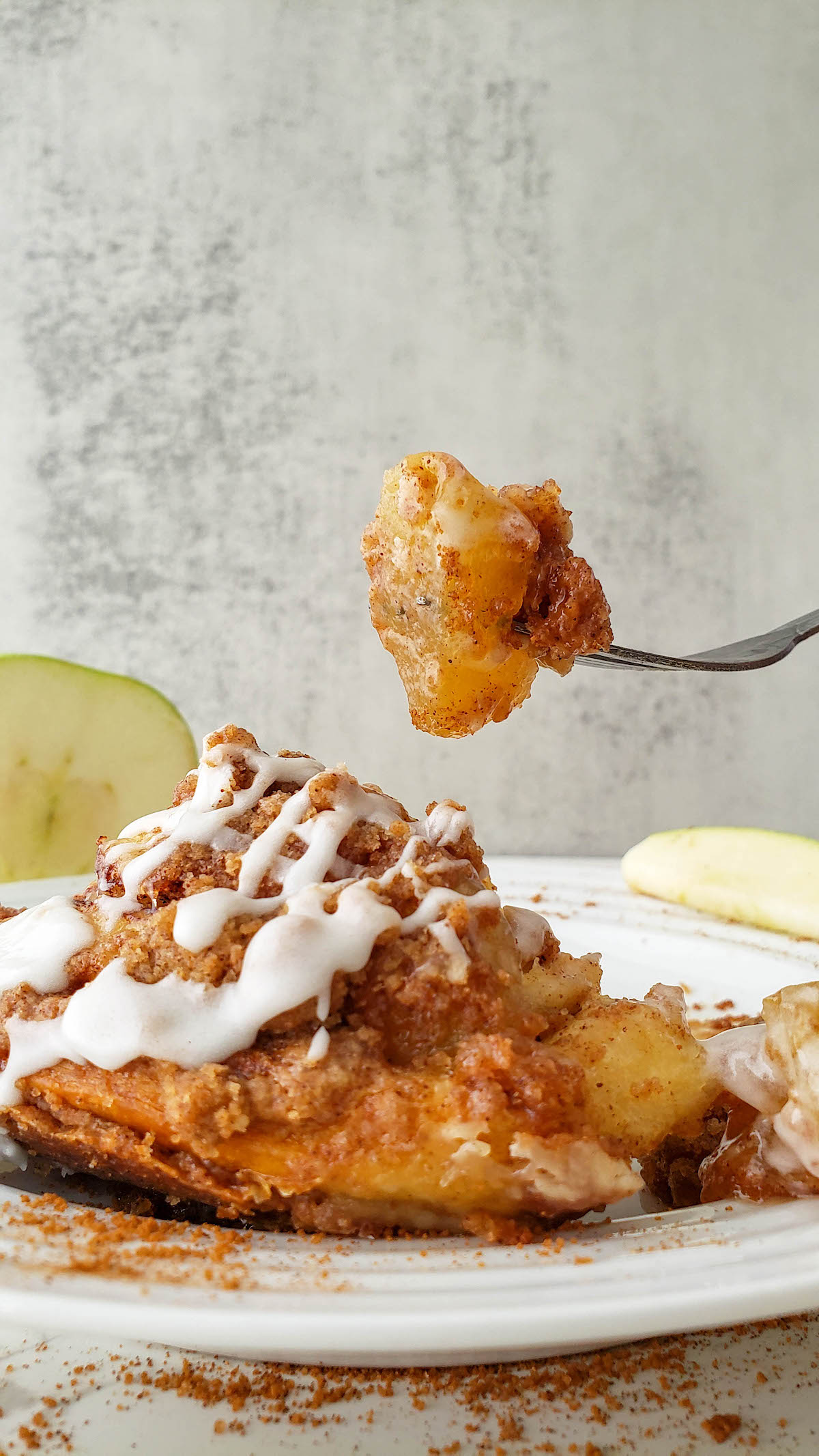 After making your cinnamon rolls, you can use any other leftovers to make any of these tasty 20 apple recipes! If you're all about delicious and easy recipes, check out those tasty treats.
Why You'll Love This Recipe
Perfect for brunch of a breakfast on one of those relaxing Saturday mornings
Super simple using the canned biscuit dough hack
Great way to use up some fall apples
Easy family favorite recipe
Ingredients
This post may contain affiliate links. As an Amazon Associate I earn from qualifying purchases. For more information, see our disclosure.
You only need a handful of simple ingredients for this cinnamon roll apple bake! Get all the info on these ingredients in the recipe card below.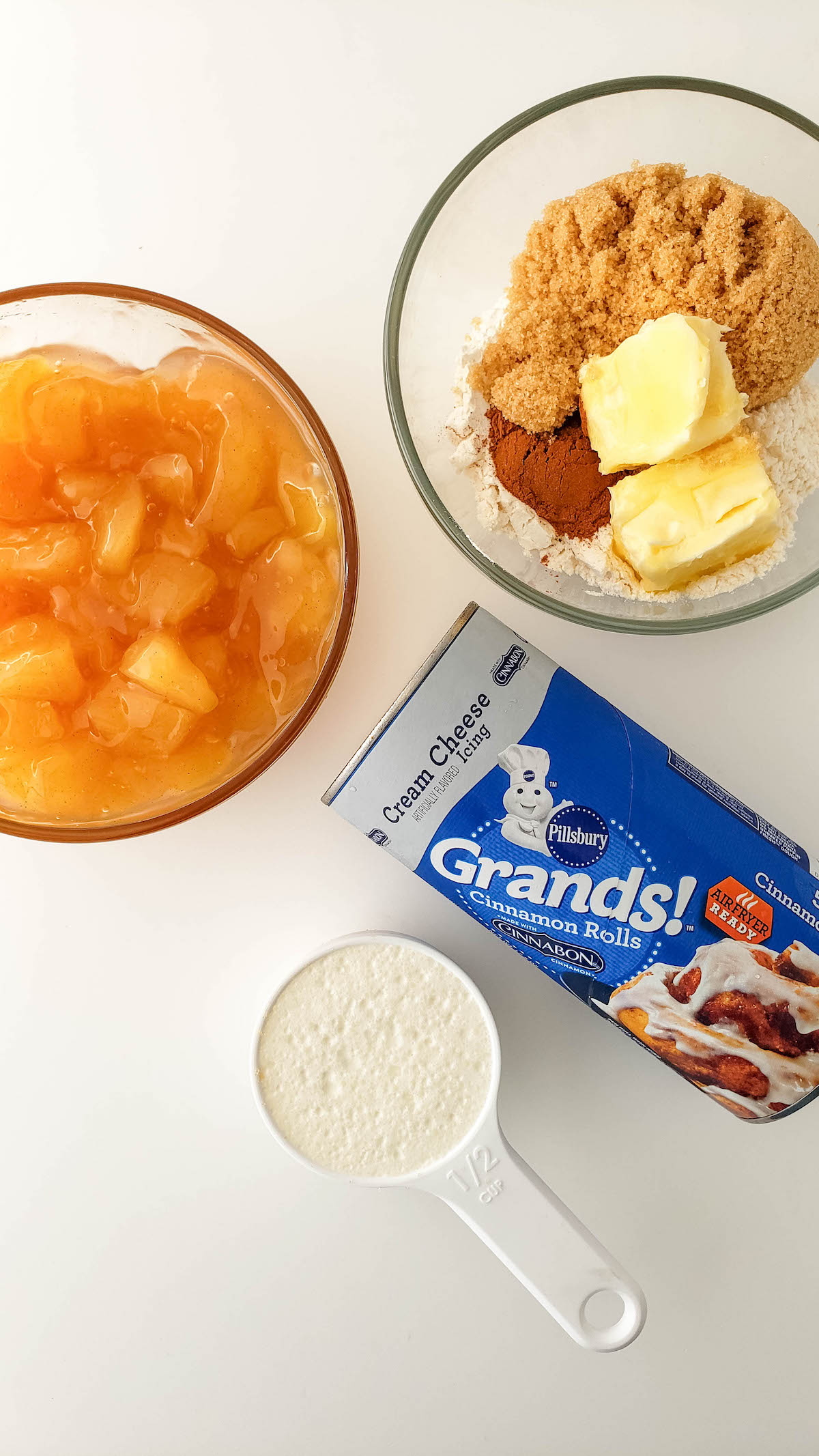 Canned cinnamon rolls- either the Grand ones or a regular 10 count tube. Any canned cinnamon roll brand will work
Can of apple pie filling- use your favorite brand
Heavy whipping cream
Brown sugar- can use either light brown sugar or dark brown sugar
All purpose flour
Butter- I prefer to use unsalted butter, but salted would work
How to Make Apple Cinnamon Rolls
Combine the flour, brown sugar, and butter in a small bowl. Mix with a fork to combine. Don't overmix- you don't want a mushy mess. Once mixed, set aside. Preheat oven to 350F.
Grease your baking dish or use nonstick cooking spray and place each of the canned cinnamon rolls inside.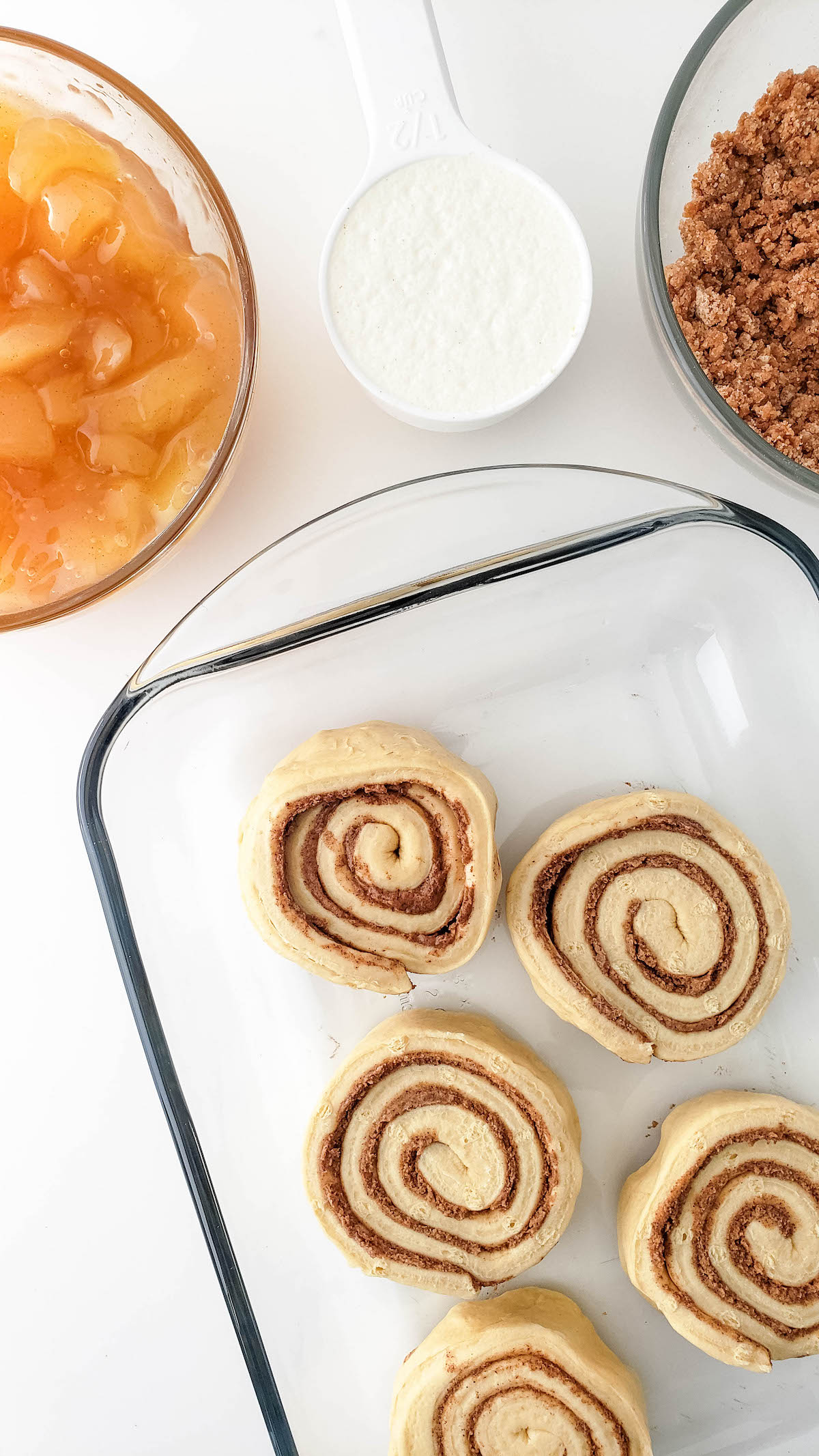 Pour the heavy whipping cream all over and in between each roll, covering as much as possible.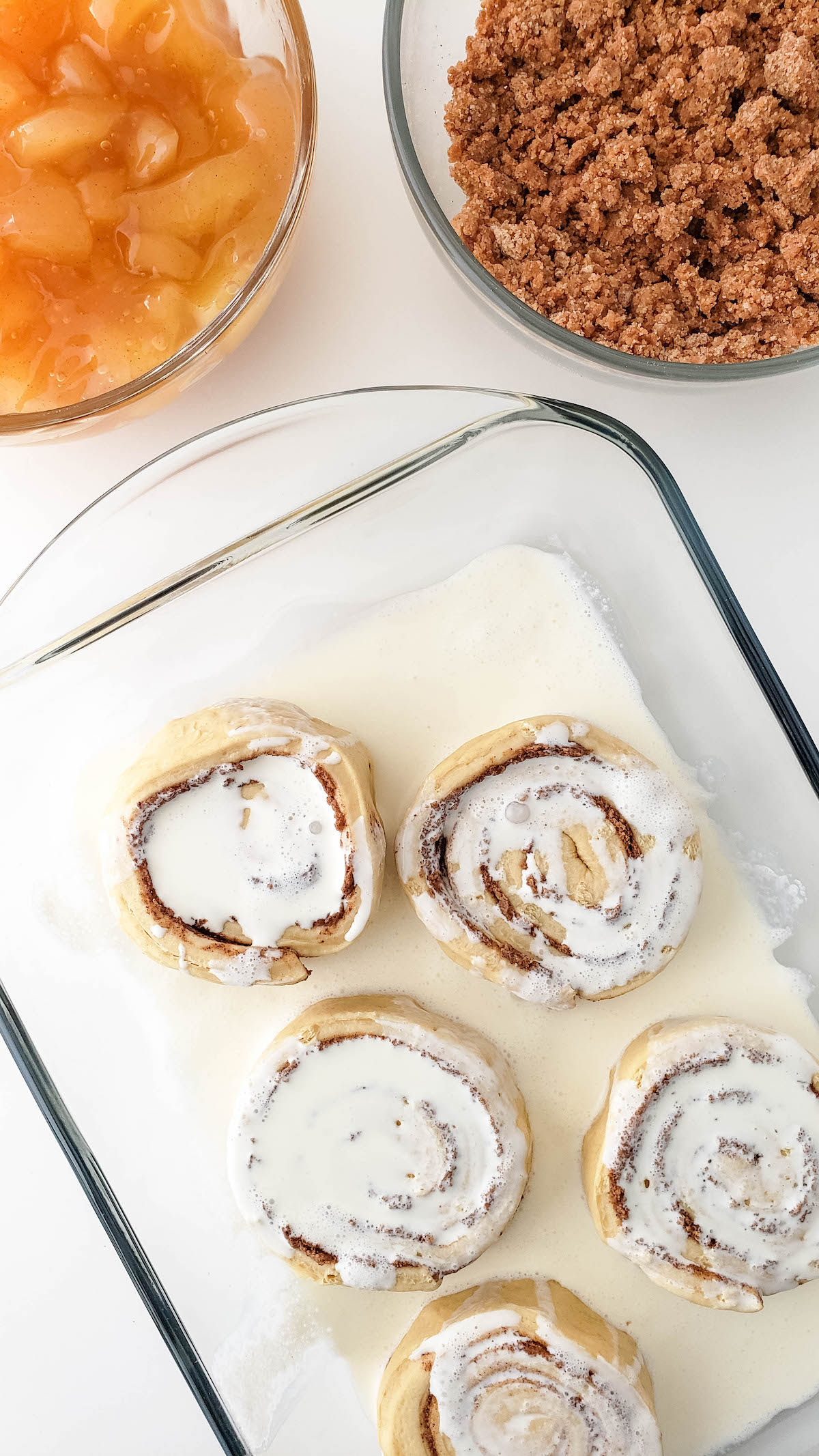 Pour the can of apple pie filling in a bowl and cut the apples into smaller pieces using a sharp knife. Then pour the apples and filling mixture all over the rolls and baking pan.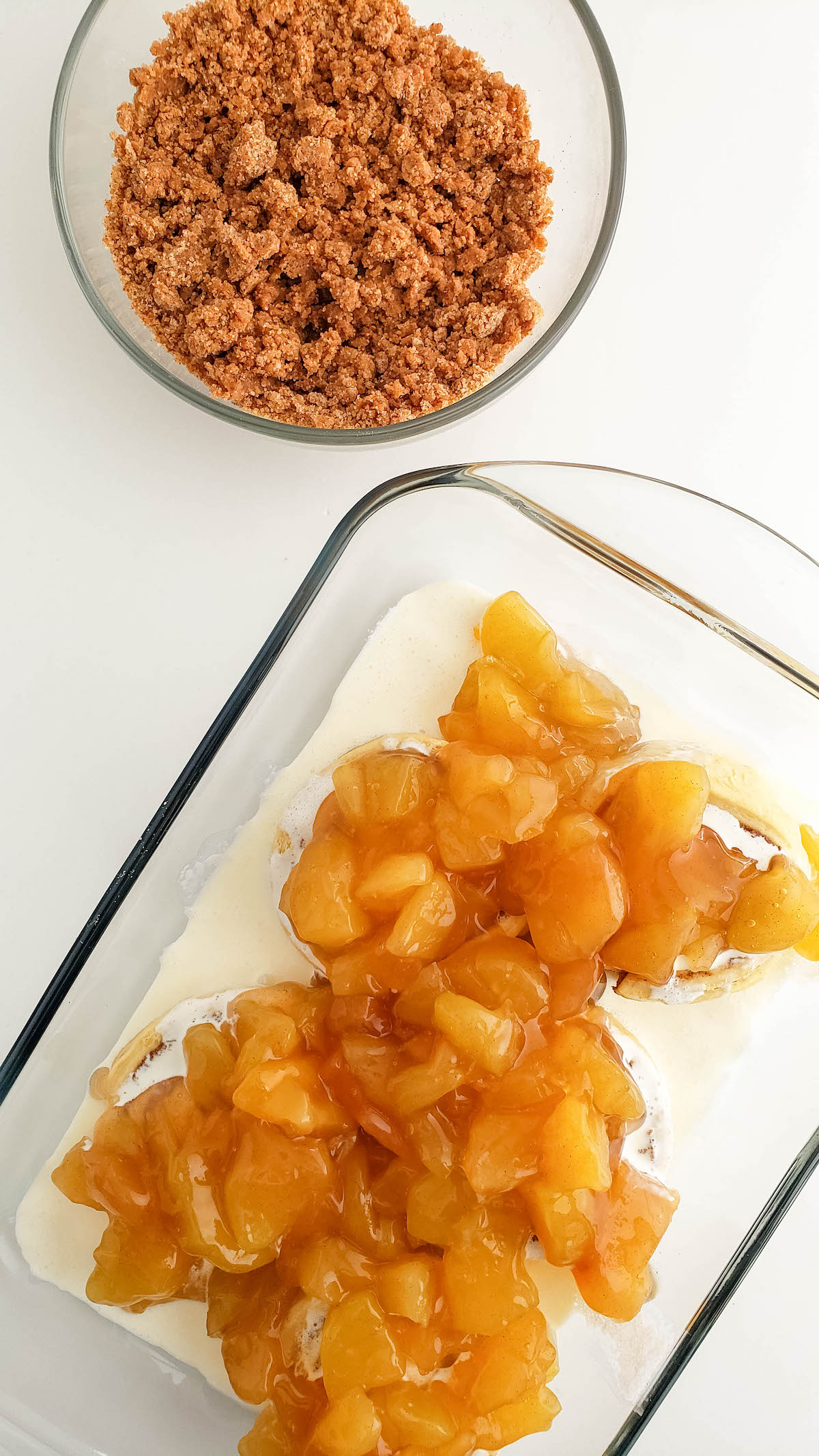 Cover the pie filling and rolls with the crumble mixture you made from step one.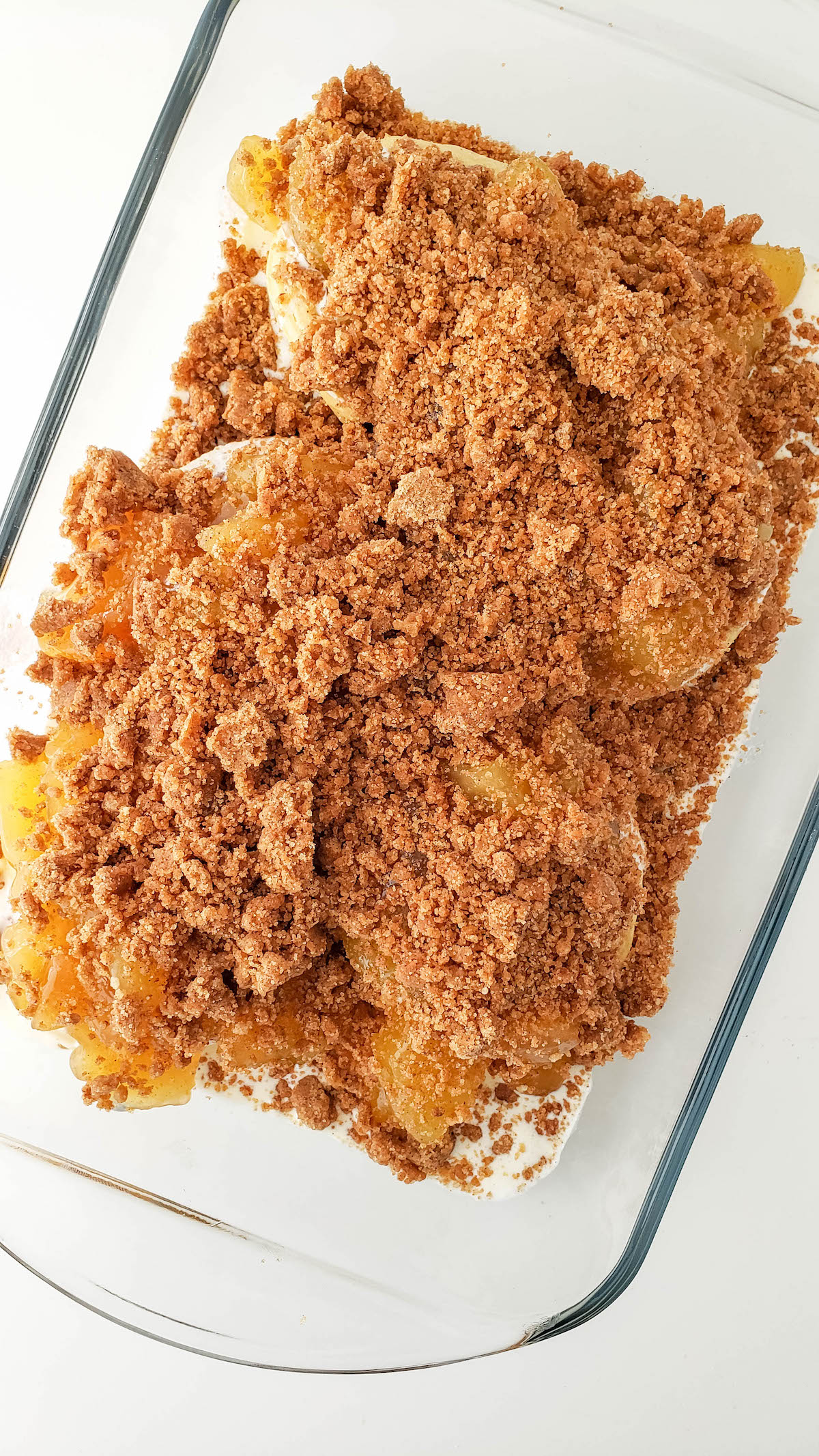 Place baking dish in the oven and bake for 35. minutes, or until your cinnamon rolls are golden brown in color and the brown sugar and pie filling will be bubbling.
Once they've baked, remove the dish from the oven and let it cool on a cooling rack.
Add cinnamon roll glaze if desired and serve.
How to Make Apple Cinnamon Rolls from Canned Biscuits
Instead of using canned cinnamon roll dough, you can use canned biscuits and make your own cinnamon rolls. Roll out the dough using a rolling pin, add a cinnamon sugar mixture, then roll the dough up into a cinnamon roll shape if possible. Otherwise you can just stuff the mixture into the biscuit dough. Then cover all of your biscuit dough pieces with the apple pie filing and cinnamon crumb mixture to create some delicious Apple Cinnamon Biscuits.
Storage
You can store your apple crumble cinnamon rolls in a few different ways!
When storing them at room temperature, they'll last for about 2 days. Leftovers should be placed in an airtight container or wrapped tightly with plastic wrap and aluminum foil.
Alternatively, you can keep these gooey cinnamon roll bites even longer by refrigerating them for up to 5 days. Or, you can choose to freeze them for up to 3-6 months. To do that, I suggest placing them in a large freezer safe container.
Let the cinnamon rolls thaw before reheating in the oven until warmed through.
Tips and Variations
As mentioned above, you can make this with traditional canned cinnamon roll dough or with canned biscuits.
You can make your own apple pie filling if desired instead of using a canned premade one. You can use tart or sweet apples.
The cooking time needed may vary depending on the brand of dough that you use and your heat source. So be sure to keep an eye on your apple cinnamon rolls as they bake.
You can use a different sized casserole dish if desired just keep in mind how much room you will actually be using with your cinnamon rolls and the filling and apple crumble. If you use a smaller pan, you may have to wrap your cinnamon buns tighter.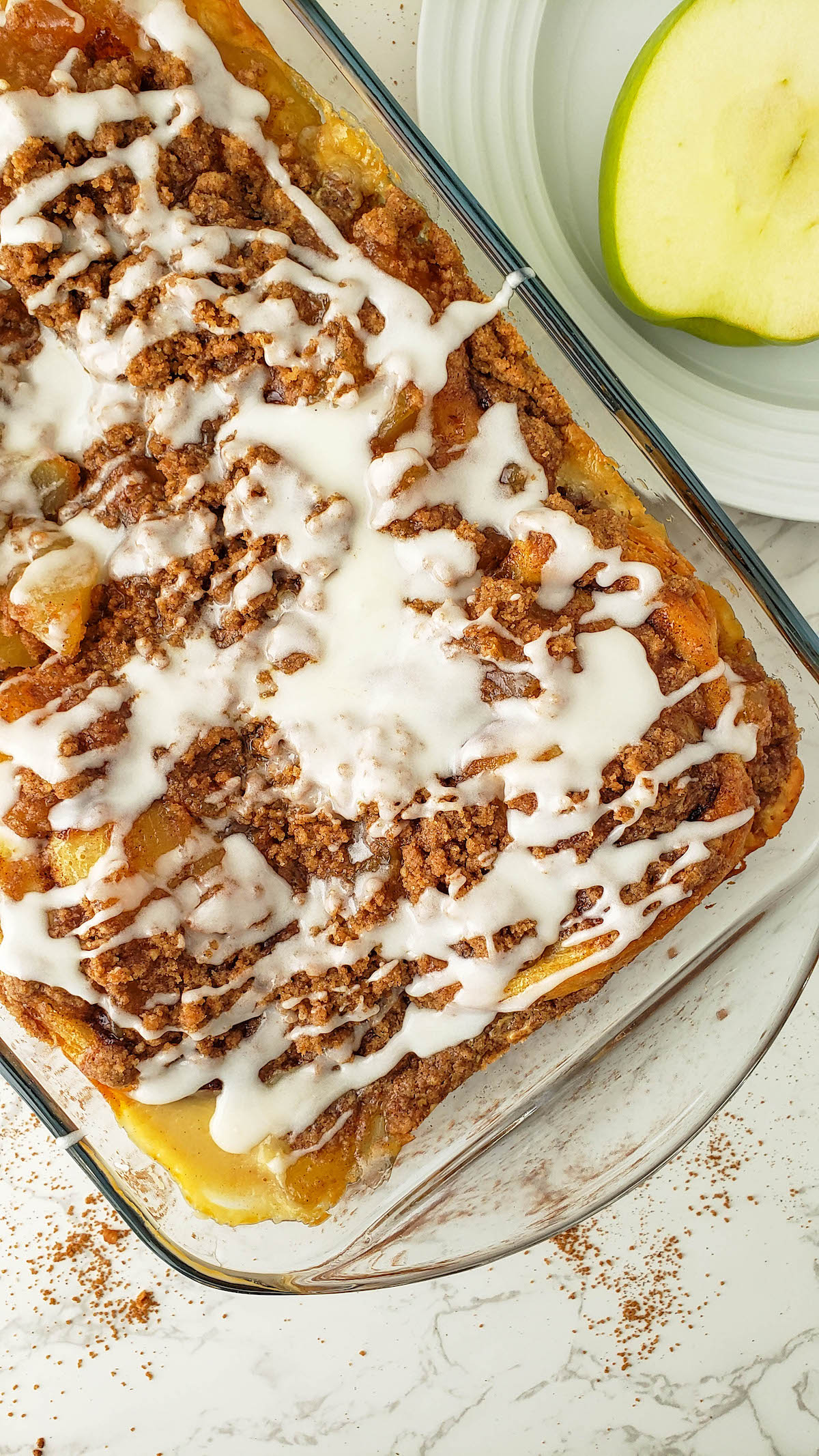 What else can I top these Cinnamon Apple Biscuits with?
Feel free to use the glaze that comes with the cinnamon rolls, or make a cream cheese frosting, or something else to top your easy cinnamon rolls with. A few other delicious ideas would be:
A scoop of vanilla ice cream
Caramel sauce or caramel glaze
Crushed nuts or chopped nuts like chopped walnuts or pecans for those who love texture
Buttercream frosting
Homemade simple glaze made from cinnamon, powdered sugar and water or milk
More Ways to Use Apples
If you're an apple fan, we have some tasty recipes and fun crafts for you and the kids to try:
Yield: 5-6
Easy Apple Cinnamon Rolls from Canned Biscuits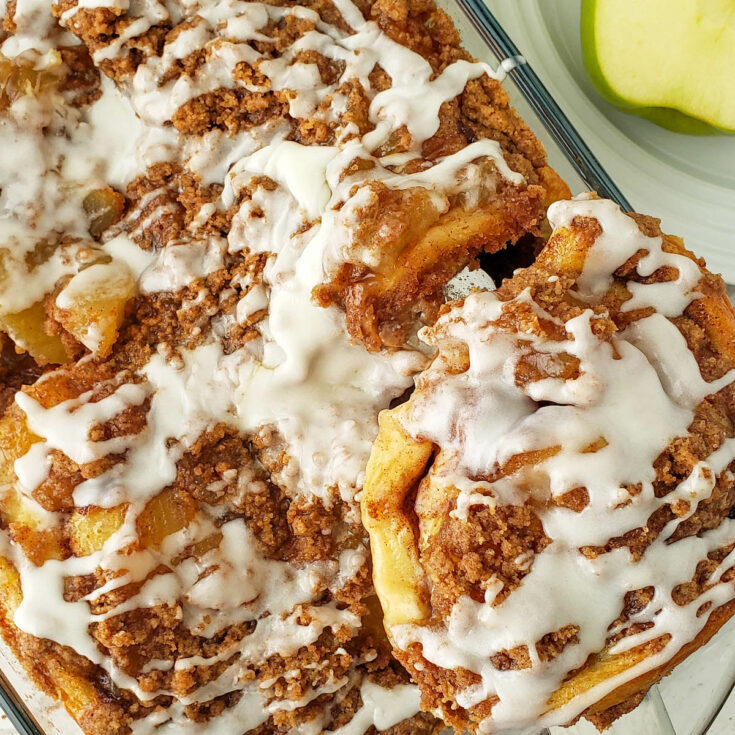 These delcious and easy apple cinnamon rolls from canned biscuits are a quick and easy treat that everyone will enjoy!
Additional Time
20 minutes
Total Time
1 hour
10 minutes
Ingredients
1 can a Pillsbury Grand Cinnamon Rolls or the Regular 10 counts cinnamon rolls
1 can of Apple pie filling any brand
1⁄2 cup heavy whipping cream
1⁄2 cup Brown sugar dark or light
1⁄2 tablespoon cinnamon
1⁄2 cup all purpose flour
6 tablespoons unsalted butter
Instructions
Preheat oven to 350 ゚ F
First, get the crumble ready! In a small bowl combine the flour the brown sugar, cinnamon and the butter; Use the fork to mix together. Do not overmix you do not want to become mushy. Set aside.
Arrange your cinnamon rolls in your baking dish however you would like, but be sure to give them room to grow!
Pour the heavy whipping cream over each roll and in between the rolls.
Depending on the apple pie filing you are using, you may want to use a knife to cut the apples into smaller pieces. Then pour over the rolls and in between the rolls just like with the heavy whipping cream.
Cover the apples and the rolls with the crumble
Bake at 350 ゚ F for 35 minutes or until rolls are golden brown
Remove from the oven and allow to cool on a cooling rack. Be careful the dish/pan will be piping hot, and the sugar and cream will be bubbly. The bubbles will settle and thicken.
Notes
These are great served warm. You can top them with the icing that came with the cinnamon rolls, or simply serve as is. They also go great with your favorite ice cream!