The start and end of every day are in the bathroom—a place of grooming and personal hygiene. Many have even retired to the bathroom after a hard day's work to get some time for solitude. A room of such importance needs major cleaning to keep it germ-free. No wonder many would ensure they get the Best Products To Deep Clean Bathroom.
You can opt to purchase products commercially, or for the budget conscious, some natural products are just as effective. However, you must choose a product that helps combat germs effectively. A specialist is needed if your bathroom remains stained despite using cleaning products.
This post may contain affiliate links. As an Amazon Associate I earn from qualifying purchases. For more information, see our disclosure.
Join me as we discuss the best products to deep clean your bathroom, with natural everyday products or commercial cleaners.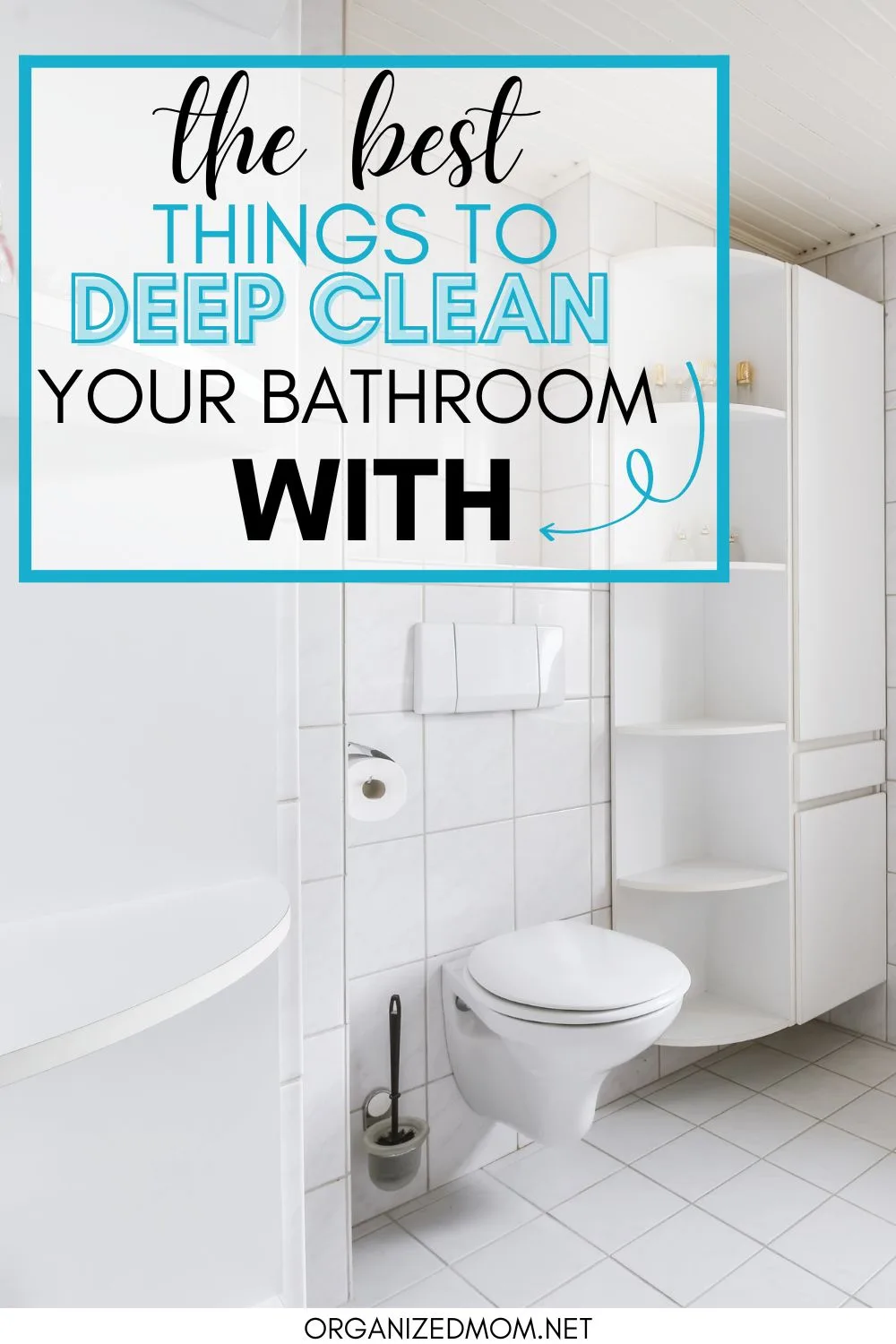 Deep Cleaning Your Bathroom With Commercial Cleaners
With the array of products available on the market, you want to be sure that you choose one that will suit the needs of your bathroom and your budget. From countertops to bathtubs to showers, a product is available to make your cleaning less stressful with minimal effort.
When choosing a product, it might be advisable that you select an all-purpose cleaner that you can use to wipe down the countertops, clean the bathtubs and even the toilet bowls, as opposed to individual products that will cost you a fortune.
Most of these products are available online at Amazon, Walmart, or your local hardware store. If you want some results, you might consider using one of the below products.
Microban Bathroom Cleaner
If you are looking for an all-purpose bathroom cleaner that deep cleans and keeps it bacteria-free for 24 hours, then Microban Bathroom Cleaner is the product for you. This liquid spray vaporizes 99% of those germs and minimizes the appearance of molds and mildew.
The product is just as effective on scum marks. The good news is that Microban Bathroom Cleaner is bleach-free, meaning that it is less harsh on your skin, and if it touches your clothing, it won't cause any damage.
Value for money is the Microban Bathroom Cleaner which is available at Walmart for just $4.
Mr Clean Magic Eraser
This miracle-working product is a micro scrubber that requires some water. Once the sponge is wet, a liquid foam is released that destroys germs, and you can get that bathroom sparkling within a few minutes with some light scrubbing.
The bleach-free product works magic but also removes odors in the bathroom as you clean. With this multi-faceted sponge, you can clean down the entire bathroom. The only downside is that the sponge storage might be complex once you have completed cleaning. If the sponge starts to fall apart it may be a sign that you will need to discard the magic eraser.
Mr Clean Magic Eraser is sold in packs of 10 and is available on Amazon for $11.
Jif Multipurpose Cleaner
This multipurpose cleaner enriched with bleach has a spray-on formula that will transform surfaces within 10 seconds. Spray on the surface, wipe it down and see the transformation. 100% of the dirt will be effectively removed. This fast-action cleaner requires minimal effort, is excellent for removing stubborn stains, and is scratch-free.
Jif Multipurpose cleaner can be sprayed on painted, smooth, shiny surfaces, including walls. If the product touches your eye, immediately rinse it with cold water. Due to the bleach content, you might also want to consider wearing gloves.
This product is a must-have in all households and is available on Amazon at $10,80 for a pack of 2.
CLR Brillant Bath Cleaner
Receiving an EPA safe choice certification CLR Brillant Bath Cleaner is bleach free. A product of this nature not only cuts through soap scum and tough stains but also whitens grout as it dries. It is advisable only to use on surfaces with white grout as it may cause discoloration, should it be sprayed on any other color grout.
The good news is that the product's versatility makes it possible to use on stainless steel taps, glass shower doors, and ceramic. You will need to spray, leave for a few minutes, and wipe off with a clean microfibre cloth. Deep cleaning your bathroom doesn't get any simpler than this.
Deep Cleaning Your Bathroom With Natural Products
Natural products might be worth the try if you look for more environmentally friendly options. While ready-made products are simple and easy to use, they can also be costly. Some of the chemicals used in these products are also harsh on the environment.
An added benefit is that most of these are daily household products that can be found in your cupboard, saving you money. You might want to get some natural ingredients and whip up a batch of that deep-cleaning potion.
Bear in mind because there are non-chemical products, it would mean that you will have to use these ingredients at least once a week to ensure their effectiveness. Some natural products may not have an all-purpose dual function; hence you may have to mix up multiple batches for different uses, which can be time-consuming.
Deep Cleaning Of Bathroom Counter Tops The Natural Way
Bathroom countertops are exposed to soap scum and water marks and, if not adequately cleaned, can result in stains. Whip up a mixture of;
2 cups baking soda
Half cup vinegar
1 cup water
Half cup natural dish soap
Combine and dispense in a spray bottle and leave on the surface for 10 minutes before wiping dry, ensuring that you can easily remove residue caused by toothpaste, soap, and grime.
Deep Cleaning Of Tubs And Bathrooms
Bathrooms and showers are exposed to the most mold and mildew, which can spread over time. Hence the acidity of the vinegar is the perfect solution to combat this stubborn grime and eliminate the germs in the process.
A simple yet effective method, add undiluted vinegar in a spray bottle, use your trigger finger to spray the effective potion on the surface, and lightly scrub.
Removal Of Scum The Way Nature Intended
The appearance of soap scum can be pretty annoying and often requires constant cleaning. You will be surprised to hear that a piece of grapefruit and salt applied over the area can quickly lift the scum. The grapefruit's acidity and the salt's coarseness are the marriage of two effective scum-fighting ingredients.
Another effective solution, great for bathroom tiles, is a mixture of
1 cup baking soda
One-fourth cup of distilled white vinegar
Once mixed in a bowl, you will find that the acidity of the vinegar combined with the baking soda will cause the mixture to fizz. Once the fizzing has stopped, apply the paste onto the surface with a sponge. Let the mixture rest for 15 minutes on the surface and wipe off with a damp microfibre cloth. For stubborn scum marks, some scrubbing might be required.
Conclusion
The inevitable consequence of daily usage of a bathroom is the appearance of soap scum, mildew, and germs. If not cleaned regularly can cause much more permanent damage. Hence you must choose the right cleaning product to eliminate these occurrences. The choice of commercial or natural products depends on your budget and the task.